THE turn of the year has seen a wave of new players signings and transfers as the PBA entered the dawn of unrestricted free agency.
Rodney Brondial and Nards Pinto were the first players to take advantage of the landmark ruling that grants the freedom to choose which team to play for to any player at the end of his seventh PBA season, starting with the 2014 rookie class.
Brondial, at the end of his Alaska contract on December 31, opted to sign a three-year contract with San Miguel while Pinto moved to Barangay Ginebra on a three-year deal after his contract with Meralco lapsed on the same day.
The signings were no doubt historic, marking the start of real free agency in a league where, in the first 45 years of its existence, had seen teams hold on to the rights of the players 'in perpetuity,' unless legally renounced.
ADVERTISEMENT - CONTINUE READING BELOW ↓
Unrestricted free agency, however, has loomed as a double-bladed sword that some quarters see as another threat to league balance, especially with the first wave of UFAs going to teams in the upper end of the hierarchy.
The twin signings have also sparked fears of tampering, especially since both Brondial and Pinto have standing offers for longterm extensions from their mother ballclubs prior to their transfers.
Pinto had been given an offer of a two-year contract as early as November while Alaska governor Dickie Bachmann revealed a similar standing offer for Brondial.
Team officials declined to go on record, but a few have grumbled about possible 'tampering' prior to the announcement of the two transfers.
So what is tampering, you might ask?
Former commissioner Chito Salud described it clearly as he tackled the case of Paul Lee, who, in 2014 and in the middle of Gilas Pilipinas' campaign in the Fiba World Cup in Seville, Spain, made an attempt to leave Rain or Shine for another team.
ADVERTISEMENT - CONTINUE READING BELOW ↓
"The most important rule there is no one can talk to the player by himself or through his agents to negotiate or transact a new contract prior to the expiration of the said contract," Salud told Rappler at that time.
"The only exception there is the mother team, even before the expiration of the contract of the player, can choose to negotiate and renew the terms of a new contract," Salud added. "Anybody who talks prematurely to a player still having a live contract can be found guilty of tampering."
Buoyed by then RoS coach Yeng Guiao's memorable 'May pinagkaiba ba ang maximum [salary] ng Rain or Shine sa maximum ng iba?' line, the Elastopainters managed to hold on to Lee before trading him to Star [now Magnolia] for James Yap in 2016.
The only other time a possible tampering violation was raised was in 2015 when then top rookie prospect Mo Tautuaa was seen at courtside seated next to TNT team owner Manny V. Pangilinan during a PBA game.
ADVERTISEMENT - CONTINUE READING BELOW ↓
The PBA was quick to dismiss the issue after a probe.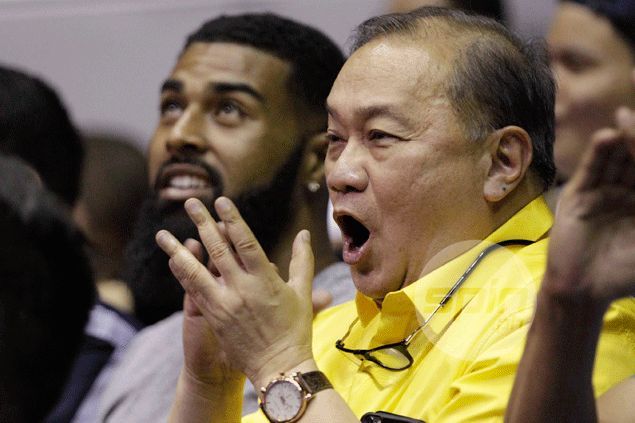 Since then, PBA insiders bared there was only one other time when the Commissioner's Office looked into a complaint of possible tampering - back in 2019 in a case involving a player from 'a ballclub that is not with SMC or MVP,' a source bared.
ADVERTISEMENT - CONTINUE READING BELOW ↓
Insiders said the complaint was soon dismissed as in most cases alleging tampering, which failed to stand for lack of merit.
So what would it take for a tampering allegation to stand?
"Kailangan ng solid proof," said an insider, pointing out that it could be either a 'text exchange between player and team official, CCTV footage of a meeting, or a direct confession by either a player or an agent representing the player."
Is there tampering in the cases of Brondial and Pinto? the insider was asked.
"These two transfers are aboveboard," said the insider, "unless someone comes up with solid proof otherwise."
So there.
PBA Updates