LEBRON James emerging from his hyperbaric chamber is a scene straight out of an action-sci-fi flick waiting to happen.
And yet, save for a strained left groin injury that sidelined him for 20 games last season and him going the comedy-fantasy-animation route with Space Jam 2, James' strict adherence to futureproofing himself to the tune of $1.5 million a year is the reason we'll likely see him play with his son Bronny in the NBA in the near future.
James isn't the only athlete who swears by the healing powers of hyperbaric oxygen therapy (HBOT), which boosts the oxygen reserves in the bloodstream, fast-tracking recovery from injury among its numerous benefits.
Continue reading below ↓
Recommended Videos
Soccer superstar Cristiano Ronaldo has been a known HBOT believer for a few years now. NFL players, exposed to heavy banging and rough plays during the season, have been bringing their personal chambers on the road to accelerate healing in between games.
Local basketball personalities are likewise raving about HBOT's myriad of benefits. PBA Commissioner Willie Marcial, for example, makes it a point to schedule an HBOT session weekly to combat stress.
"Every Monday, nagha-hyperbaric oxygen therapy ako," says Marcial, who's been going to an HBOT clinic in Mandaluyong for a year now to momentarily take a break from his highly stressful PBA post. "It's 100 percent oxygen, papasok sa'yo for one and half hours naka-tank ka roon. Nakakatanggal ng stress, honest."
What is hyperbaric therapy?
HBOT, as practiced here, involves exposure to medical-grade oxygen in a chamber where ambient pressure around the body is increased, according to https://www.hbotphilippines.com/hbot. The magic happens in a space pod-like contraption like this.
For 90 minutes, the pressure is amplified up to three times higher than normal air pressure, enabling the lungs and red blood cells to absorb more oxygen.
"[Ang laking bagay for] fast recovery, nakakatulong sa stamina and mga sakit-sakit sa katawan mo napapabilis ang healing," says Rain or Shine star James Yap, who goes to the Shaw Boulevard-based clinic three to four times a week. "Nakakapagpabata, nakakaganda ng skin. Nafi-feel ko naman [ang benefits].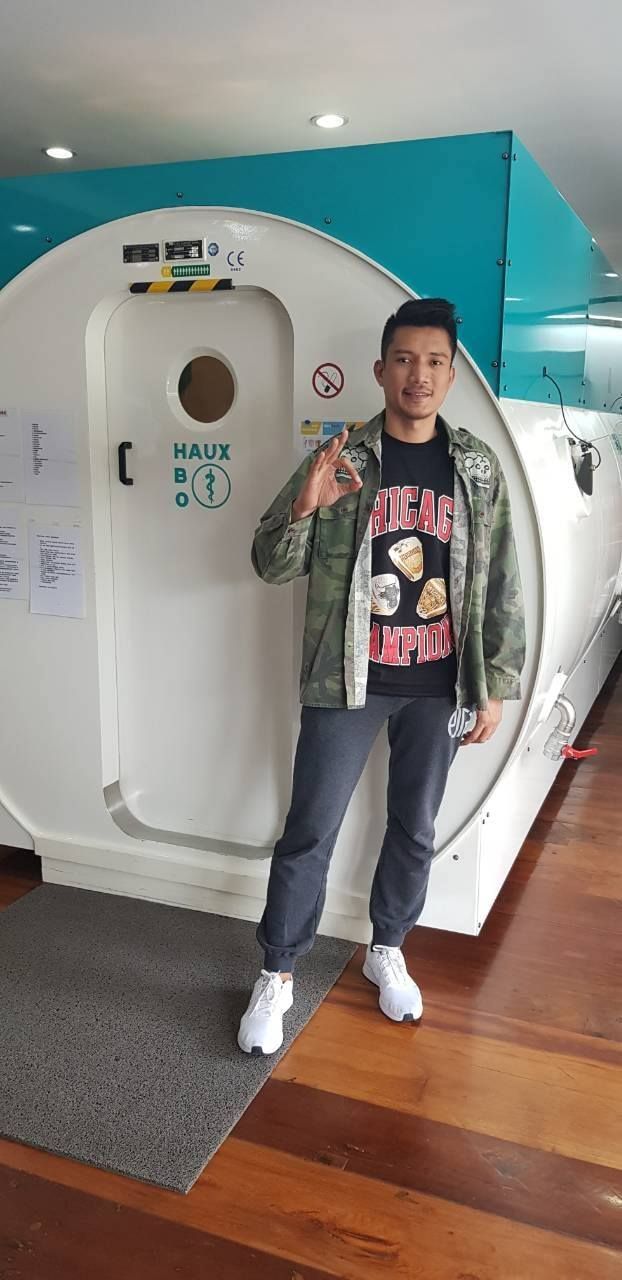 "Kung titingnan mo, pasok din sa career mo, kasi 'yung hyperbaric maganda talaga," adds the 37-year-old cager. "Para kang nasa loob ng spaceship, parang sumasakay ng eroplano ang feeling 'yung parang nabibingi ka."
Ginebra newcomer Stanley Pringle, who's been doing the hyperbaric therapy for a couple of years now, can attest to its many rewards.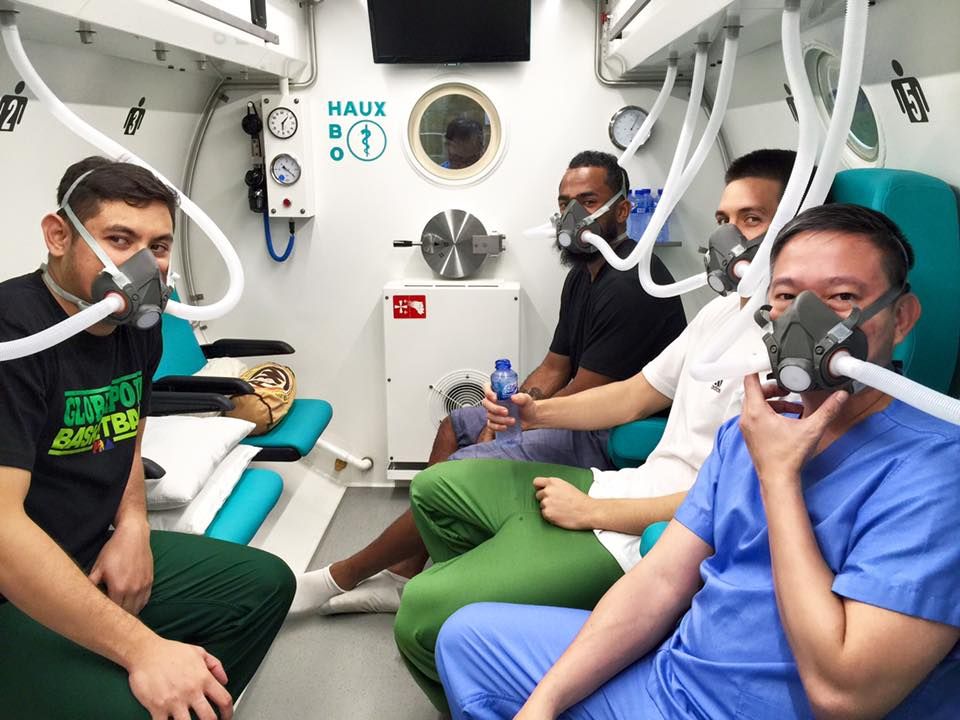 "Well I've been doing it after my surgery, it helped the wound healing dramatically and the recovery," he says. "Whenever my ankles are too sore and I think I can't keep up, that's when I go for the hyperbaric."
The 32-year-old guard started going to the clinic when he was still playing for NorthPort, influencing his teammates to give HBOT a go.
His pals Sean Anthony of NorthPort and Ginebra stalwart Japeth Aguilar are just some of the players who have tagged along during his HBOT sessions .
"I've done it a couple of times with Stanley," shares Anthony. "It speeds up recovery by pumping oxygen into your muscles through pressure in the hyperbaric chamber. I feel good after doing it."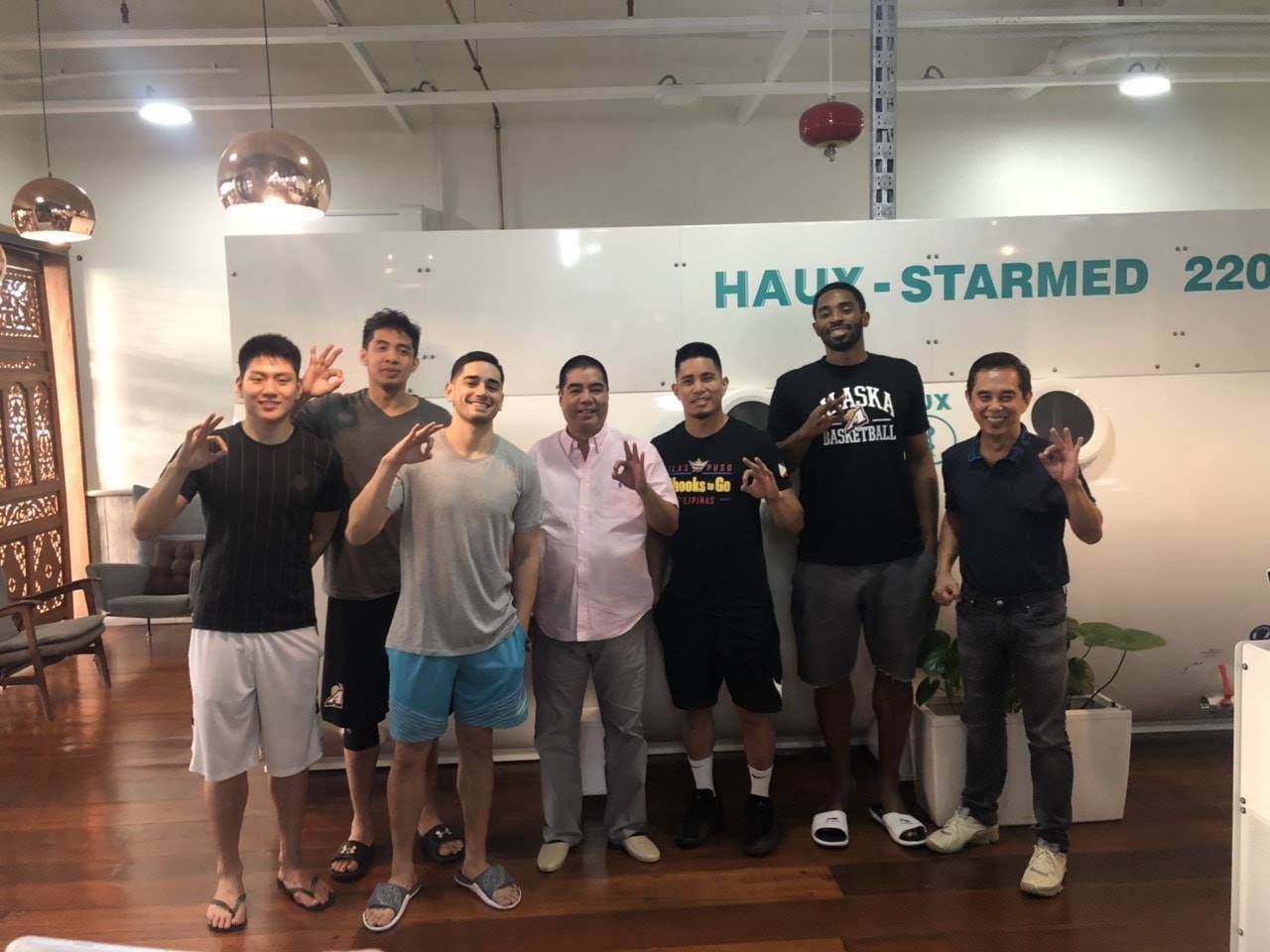 Hearing nothing but positive points about HBOT, NorthPort standout Mo Tautuaa is excited to experience it for himself, despite the price.
"That's the one with a pressurized tank, right? Stan told me that it will bring your lungs to a different level so when you play you won't feel tired," Tautuaa says.
Hyperbaric therapy costs P6,000 per session.
"Everything new in terms of recovery these days is kinda expensive now, you know? But taking care of our body is a must," says Tautuaa. "Basketball is our livelihood, it's how we pay the bills. So you can't put a price on being healthy. I only got one body and I got to take care of it."
Marcial concurs, pointing out that it is very important to always find time to relax and unwind.
"Kasi kung hindi ako magre-relax, maaga akong mamamatay. Totoo," he says.