HAVE you noticed the black spots on Greg Slaughter's shoulders and back?
Those are definitely not bruises from banging bodies with the bruising Meralco frontline, led by bull-strong Bolts import Allen Durham. The Ginebra slotman also didn't suddenly decide to get a tattoo.
Those black spots are just marks from the Ventosa cupping therapy that Slaughter has been undergoing regularly, to basically prevent injury especially in the ongoing PBA Governors' Cup Finals grind.
Ventosa is an ancient alternative treatment that uses cups to suck on the skin to eliminate stagnation of the blood flow.
"It helps with circulation and loosens up tightness," Slaughter said in a chat with SPIN.ph after practice on Thursday on the eve of Game Four.
And does it work for him?
"Yeah, for sure," the 29-year-old cager insisted. "I can always tell right after I get it done."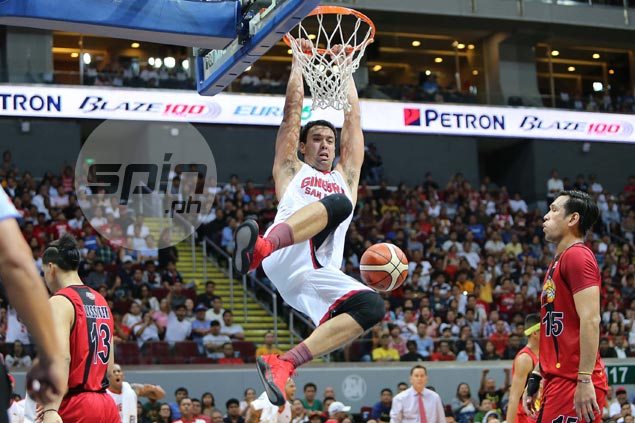 Continue reading below ↓
Recommended Videos
So much so that Slaughter has doubled his visits to the Pace Prehab and Recovery to undergo the therapy.
"I try to get it at least once a week, but lately, I've been going twice a week," the 6-11 center said.
Slaughter bared he has been doing it for a couple of years already, focusing more on his legs especially after he hurt his knee that kept him out for almost a year.
"I'm still not one-hundred percent (recovered) on my injury," Slaughter admitted. "Obviously, when I got my injury, there was like an imbalance there, so I'm still not balanced out with where I want to be, so what happens is that sometimes some muscles get tighter than others, and that's what we work on."
"(I have it done) mostly, on my legs, so you can't really see it," he added. Just recently, I kinda hurt my shoulder since the Blackwater game, so we've been trying to work on that. That's why you see it now."
"We do more than Ventosa. It's just that Ventosa is the only thing that leaves marks that you see," he continued. "We also do some other work like the needling."
While he has benefited from the therapy on the way to winning his first Best Player of the Conference award, Slaughter's showing in the finals has left something to be desired, scoring just three points on 1-of-6 shooting in 33 minutes off the bench in Game Two, before contributing 12 points on 5-of-10 shooting in 28 minutes in their Game Three loss.
Slaughter, though, continued to play down his sub-par individual performance, insisting it's the Gin Kings' team play and ball distribution that needs to improve.
"I think we just need to get our rhythm going," Slaughter said. "If you look at our stats, we're kind of down in assists, we're not really moving the ball as much as we used to, and that's what got us here, and that's what we need to keep doing to win the championship."
The Gin Kings try to spread the wealth more in Game Four where they hope to take a 3-1 lead.
"Must-win – that's my mindset going to tomorrow," Slaughter said. "We don't want to even it up, start a series where it's a best-of-three."