ACTRESS and Women's Health cover girl Bianca King is not afraid of commitment. And her showbiz career just proves this. "I took the long road to lead roles," King says. For seven out of her nine years in the business, King played supporting roles, mostly kontrabida characters. But instead of feeling typecast and bypassed for plum parts, she adopted a go-getter attitude. "I called it my asset and threw some glitter on it," she says. "I tried to shine in the kontrabida roles that were given to me. People say kasi if it has been that long na and you haven't made it yet, napagiiwanan ka na ng panahon. But that didn't stop me from pursuing what I really wanted to do."
Her determination and hard work eventually paid off and today she enjoys back-to-back top
billing roles in hit soaps. She even earned her college degree in filmmaking in the process. "School was always the top priority. I worked hard to graduate from college, and then sakto, when I was almost finished with school, when I was doing my thesis already, the difficult roles started coming."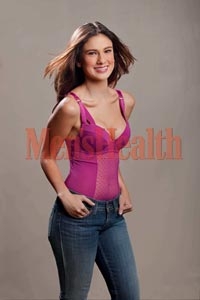 But King's strong sense of commitment doesn't stop with her career. It flows through all aspects of her life, including her fitness regime. "When I start something, my goal is to finish it." King has been doing yoga for the past two years and sees her practice as more than just a way of keeping her abs tight. "Exercise is a way to empower yourself," she says. "It's a way to give importance to yourself and balance your lifestyle." And it's also her way of keeping her eyes on the prize. "I want to do [an] action [series]. That's why I try to be active. That's why I exercise. So, you know, when the time comes that there's an opening for those kinds of roles, they [TV network executives] will see that I'm prepared for it."
King shares that another bonus she gets from doing yoga is being able to attend classes with her man, who joins her from time to time. "When you're in a relationship, it's important to show genuine interest in the things that your partner is interested in. Hindi naman kailangan na you'll always do it too, but just keep an open mind about it." She promises that if you do this often enough to count, your efforts won't go unnoticed. "A woman really appreciates it when you offer to do things that are important to her. It shows your affection for her," King says. And she'll be more than willing to reward you and return the favor — something King has done in her own relationship. "I've memorized all the UFC fighters that I can, and I watch live fights with my boyfriend because that's his thing."
Take it from her: the secret to having it all is having the commitment to seeing things until the end.
Bianca fills in the blanks:
The best thing a man can do for a woman is … support her.
A no-fail date night includes … eating at a new restaurant and watching a scary movie.
An ideal date night involves … a passport and a foreign language.