COME 2021, the PBA will unveil its first true free agent class - players with expired contracts who will be free to sign with any team of their choice, under terms they will likely dictate.
But the irony is, Stanley Pringle will be in that trail-blazing class; his GlobalPort backcourt partner Terrence Romeo won't be in it. Rain or Shine rising star Jericho Cruz and Alaska's Chris Banchero are members of the class; giants June Mar Fajardo and Greg Slaughter aren't.
The reason? It's nothing more than plain and simple timing.
You see, when the PBA board, after almost a year of deliberations, finally decided in 2013 to make free agency a reality in the pro league, it agreed that the unrestricted free agency rule will be enforced starting with the rookie draft class of 2014.
A check with the PBA office confirmed that all players who came in before that class will remain covered by the old free agency rule, which, in reality, isn't free agency based on the true meaning of the words.
Why?
Under the old rule, teams retain the right of first refusal on players with expired contracts, meaning they can simply match any offer sheet from other ballclubs to retain the right on their free agents.
Continue reading below ↓
Recommended Videos
If a player decides to sit out or play in another league, as was the case with Asi Taulava and Meralco a few years ago, his mother team needs only to make a qualifying offer not lower than his salary in the final year of his old contract to retain the right on the player in perpetuity.
For a player to become an unrestricted free agent, he must be dropped unconditionally by his mother ballclub, which rarely happens, more so for star players.
That finally changed when members of the PBA board, late in the term of former commissioner Chito Salud, approved unanimously a rule that makes a player an automatic unrestricted free agent at the end of his seventh season in the pro league.
"Historic 'yan dahil mga talagang free agents na ang mga 'yan," said veteran player agent Danny Espiritu, who has negotiated contracts on behalf of hundreds of players for three decades.
"Dati, kahit expired contract ka na, may right pa rin sa iyo ang mother team mo. At kahit mag-sit out ka pa ng ilang taon, the team still keeps the rights on the player," he added.
Problem is, the landmark rule was enforced beginning with the 2014 draft class and isn't retroactive, according to a top PBA official. That means players who came in before that rookie class will never benefit from the rule - and will never become UFAs unless they are dropped unconditionally by their mother teams.
Take the case of Fajardo, a three-time MVP who will be 31 come 2021 and, presumably, at the peak of his career. The 6-10 Cebuano big man would've been the jewel of the 2021 free agent class, except that the top pick of the 2012 draft will never be part of it.
The same goes for Romeo and Slaughter as well as 2012 Rookie of the Year Calvin Abueva. Romeo would be 28 come 2021, Slaughter and Abueva 32. They should all be angling for the biggest contracts of their careers as unrestricted free agents, but will never enjoy the privilege unless the board changes its mind.
Set to head the league's first free agent class is Pringle, the top pick of the 2014 rookie draft who is going great guns with GlobalPort. The only problem is that the Fil-Am guard entered the PBA late after several tours of duty in Europe and in the ABL, and will be 33 come 2021.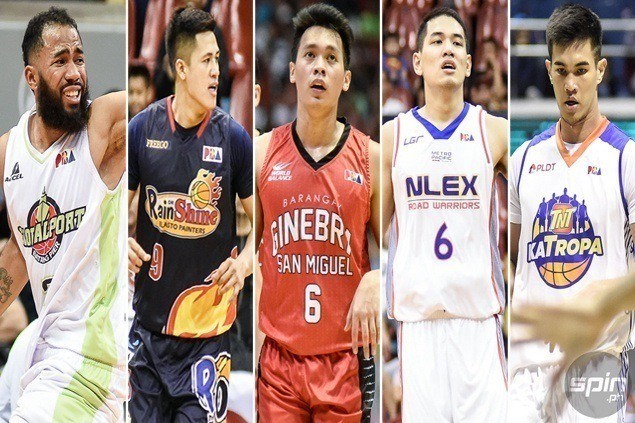 The jewel of that trail-blazing free agent class may turn out to be Rain or Shine's Jericho Cruz, that is if his career continues its phenomenal rise from now until 2021. The Guam-raised guard will only be 30 when he becomes an unrestricted free agent.
Banchero, another 2014 draft pick, will be 31 by then. Other notable members of that draft class are Kevin Alas and Matt Ganuelas-Rosser.
The 2022 batch of free agents appear more appealing for teams, counting Scottie Thompson, Troy Rosario, Chris Newsome, Mo Tautuaa and Maverick Ahanmisi among its members.
According to a PBA official, teams that wish to retain their unrestricted free agents are given the leeway of offering monthly salaries 20 percent above the salary cap, meaning these ballclubs can offer as much as P500,000 a month if the current salary ceiling of P420,000 doesn't change between now and 2021.
However, it's still up to the player to decide which team he wants to join.
Espiritu expects a frenzy of negotiations when that time comes, but he also expects teams to make their moves in the years leading up to 2021 by trying to sign players to long-term contracts before they become unrestricted free agents.
"Mas matatalino sa amin ang mga teams eh," he said with a chuckle.
Teams may still have the upperhand in the negotiations in Espiritu's mind, but this time, the rules in the free agent market won't be as one-sided in their favor.