THERE was a time when the art of conversation was not lost on people who had not discovered smart phones and social media. These days, one can hardly hold a normal discussion over lunch without a darting glance every few minutes at the mobile perched neatly next to the service water glass. In less than twelve years of operation, Facebook has managed to hijack millions of lives and claim a healthy (or is it unhealthy) slice of people's waking hours to profoundly influence the way they live, love, and laugh. Having a Facebook app on your phone is akin to having hundreds or thousands of friends tugging at your shirt every second saying, 'You have got to see/hear/read this.' It's that itch that's hard not to scratch, or that train wreck that you can't look away from.
And while we're here, let's look at some of the more outstanding citizens of Facebook who have made it their business to be in our line of sight no matter what hour of the day. You might even see a bit of yourself in one of these characters.
1. The Selfie Lord and Perpetual Poster
Life is an ever-changing profile pic, annoyingly suffixed with hashtags #nofilter #wokeuplikethis #selfietime. This is likely the same person who indiscriminately posts everything from the morbid to the mundane, and in whose world coffee breaks are life-altering events. Really? Like you would do that in the real world. I'm trying to imagine a regular conversation with someone who'll suddenly say, 'Hey, look at my coffee. Doesn't it evoke feelings of calm and relaxation?' Or perhaps someone who will whip out her phone in the middle of a meal to show me a photo of a blueberry cheese muffin and expect a gushing reaction like, 'Oh, don't tempt me.' There ought to be a law.
Continue reading below ↓
Recommended Videos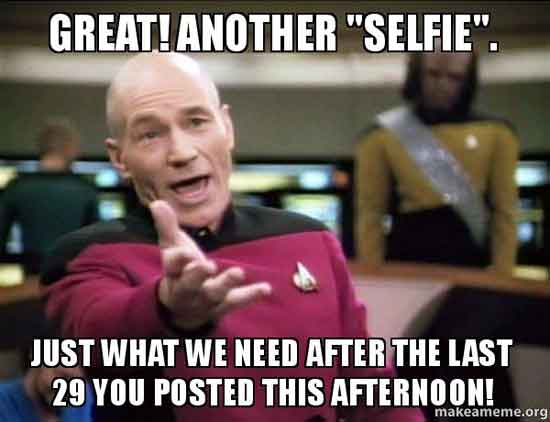 2. The Training/Racing Junkie
Some people just live to train and race. Sadly, most of the population doesn't, so would it be asking too much to dial down those daily posts of how many kilometers you ran or how many kettle bell swing reps and sets you did? They're not exactly the visual equivalent of a last song syndrome, but they're just as annoying.
Training and racing junkies hope that they're posts inspire and motivate - which is good, considering that's the intention. The dark side, though, says they're seeking attention, validation, and praise. There's nothing wrong with that, until the frequency is upped way past the eye-rolling mark. So you're proud of yourself for climbing those 300 steps to the Our Lady Of Chafing and Blisters grotto after your 5k morning run? Tell it to Our Lady and see what she thinks. Nothing? Thought so.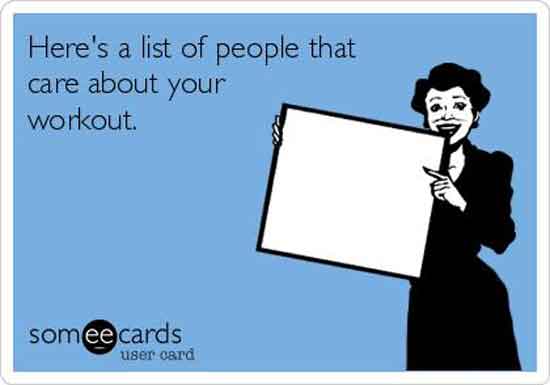 3. The Blessed One
These posts may read familiar: Heal me before this weekend's race, Lord! Thank you, God, for my life! Blessed to be able to go to Las Vegas and complete this amazing race! Let's not forget the bible passage that accompanies some of these delightful pieces, peppered with #godisgreat #allglorytogod #trustinhim.
Oh, please. Your god did not cure that fever, birth you, or fly you to Sin City — modern medicine (or holistic treatment, to be more hipster and unconventional), your parents, and your high-paying job and complimentary race slot did. Besides, it's quite easy to be grateful and feel #blessed when everything's coming up roses. All the good things come from above, right? And if, by chance, you're struck down by an exotic flu or miss making 3rd place (out of four participants) by two seconds, there's always the convenient default reason 'It was God's plan' to make you feel better. Which makes me wonder if Muslims, Hindus, Protestants, Buddhists, and the rest of the lot are as passionate and gushy about their blessed state of sports affairs. Religious tolerance notwithstanding, there should be some degree of restraint as far as preach posting is concerned. Okay, practical advice would probably be to move on and skip the post altogether — which is what I usually do.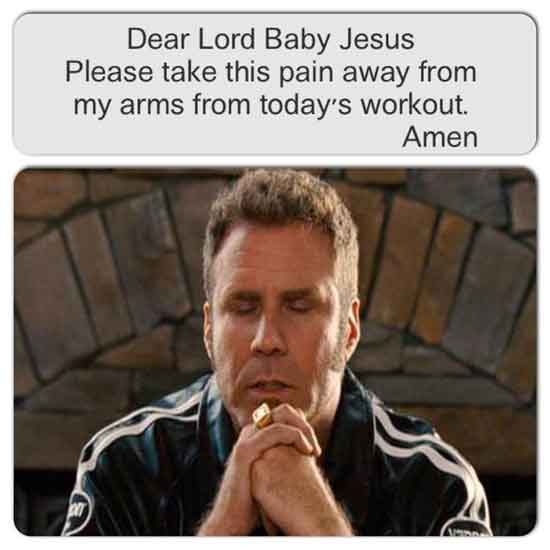 4. The Humble Braggart
It's the 'Aw, Shucks' status update that isn't. My recovery run turned out better than I expected — nearly made the top ten at yesterday's 5k fun run. Throw in a pic and a couple of hashtags (#notenoughtraining #justtryingtostayfit) while you're at it. And tell us that you had a late night at the office and had to check your ailing grandmother out of the hospital as well. False modesty as context to tell people just how great you are either comes off as a joke or makes you the joke — except this is Facebook, and most people aren't going to tell you which is it.
Methinks the humble braggart — an outdated, inaccurate term my 17-year old daughter implores me to stop using (It's annoying and nonsensical, Daddy!) — is a close relative of the Selfie Lord. Perhaps mom and dad hadn't praised you enough, or the boss neglected to give you a pat on the back for that presentation to management this morning — whatever the personal underpinning, the attempt at self-promotion is better served by taking an ad out in a sleazy online classified site or running for public office.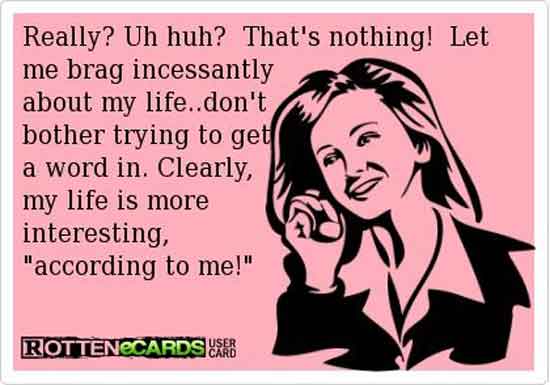 5. The Armchair Activist/Crusader
Recycle! Protect the ozone! Save the leeches! Stop bad grammar! Ban ugly runners! Support sagging breasts! We ought to be fighting for something and let our voices be heard. And if we don't have the time, we'll share it!
Just as it has enabled us to agree with friends by liking posts with a host of emoticons, Facebook has made empathy a clickable emotion as well. If we can't go out and participate, we can surely share posts and causes that matter to us.
Still, the better way would be to participate in events that do promote conservation, reduce waste, or promote gender equality.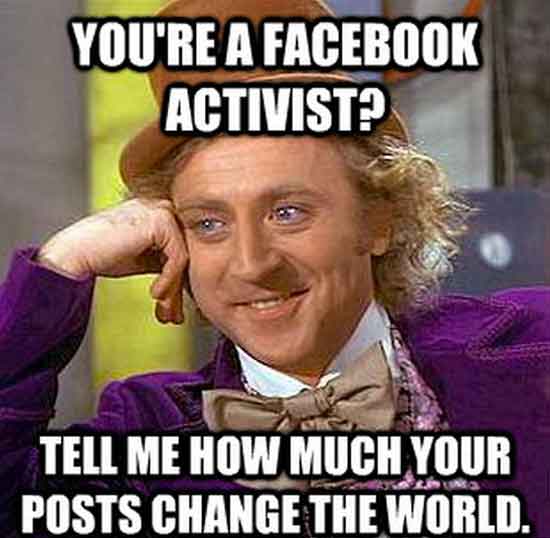 Truth be told, I'm not one to do a Mercy Like. I'll only hit that 'thumbs up' if I genuinely like what's in front of me. Now imagine if Facebook came up with a dislike or a simple 'thumbs down' button/icon. That would certainly crank the hostility meter more than a few notches higher. I don't think the problem is about people being honest enough; rather, most choose to safely keep their online personas as pleasant to as many.
Facebook allows you to be yourself — if you give it a chance. Maybe that's why some of my friends in 'the real world' aren't on Facebook. They'd rather stay real.
--------------------------------0---------------------------------
'You are what you share'
Charles Leadbeater, We Think: The Power Of Mass Creativity
'The internet is where some people go to show their true intelligence; others, their hidden stupidity'
'Okay, so I stopped posting status updates on Facebook a long time ago. I noticed that whenever someone posts something completely mundane and stupid, like 'Sushi 2nite!' seventeen people have to comment on that. 'I ♥ sushi!' and 'Spicy Tuna 4 meee!' But if you ever try to actually say something serious about your feelings or, like, your life, every one of your 386 "friends" is suddenly mute. So there you have it: My life is a post with no comments. Less interesting than spicy tuna'
J.J. Howard, That Time I Joined the Circus
'The Internet has given us the illusion of intimacy. We read someone's books, articles, sermons, or watch their videos online, and we feel we know them, so why not share what we think is wrong? But that illusion of intimacy is just that – an illusion. It distracts us from the important principle of reaching out to them personally first, and making the sometimes difficult effort of keeping it private and saving the relationship'