"YOU wanna dance with me 'no?"
With this invitation and a smile, Zumba founder Beto Perez had no problem finding takers as more than half the attendees of the press conference at the Hotel Intercon trooped to the center of the ballroom of the Hotel Intercon and followed the Colombian's cue in his first zumba class in the country.
The 45-year-old Cali native led the fitness enthusiasts in three rounds of dancing, a brief taste of a 90-minute Zumba Fitness-Concert he will host with his team of Zumba Celebrity instructors, musicians and international DJs on Sunday at the Globe Circuit Events Ground in Makati.
During the Q&A that followed, Perez explained that the exercise fuses fitness, entertainment and culture into "an exhilarating dance-party workout" aka "fitness-parties." Zumba classes blend upbeat world rhythms with easy-to-follow choreography to provide effective, total-body workouts for groups of all ages.
The former choreographer for singer Shakira and MTV videos migrated to the US where he pursued his dream of marketing Zumba. After several challenging years (he sometimes had to sleep on park benches since he had no money), he managed to get his big break by convincing business partners to finance his new fitness routine.
Continue reading below ↓
Recommended Videos
Zumba was founded accidentally in the 1990s - he was set to teach a class when he realized he had forgotten his regular music and had to improvise with a tape of Latin songs instead. A few samba moves and salsa grooves were tossed into the routine and the lively and incredibly fun workout the world now knows as Zumba was born.
According to the youthful Perez, 'zumba' was derived from 'rumba' which means 'rhythm' in Latin America but also refers to 'let's party' in Colombia. The name was coined during a meeting of Perez and his partners inside a Starbucks Café in Miami and was also influenced by the famous film hero 'Zorro.'
"The music is very important. Music is 70 percent of the class and we are like a radio station when it comes to our music," Perez said, pointing out that doing zumba is "not meant to lose weight" but "to have fun."
Aside from the music videos, Zumba has also spawned its own music albums, specific routines (he has created a fitness program for the physically disabled) and even a video game. There is also a biographical film of Perez being prepared for a 2016 release.
For certified Zumba instructor Madelle Paltu-ob, Zumba has allowed her to rediscover her passion for dancing. The former member of the award-winning dance troupe Philippine All Stars said she had to give up her career when she started a family. Now every member of her family, with the exception of her father, are Zumba instructors.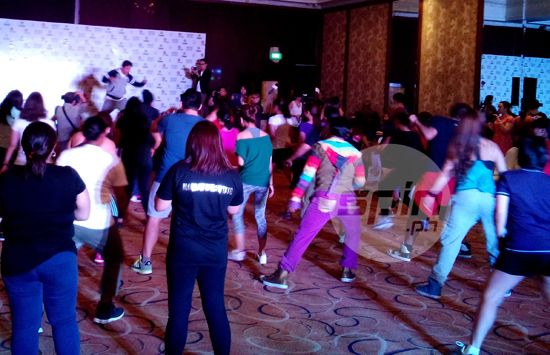 Discussing the evolution of fitness, Perez said that after taebo, nothing happened for awhile. Zumba is a return to aerobics — remember Jane Fonda? "For many years the fitness industry preached 'no pain, no gain' and I did not agree with that. We came back to the party- you smile, you have fun, there is energy," he said.
The Zumba founder said he feels like he's the character Forrest Gump, "People follow me, I don't know why but I think God gave me a tool."
The first-time Manila visitor said he was convinced to promote Zumba in the Philippines due to its popularity here and the invitations he has received on social media- specifically Facebook and Instagram.
"People in this country love parties and music. We will have a very cool class, especially its Mother's Day, I think it's a privilege. And I will try to leave the best thing of myself to the class," Perez said.
Registration at the Circuit Makati will start at 2PM. VIP tickets are still available at SM Tickets.com.