It barely took half a quarter to reignite the feud between Terrence Jones and Chris Ross.
The TNT KaTropa import and San Miguel Beermen guard have been at it since the opener of the 2019 PBA Commissioner's Cup Finals, and things were no different during Game 3. Jones dodged disqualification after receiving a flagrant foul penalty 1 for his headbutt on Chris Ross, who himself was assessed a technical foul for taunting.
On Saturday, the league upgraded Jones' infraction to a flagrant foul penalty 2 that would've gotten him ejected outright. Instead, the former NBA player just had to spend three minutes on the bench and pay a P20,000 fine. That doesn't change the fact that he willed TNT to a crucial 115-105 win with a monster near-triple-double (37 points, 18 rebounds, 9 assists), and more importantly a 2-1 series lead over SMB.
Three games should provide enough sample size to figure out the deciding factors of a sports competition. However, in a highly emotional title showdown like the KaTropa versus the Beermen, some determinants go beyond the numbers.
Scrappy over chippy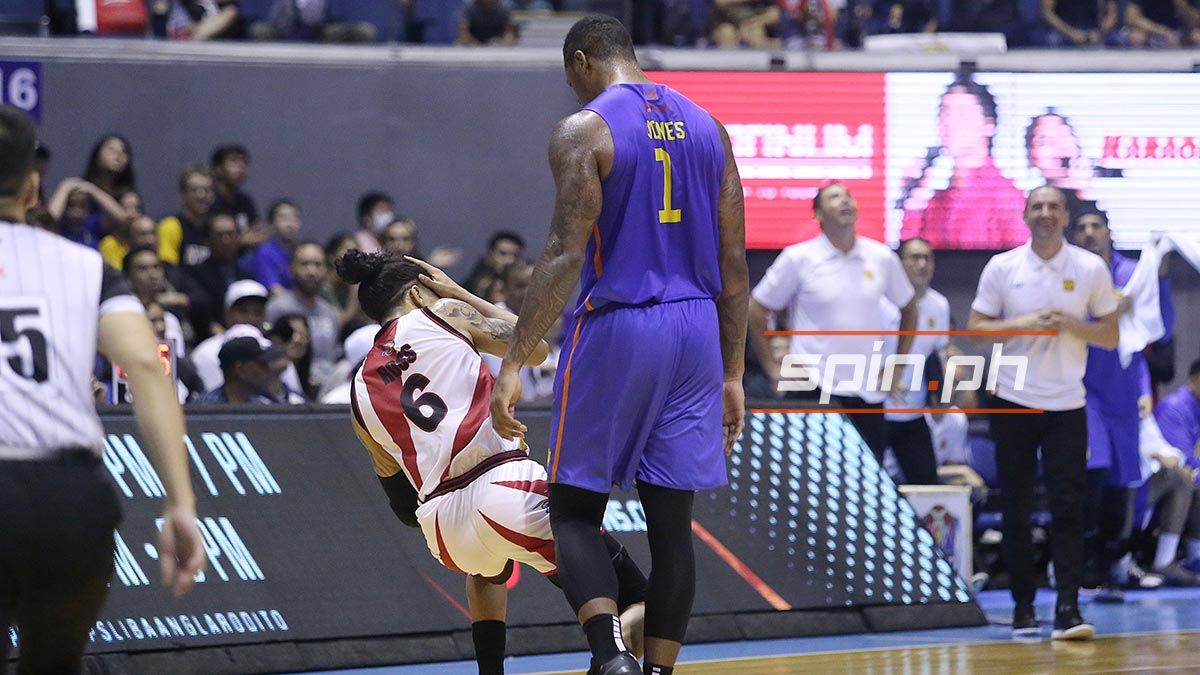 Continue reading below ↓
Recommended Videos
For a championship-caliber team, SMB seems more focused on getting inside Jones' head than getting their own heads in the game.
Netizens are accusing Ross — and Christian Standhardinger, who was also fined P5,000 for his own FFP1 — of excessive flopping, which the two-time Defensive Player of the Year denied.
The Beermen took Jones out of the equation in their second meeting with his second technical. In Games 1 and 3, though, the unwarranted contact and stoppages in play did more harm than good to SMB and its comeback attempt. As seen in the sequences below, the KaTropa had fairly manageable leads but the Beermen had to engage the ex-Houston Rocket:
Ross, who had a forgettable five points and five assists in 29 minutes, called Jones "mentally a baby" after the match. Whether it had something to do with the physical toll of trying to stop a 6'9, 255-pound dude or not, SMB desperately needs more from their starting point guard next time than an outing wasted on his verbal and physical tussles with the TNT import.
Firing on all cylinders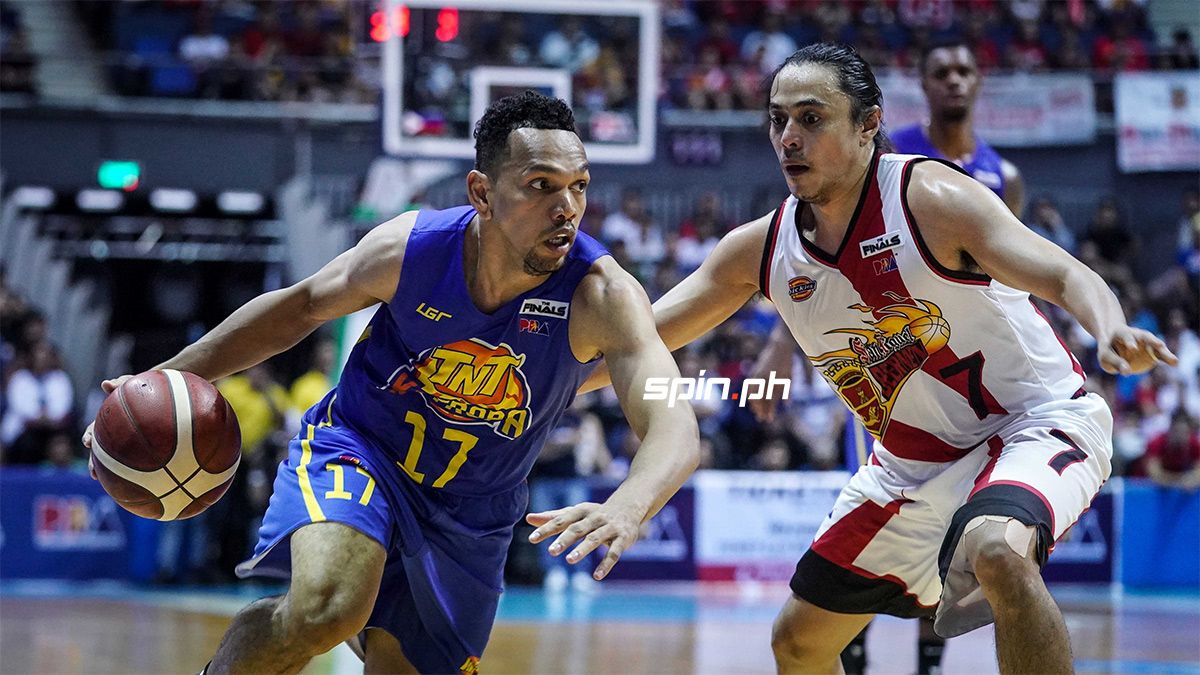 Surely, Leo Austria and his coaching staff must've noticed the pattern in TNT's offensive attack, particularly how at least one local has been consistently sharing the load with Jones. In Game 1, it was Jayson Castro (20 points with 3 3s), Game 2 saw Troy Rosario go off (34 points with 8 3s), then it was Roger Pogoy's turn in Game 3 (29 points with 5 3s).
GAME 1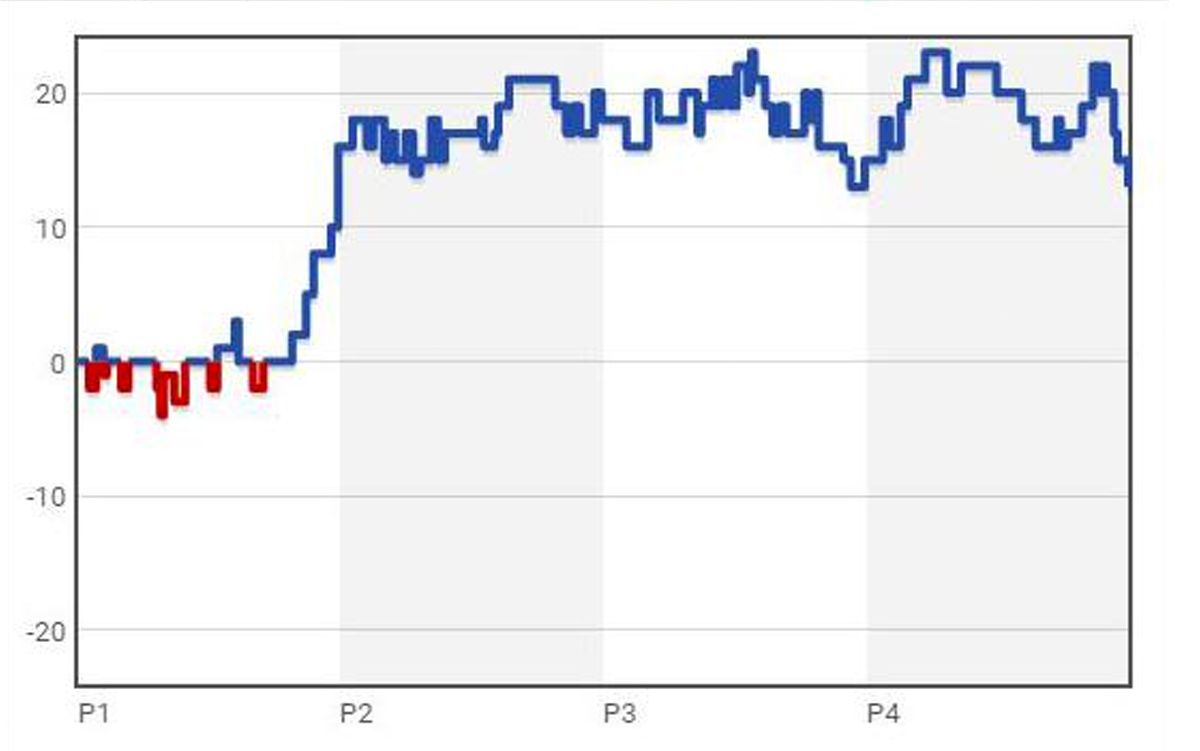 GAME 2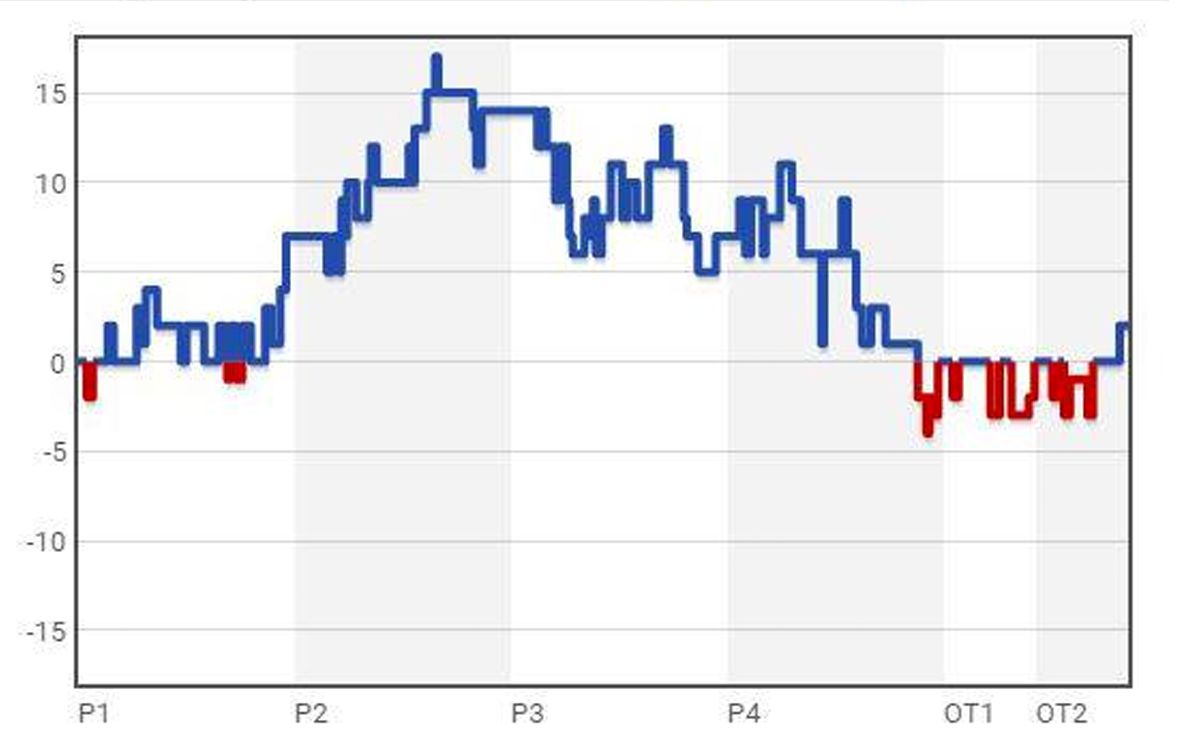 GAME 3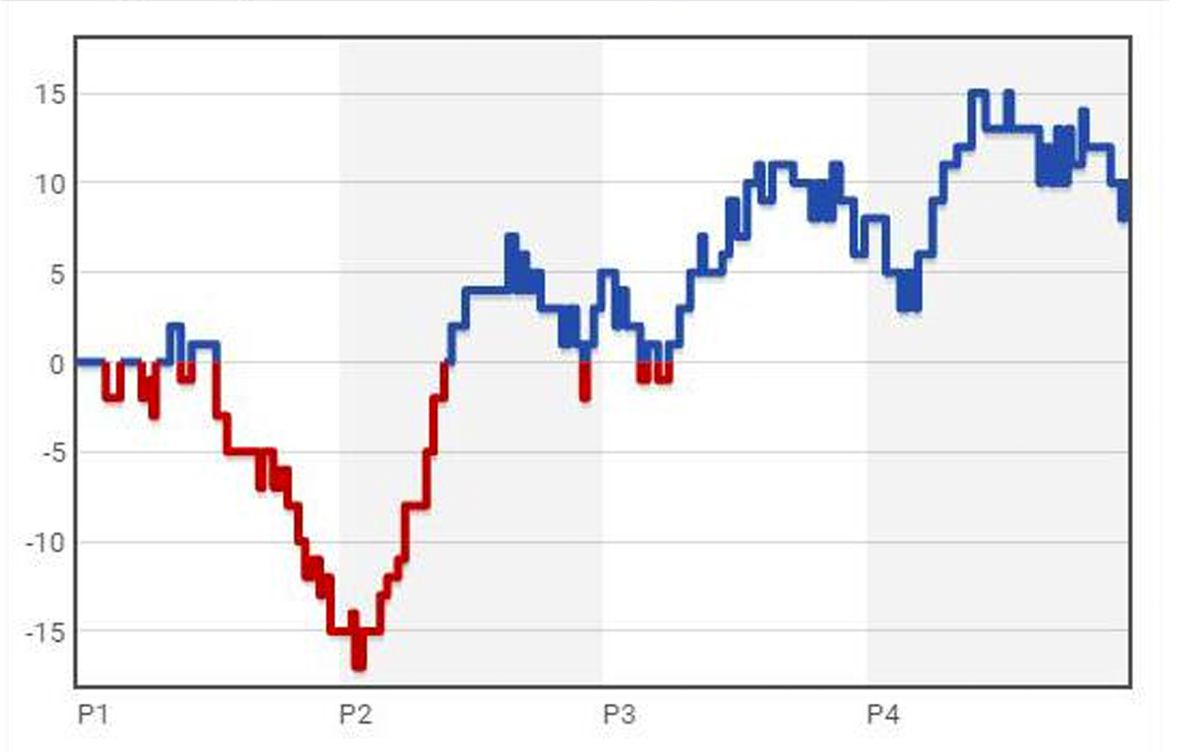 Save for the first quarters of Games 1 and 3, and majority of Game 2, the KaTropa has been in the driver's seat the entire series in terms of scoring development (see graphs above). With crazy scoring runs and huge early leads defining the Finals, the Beermen can't allow any of the Gilas Three or even the likes of Don Trollano to get hot.
SMB has to get better in covering anyone not named Terrence Jones and switching on TNT's shooters. Austria and his wards appear to have a hard time chasing opposing snipers — giving up an average of 14.7 threes per game — while draining their own in their two losses, albeit, at a dismal 25 percent 3PT shooting clip. Really, the only thing that's keeping SMB afloat in stretches has been the collective effort off the bench.
Kraken dilemma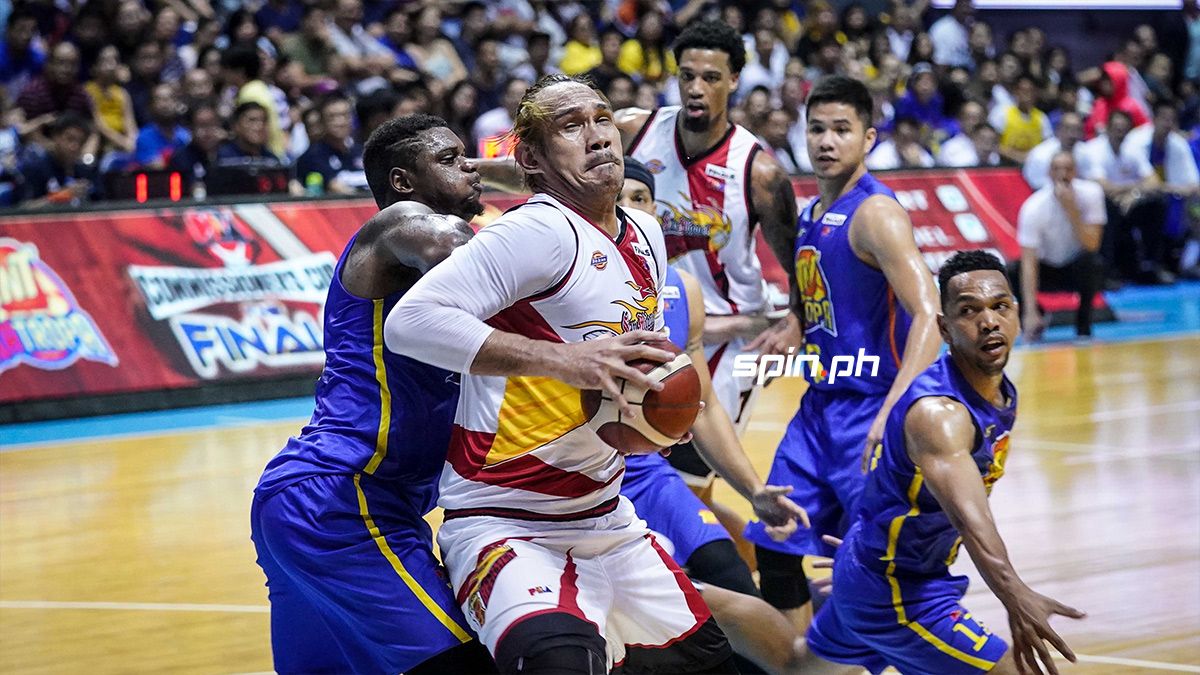 Believe it or not, June Mar Fajardo is tied with import Chris McCullough for second-worst cumulative plus/minus among Beermen in the series with -26, after Ross' -39, according to calculations based on game stats released by Pba.ph.
SMB, in fact, has just won six quarters and two overtime periods with him consistently getting almost three quarters' worth of playing time.
While the Kraken and his chicken wing have been an easy two points from the post, he is often seen lumbering in transition and getting outrebounded by KaTropa's hardworking forwards.
In defense, Fajardo has either been left in the dust by the quicker Rosario or Trollano or stuck on an island after not being able to close in on stretch bigs.
Austria has to make a decision on whether to stick with his five-time MVP or give more minutes to the more mobile Standhardinger and Arwind Santos for two-way purposes.
SMB has a lot to work on if they hope to overcome TNT and their 2-1 advantage. The Beermen may have survived a highly contentious Game 2, but their rivals clearly have been the better team in the Finals so far. Unless Jones loses his cool early or his teammates uncharacteristically go cold, it won't take long before TNT ends its four-year title drought.