CHRIS Ross felt Terrence Jones should have gotten more than just a flagrant foul penalty 1 for the headbutt the TnT Katropa import committed against him early in Game Three of the PBA Commissioner's Cup Finals.
At the same time, the San Miguel Beer guard referred to the leading Best Import contender as 'mentally a baby.'
Ross had a mouthful to say about the latest incident between him and Jones following the Beermen's 115-105 loss on Friday night at the Smart Araneta Coliseum that enabled the Katropa to regain the lead in the best-of-seven title series, 2-1.
Jones came an assist short of another triple-double with 37 points, 18 rebounds, and nine assists in the highly-emotional game that saw the Katropa fight back from a 17-point deficit in the second quarter.
But Jones shouldn't have done enough damage had game officials whistled him for a more stern punishment than the FFP1 given him for hitting Ross in the head.
"He's mentally a baby," said Ross. "Mentally, he's a baby."
"He came and headbutted me. I thought that was more than an F1," added Ross. "They can call what they call, but mentally, he's a baby. I thought I've seen people get ejected for headbutts. But I guess not today."
The incident occurred with 5:51 to go in the opening period when Jones went over Ross and headbutted him during a deadball situation and TnT holding a 13-12 lead.
The TnT import was later assessed a flagrant foul 1 infraction and sat out for three minutes, while Ross was given a technical foul for taunting.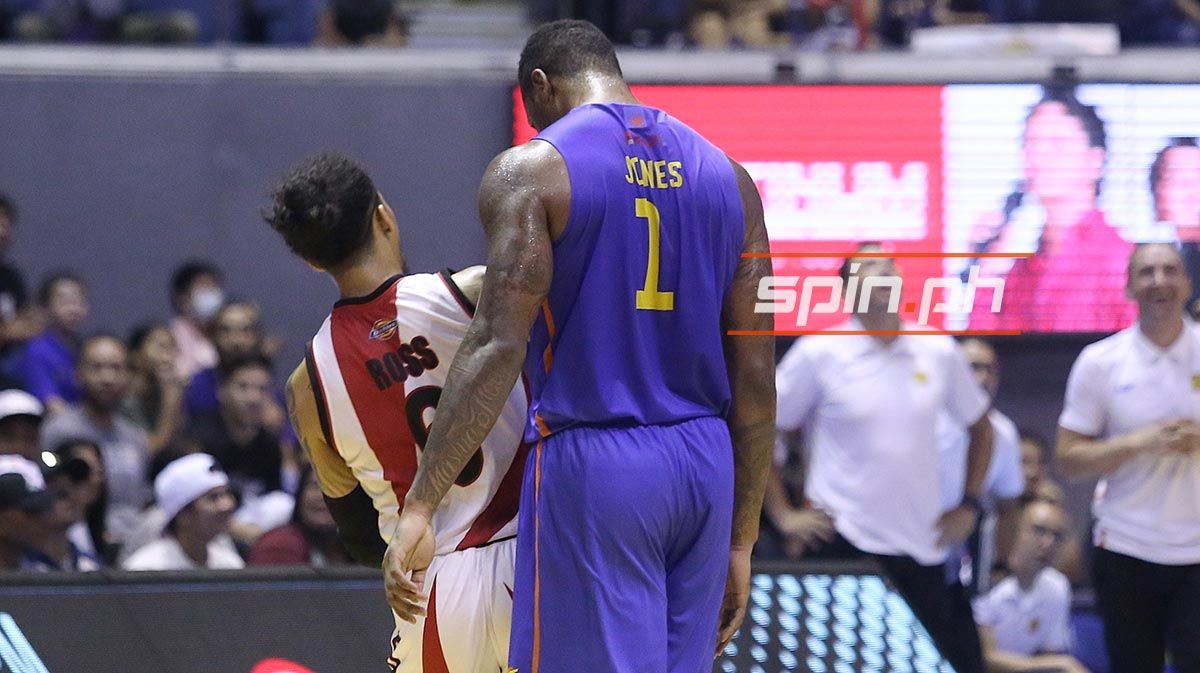 The 34-year-old Ross claimed he didn't say something bad to Jones.
"I got a tech for no reason. I didn't turn or talk to him or anything. I was looking straight," added Ross. "They thought I said something. You can't give a tech when you're thinking something. That was the explanation to me."
It was the latest animosity between the two players that saw Ross suffering two busted lips after getting a hit from Jones in Games 1 and 2.
"So I had two busted lips and a little lump from a dude that's mentally … 32 years old," said Ross.
The two-time Defensive Player of the Year also lamented the free throws discrepancy between the two teams, with the Katropa being given 45 shots from the foul line compared to the 28 of the Beermen.
He added it's actually the Katropa who's playing more mind games than the Beermen.
"If they're crying about playing mind games, they need to check themselves. If that's what they want to cry about the PBA, let them cry about that," said the tough-talking playmaker. "I guess it worked today because they got 50 free throws. So I guess it worked.
"If that's how they want to do it, keep crying to the PBA, because I know that's what they do."
Recommended Videos