This clip of Terrence Jones taking down Chris Ross sums up how the TNT KaTropa basically bullied the San Miguel Beermen in Game 1 of the 2019 PBA Commissioner's Cup Finals.
Much like Ross, SMB tried to scrap their way out of a 23-point hole, but to no avail. Instead, TNT swung hard a la Jones and kept their championship rivals from getting up. In the end, the minor tussle was reduced to a mere footnote in the KaTropa's 109-96 dismantling of the mighty Beermen.
The Best Import front-runner flexed his muscles on his way to 41 points, 12 rebounds, and eight assists. Meanwhile, opposing reinforcement Chris McCullough's monster game of 33 markers and 15 boards went for naught.
Sure, the opening match is such a small sample size to judge how the Beermen will fare for the rest of the best-of-seven title series, but head coach Leo Austria knows that this is a chess match and adjustments have to be made. That said, the multi-titled mentor might want to prioritize these three things.
Break out from the 3PT range
After burning the nets in their first two semifinal meetings against the Rain or Shine Elasto Painters, SMB has been atrocious from rainbow territory over its next three games. The Beermen posted 26 percent (7-26) and 29 percent (8-27) from deep in Games 3 and 4 versus ROS, respectively, and managed to get worse during Sunday's opener (5-24 for 20 percent). Chris Ross, who buried a career-high 10 treys in Game 2 (see video below), typified the Beermen's long-distance struggles with eight-straight misses since Game 4 of the semifinals.
Continue reading below ↓
Recommended Videos
It doesn't help that the team's best shooter, Marcio Lassiter, has been sidelined with a Grade 2 MCL that he'd suffered against the NorthPort Batang Pier in the first round of the playoffs. He is reportedly set to miss six weeks.
Alex Cabagnot (0-2) and Terrence Romeo (1-5) have to bounce back from their own disastrous starts. If they continue to misfire, Austria may have to play Von Pessumal for more than 10 minutes in hopes of countering TNT's 3-PT barrage.
San Miguel could also do a better job defending those long bombs, but the problem is, the team has more streaky shooters than sharp-shooting stoppers. With Lassiter out of the picture, Ross and Arwind Santos are their only three-point shooting two-way players that Austria can deploy outside McCullough and Ronald Tubid. The only way for the likes of Cabagnot and Romeo to get going early is for these big men to impose their will inside, which brings us to the next key...
Release Stan the Man
Despite June Mar Fajardo getting into foul trouble, Christian Standhardinger only suited up for a measly 20 minutes in Game 1. The former No. 1 pick, who also just had a personal foul, has seen limited burn on the court this conference (17 mpg in the elimination round). Still, he has soldiered and performed, thanks largely to his incredible efficiency. A significant bump in playing time against the Elasto Painters (24.5 mpg) resulted in him averaging 15 points and 6.3 rebounds per game.
Issues regarding his positional fit with the Kraken and matchup problems against TNT's small-ball lineup might be the reason for his short stint on the floor in Game 1. But moving forward, you can't deny the intangibles that he can provide for SMB. He seems to be one of the few players who has the physicality, mobility, and contratiempo style of play that tends to throw off a physical specimen like Jones and the opposing team's new system.
Alongside Fajardo, Standhardinger should use his size advantage and bring the battle to the paint. The league's tallest frontline may not have worked against the KaTropa in their semis showdown with Ginebra, but Japeth Aguilar and Greg Slaughter are nowhere near their SMB counterparts in terms of skill. Being more aggressive down low frees up their shooters — more importantly, it forces the frontcourt of Jones and Troy Rosario to work harder on the other side floor.
Contain TNT's deadly Gilas Three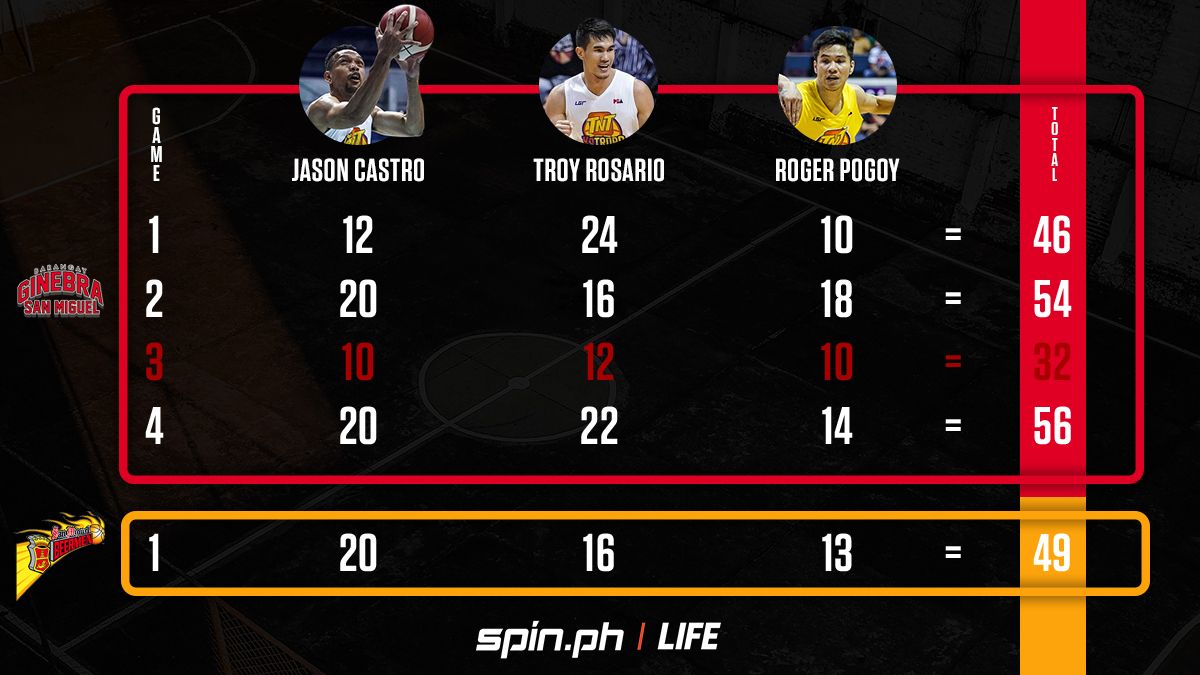 Everyone is talking about how dominant Jones has been, but Jayson Castro, Roger Pogoy, and Rosario's contributions have been equally instrumental in TNT's success this conference. As seen in the table above, it's an automatic win for TNT whenever the Gilas trio combines for at least 46 markers a game. Their 52-point collective average in the KaTropa's last four victories is proof that KaTropa's three-headed monster has benefitted from the defense drawn by Jones.
Jones has been downright unstoppable every time he rushes downhill, which in turn opens things up on the perimeter for Castro and Pogoy. This was evident in their 88-71 Game 2 triumph over Ginebra, where the All-Star backcourt had a combined 10 made three-pointers and Jones had 10 assists (see video above). At the same time, Rosario has rewarded Jones' unselfishness, acting as the import's favorite drop-pass target (forward to 6:34 mark of the video below) — and scoring baskets almost automatically.
If the Beermen hope to defuse TNT's explosive offense, they should start by shutting down Jones' stellar supporting cast. Whether it means more minutes for Santos or even Matt Ganuelas-Rosser, Austria has to tinker with his infamously short rotation and find some help on the defensive end. Unless Jones scores a hundred, San Miguel is more likely to get beaten by a balanced attack than a one-man show.