CHRIS Ross felt TNT import Terrence Jones intentionally hit him in the nose late in the third quarter of Game One of the PBA Commissioner's Cup finals.
The San Miguel guard drew an offensive foul on Jones in the 1:03 mark of the third after the TNT reinforcement's right arm hit Ross' nose. The incident drew a near scuffle before referees were able to pacify the situation.
Ross believed Jones did it on purpose, citing a similar incident with NorthPort big man Mo Tautuaa that led to a broken nose.
"I felt like he purposely went after my nose because I know you see Mo Tautuaa wears a mask now, the same thing happened to him," Ross claimed. "He has done it to multiple people."
"I'm not the first one. Mo has a mask for it. He broke his nose. I'm not sure if he had surgery but that's something that he does," Ross added.
Ross also claimed he was also purposely stepped on the leg by Jones after he fell down from the hit.
"He stepped on my leg. They say it was an accident. When it's an accident, if I step on my toe right now, you're gonna go right off right? His leg stood there.
Continue reading below ↓
Recommended Videos
The incident came with TNT well ahead, 85-69, with the KaTropa eventually winning Game One, 109-96, to start off the Commissioner's Cup finals.
Fortunately for him, Ross only had a busted lip and didn't suffer a major injury in his nose. That doesn't mean though that he will take the incident lightly.
"There are certain things that are not basketball plays. If we're going to play basketball, we play basketball. If you want to play dirty, we play dirty too," said Ross.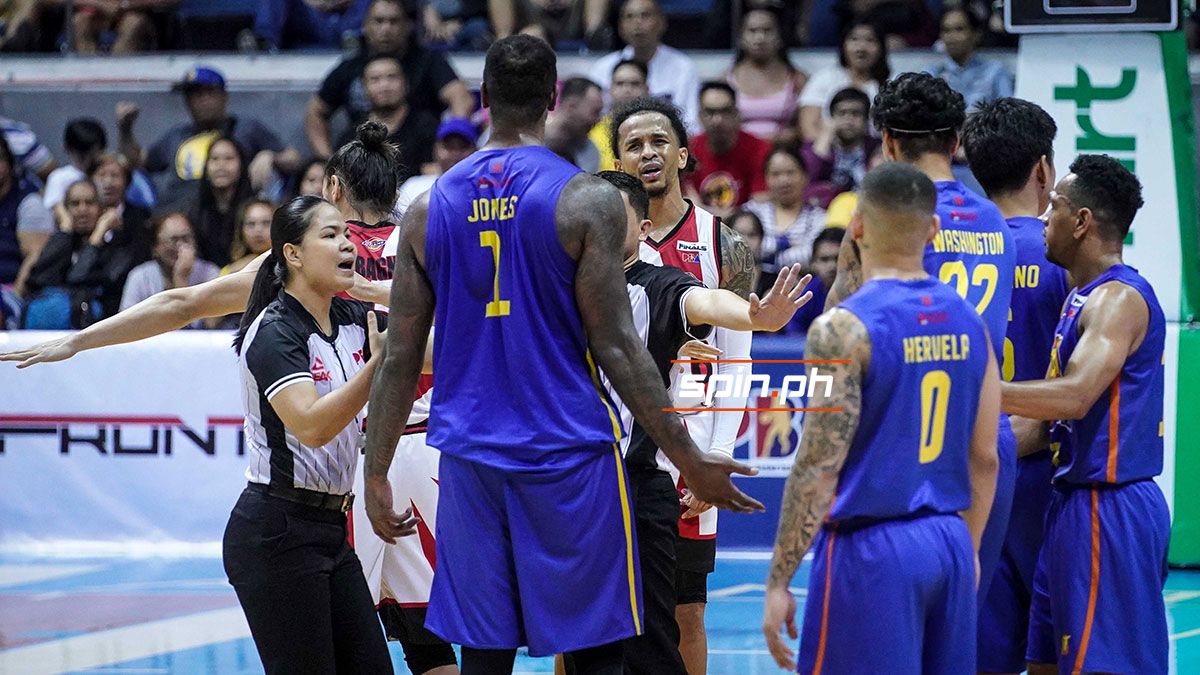 Jones denied he hit Ross intentionally, and even helped him get up on his feet shortly afterwards to let him know it was not intentional.
"I don't know. They called an offensive foul and I guess he felt I was on him or something," Jones said afterwards. I tried to help him up to let him know that it was not intentional but he didn't want my help. It's the playoffs.
Outside the offensive foul slapped on Jones, no added penalties were given to both parties, with TNT's Jay Washington being called for a technical foul for second motion.
Jones went on to finish with 41 points and 12 rebounds, while falling two assists short of a triple double after he dished out eight in Game One.
Jones said he quickly moved on from the incident with him and Ross.
"I don't really care. So next game," Jones said.