THE 2019 PBA Governors' Cup is in full swing with all 12 teams jockeying for position toward the postseason.
San Miguel is heating up in its quest for a second franchise grand slam, while Magnolia is eager to defend its championship, but is still trying to gain its footing in the middle of this grueling PBA schedule.
TNT, though, is making its case as a legitimate threat to both the Beermen and the Hotshots as the KaTropa are still in seventh heaven, going unbeaten in their first seven games as of this writing.
The rest of the teams in the field are just trying to spoil the party at this stage of the season that
Starting last September 20 – later than usual after giving way to Gilas Pilipinas' Fiba World Cup campaign, the two-month elimination round will end on November 20 – with the season sure to run up to next year.
That's because the league will take another break from November 29 to December 15 due to the Philippines' hosting of the 30th Southeast Asian Games.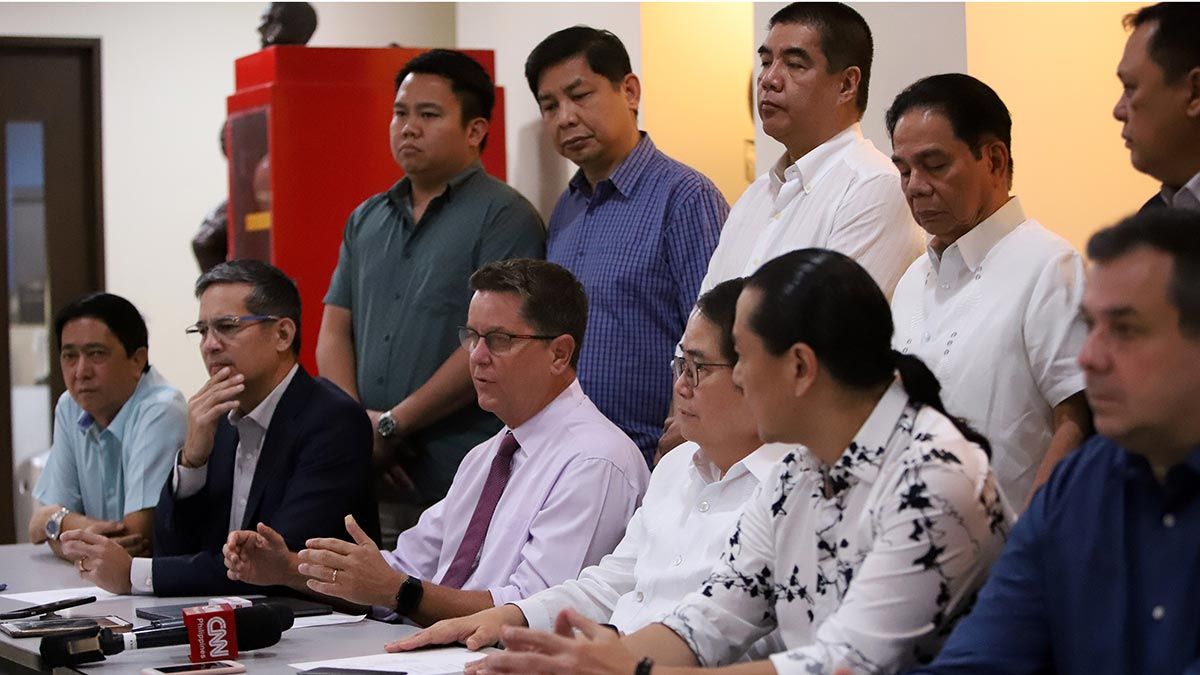 Continue reading below ↓
Recommended Videos
That will force the PBA to hold its Governors' Cup semifinal games until December 22 at the latest, before taking a Christmas break ahead of the best-of-seven Finals from January 3 to 17 next year.
For now, teams are keen on making the most of their remaining assignments in the regular season as they try to advance to the quarterfinal round and avoid early vacation.
Some games were played at the Mall of Asia Arena in Pasay and are now mostly played at the Smart-Araneta Coliseum in Cubao and Cuneta Astrodome in Pasay, with a handful of games held at the Ynares Center in Antipolo City.
There are two more Saturday out-of-town games in the eliminations, particularly on November 9 in Cebu featuring the Beermen and the Rain or Shine Elasto Painters and Nov. 16 in Davao pitting the TNT KaTropa and the Hotshots.
Check out the full remaining PBA schedule of the regular season below.
Check back on this article as we update this at the start of the playoff round of this year's season-ending tournament.
PBA Governors' Cup 2019 schedule
Date: October 23, 2019, Wednesday
Venue: Cuneta Astrodome
4:30 p.m. – Blackwater Elite vs Rain or Shine Elasto Painters
7 p.m. – San Miguel Beermen vs NorthPort Batang Pier
October 25, Friday
Smart-Araneta Coliseum
4:30 p.m. – Columbian Dyip vs Phoenix Pulse Fuel Masters
7 p.m. – NLEX Road Warriors vs TNT KaTropa
October 26, Saturday
Smart-Araneta Coliseum
4:30 p.m. – Alaska Aces vs Blackwater Elite
6:45 p.m. – Barangay Ginebra Kings vs Rain or Shine Elasto Painters
October 27, Sunday
Smart-Araneta Coliseum
4:30 p.m. – Magnolia Hotshots vs Columbian Dyip
6:45 p.m. – Meralco Bots vs San Miguel Beermen
October 30, Wednesday
Cuneta Astrodome
4:30 p.m. – Rain or Shine Elasto Painters vs NLEX Road Warriors
7 p.m. – Blackwater Elite vs Barangay Ginebra Kings
November 3, Sunday
Smart-Araneta Coliseum
4:30 p.m. – NorthPort Batang Pier vs Alaska Aces
6:45 p.m. – Barangay Ginebra Kings vs Meralco Bolts
November 6, Wednesday
Cuneta Astrodome
4:30 p.m. – San Miguel Beermen vs Blackwater Elite
7 p.m. – Phoenix Pulse Fuel Masters vs Magnolia Hotshots
November 8, Friday
Smart-Araneta Coliseum
4:30 p.m. Columbian Dyip vs Meralco Bolts
7 p.m. – TNT KaTropa vs Barangay Ginebra Kings
November 9, Saturday
Hoops Dome, Lapu-Lapu City, Cebu
5 p.m. – San Miguel Beermen vs Rain or Shine Elasto Painters
November 10, Sunday
Ynares Center, Antipolo
4:30 p.m. – Meralco Bolts vs NorthPort Batang Pier
6:45 p.m. – Magnolia Hotshots vs NLEX Road Warriors
November 13, Wednesday
Smart-Araneta Coliseum
4:30 p.m. – NorthPort Batang Pier vs NLEX Road Warriors
7 p.m. – Alaska Aces vs Phoenix Pulse Fuel Masters
November 15, Friday
Smart-Araneta Coliseum
4:30 p.m. – Phoenix Pulse Fuel Masters vs Blackwater Elite
7 p.m. – Barangay Ginebra Kings vs Columbian Dyip
November 16, Saturday
University of Southeastern Philippines Gym, Davao City
5 p.m. – TNT KaTropa vs Magnolia Hotshots
November 17, Sunday
Smart-Araneta Coliseum
4:30 p.m. – Rain or Shine Elasto Painters vs Meralco Bolts
6:45 p.m. – NorthPort Batang Pier vs Barangay Ginebra Kings
November 20, Wednesday
Ynares Center, Antipolo
4:30 p.m. – NLEX Road Warriors vs Alaska Aces
7 p.m. – San Miguel Beermen vs TNT KaTropa
PBA Governors' Cup 2019 playoffs schedule
Quarterfinal/semifinal round: November 21 to 28
Southeast Asian Games break - November 29 to December 15
Best-of-five Semifinals – December 16 to Dec. 22
Best-of-seven Finals – January 3 to Jan. 17, 2020