THOSE who completed the 2015 Men's Health Philippines Urbanathlon in Nuvali, Laguna on Sunday morning did not receive the usual finishers shirts.
Instead each of them earned a more fitting Survivor shirt.
That's because the "Survival of the Fittest" race that combined road, trail and several obstacles tested both the physical and mental fortitude of each one of the 1,800 brave souls who faced the challenge and arrived at the 5 a.m assembly time.
Patrick Evangelista was the overall fastest Urbanathlete, finishing the Men's Solo Category in an impressive 42 minutes and 44 seconds. Second place went to Angelo Gonzalo (43:58) while Leandro dela Cruz came in third at 48:05.
There was also a Buddy category that was won by Mathias Burkhart and Thomas Wittwer who also won as part of a team in the Urbanathlon in Hamburg this year.
In the distaff side, Jessica Espiritu clocked one hour, three minutes and 26 seconds. Second place Maria Cristina Ticzon at 1:01:54 and Jessica Espiritu with 1:01:24.
Team Nestle Group 1 won as the fastest team based on members' average times.
"This year it was all about pacing because we had a mix of road and trail. The obstacles were packed together near the finish line so you have to pace yourself in order to finish it in good condition," said Wayne Tulio, Men's Health PH section editor who also completed the challenge, his seventh in the nine editions of his magazine's signature event.
Tulio noticed that most of those who joined before were mostly runners but the recent Urbanathlon has also attracted different groups of people that include CrossFit enthusiasts and triathletes looking to get some offseason training.
Popular model Jinri Park also surprised many by finishing third in her wave.
"I didn't even prepare for this at all… at first I was really scared because I've never tried (something like this) in my life and this was a 10K but once I was running it was really fun. I got to know a new part of myself also and I was surprised and I'm motivated to join again," Park told Spin.ph.
This year's course at the Nuvali grounds is spread over 10 kms and studded with seven challenging obstacle courses, among these a Modified Wall + Stuntman Jump that required participants to hoist themselves up an eight-foot wall, then leap down over the other side.
There is also the Network obstacle that forces participants to traverse a criss-crossing network of ropes; agility was put to the test in the Tire Field; stamina and strength were required to complete eight rows of Hurdlers; the Net Crawl forced everyone to meet the grass up close and personal; and in a test of upper-body strength, the Armbar.
"Parang redundant siya kasi trail is an obstacle in itself tapos may additional pa tayong obstacles. Masaya naman! Minsan pag tinitingnan mo yung obstacles mahirap pero pag nandyan ka na nagagawan mo ng paraan paano matawid yan e," said runner and blogger Franc Ramon after his first Urbanathlon.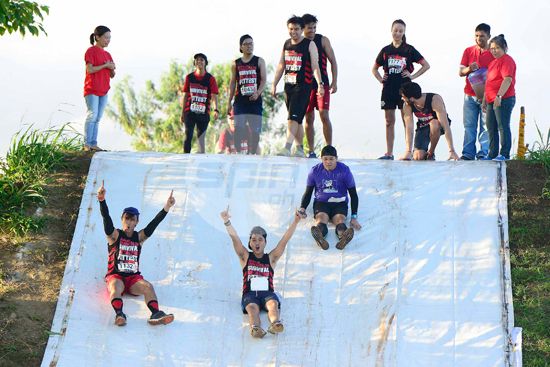 Recommended Videos