TUCKED in a quiet corner of Mandaluyong City's rapidly changing industrial zone is a haven for serious bike and multisport enthusiasts.
Owned by triathlon and fitness coach Andy Leuterio, Maximus Athlete's Shop Café is the latest addition to the Sparta Complex, a former warehouse along Pioneer Street that is fast becoming an active lifestyle hub at the center in the metropolis.
"We like the alpha-ness of the name. Siyempre there was (the movie Gladiator) and the character of the store. The products that we carry are for Type A personalities — the ones who take up triathlon, high-performance equipment. It fits the image that we want. We were able to locate inside Sparta so bagay," he told Spin.ph during our visit on Wednesday.
The attention to detail that has characterized Coach Andy's approach to his Camp Alpha triathlon training has carried over to his new project. In fact, a Google search of Maximus will yield an equal amount of entries from both fitness blogs and foodie websites.
Coach Andy, who bikes 16 kilometers to work and back several times a week, admits that he and his wife Sheryll (who is responsible for the store's interior) are trying something new.
"We like to think we're setting a new standard. We have the luxury of space so we can do whatever we want. The typical bike shop, siksikan talaga. Nagmumukhang bodega. Wala naman masama doon kasi it maximizes retail space. (But) for us, we realized the potential of all this space."
Continue reading below ↓
Recommended Videos
Walking around the 310-square meter floor space feels like being in a museum or a fashionable boutique and allows the customer to breathe and appreciate the products. There are Specialized road bikes, mountain bikes, tri-bikes, vintage bicycles from Tokyobikes and even Orbea Grow starter bikes for the kids. You can also customize bikes with the help of the knowledgeable staff.
Discerning clients will appreciate the fine attention to detail - from tables made from bicycle rims, corrugated iron used as wall panels and wooden pallets incorporated in the main showroom. The place has a way of growing on you.
Two major US bike brands, aerodynamics-engineered Specialized and handmade titanium-framed Lynskey, figure prominently in the shop. Specialized models from top of-the-line models such as the Venge to entry level examples that include the Pitch MTB are on display.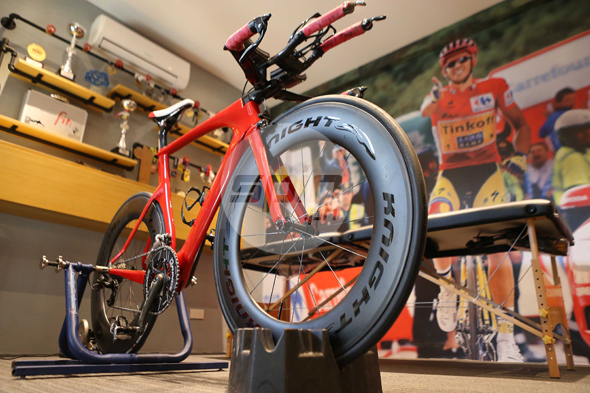 On the loft is a showcase of current mountain, road and 'cross examples of the Tennessee-based Lynskey line. Depending on make and model, bikes range from P24,900 to 450,000.
Coach Andy said they are concentrating on what people look for in the cross country, triathlon and roadie markets.
Raising the bar when it comes to industry standards, Maximus boasts of a geometric body fitting room done personally by Coach Andy, who is also a bike fitter who received his certification from Singapore.
"The bike is very personal, parang tailoring 'yan," he explained. There is also a bike service area has an in-house mechanic and a bike spa.
Under the warm glow of mason jar lighting, the spacious interior of the shop is an ideal meeting place for post run/race recoveries. Apart from drinks that include meticulously prepared specialty coffee and fruit smoothies, the café offers a healthy menu of pasta and grilled sandwiches (you have to try their best-selling feta cheese and chorizo sandwich).
"In some places you can't even sit down and shops are tambayan places," said the avid biker who draws on his 15-year experience around bikes.
Aside from bicycles, there is also a wide selection of merchandise to satisfy the adrenalin junkie with a penchant for outdoor training. There are GoPro cameras, Oakley shades, Vamos socks, Brooks and Newton running shoes and apparel.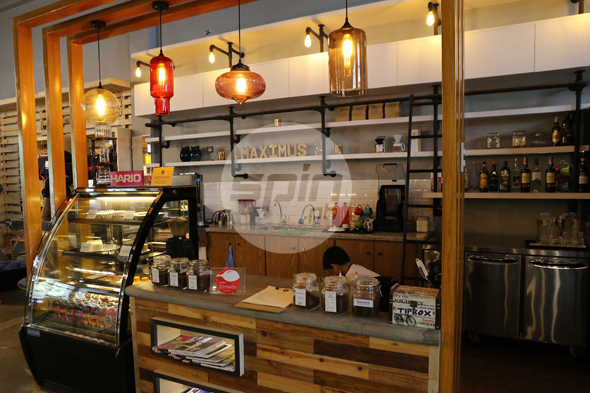 Aside from the shop's new look, the Top Gear columnist is also pioneering a new way of doing business.
"It's really the relationship and not even the price. There's always the basic price but its really how you're handled by the staff. The competence of the mechanic and siyempre the ambiance of the place. It's the value of the whole investment.
"A lot of my customers are fixated on discounts. We're trying to gradually educate them that instead of thinking of discounts, think of the value you'll get when you invest in this store. Aside from price, what can this store offer you? Better service, loyalty points, rewards program (and the like)."
Maximus Athlete's Shop Café is open 10AM-8PM Monday to Friday, and 8AM-8PM Saturdays. It is located at 126 Pioneer Avenue, Mandaluyong City. For inquiries, you can visit their Facebook page.