SAMSUNG unveiled two revolutionary devices, the Gear Fit2 and Gear IconX, to finally give fitness enthusiasts freedom from unwieldy smartphones and earbuds during their workouts in the 'Unleash Yourself' launch held at the Manila Polo Club.
Samsung marketing head for mobile communication business Nio Judalena proudly revealed the Samsung GearFit2 and Gear IconX at the official country launch, saying it breaks new ground in the industry for consumers also looking to break their physical limits.
"More than smartphones, we see fitness as a very important area in life, where we see our technology being able to help our consumers go beyond their limits in their fitness goals," he said.
Fitness coach Jim Saret was also present at the launch, where members of the media tested out the devices in a series of exercises. He went on to describe the Gear Fit2 and the Gear IconX as 'fitness game-changers.'
"The technology allows users who want music in their workouts to leave their phones behind during workouts and no longer be hindered by earphone cords and the need to bring along heavy smartphones that can be a source of distraction," he said.
His wife and fellow instructor Toni agreed, saying the two devices working in conjunction allows runners to leave their smartphones when they run outside and provide music, plan routes tracking via stand-alone GPS tracking, monitor distance, calories burned heart rate and even stress levels—information that can be accessed by simply looking at their wrist.
The new Gear Fit2 is a sleek GPS sports band that has advanced features for fitness tracking–duration of activity, number of reps, calories burned, among others–and motivational benefits of a portable fitness tracker, but sans the need to bring a heavy smartphone during exercise.
With its Social Challenge capabilities, the Gear Fit2 also allows users to challenge each other and help create friendly competitions as they push themselves more to post their best records.
The Gear Fit2, with its IP68 rating, is water and dust resistant, all wrapped into a sleek and lightweight band-type design. It also has a 2GB storage capacity to store up to 500 songs, and a curved Super AMOLED Display that allows easy viewing of fitness data.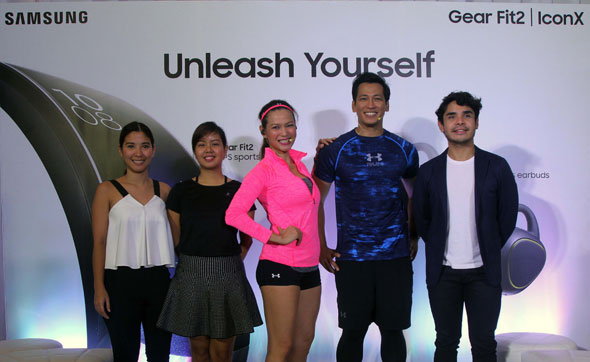 Complementing the fitness tracker is the compatible Samsung Gear IconX. The wireless, cord-free fitness earbuds have an in-ear fitness tracker,a first in the market for an earphone device. It also delivers real-time updates on duration, distance, speed, heart rate and calories burned.
Equipped with audio feedback, the cord-free earbuds provide fitness enthusiasts with a coach's voice in their head – literally – to push them further into achieving their goals and the most effective training they long for.
The Gear IconX also allows gym rats to listen to up to 1,000 songs on its 4GB storage. Controlling the music player is done via its Smart Touch function—users will be able to control the volume, or select play, pause, and skip with just a few simple taps on the earbud.
Samsung has also taken into consideration the safety of its Gear IconX users. The cord-free earbuds have an ambient noise feature that allows users to still hear their surroundings and be aware of their environment without sacrificing the need for a seamless music experience.
The Samsung Gear Fit2 and Gear IconX are now available at Samsung Experience Stores and authorized dealers nationwide for P8,490 and P7,990, respectively.
For more information, visit http://www.samsung.com/ph
Recommended Videos