WORKING out at home might not seem as effective as going to the gym. But when you force yourself to work with what you have, you'd be surprised at the results.
Jaja Leonor, a fitness trainer from Quezon City, describes at-home workouts as a "challenge to literally lift yourself higher." Together, we look at the best gym routines to get you swole from the comfort of your own home.
1) Bodyweight Dips on Chairs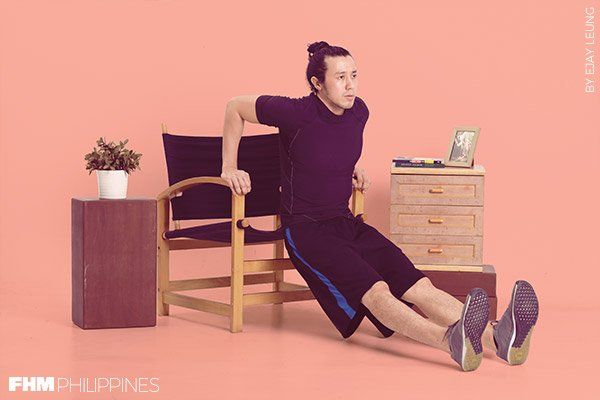 At the Gym: Weighted dips on dip bars
Focused Muscles: Triceps, lower chest
Recommended Routine: one minute, three sets
While not as heavy as putting on a dip belt, your triceps and lower chest will still carry about 90 percent of your body weight while doing normal dips. If you weigh about 170 lbs, that comes to around 153 lbs. Using two sturdy, heavy chairs allows you to easily adjust for width. Narrowing the gap helps you focus on the triceps, while widening it focuses on the lower chest. If you only have a single chair, then sturdy armrests can be used to achieve the same effect. "If you're having trouble with full body dips, you can place the chairs side by side facing front and do a bench dip, cutting the weight to roughly 60 percent," says Leonor.
ADVERTISEMENT - CONTINUE READING BELOW ↓
2) Regular, Decline and Incline Pushups on a Mat/Bench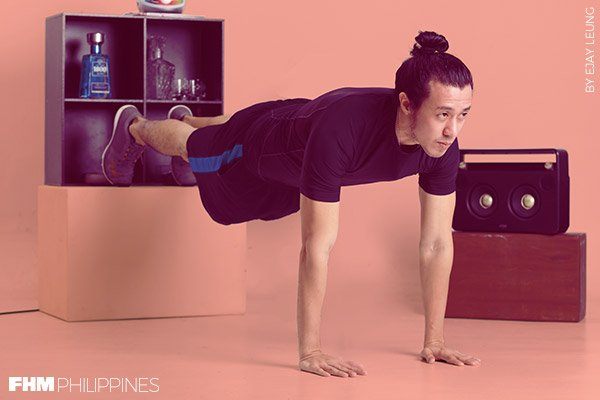 At the Gym: Bench press, decline bench press, and incline bench press on a weight bench
Focused Muscles: Middle, upper, and lower chest muscles
Recommended Routine: One minute, three sets per focused muscle
"Pushups work the same muscles as bench presses do. Use different pushups to target different parts of your chest," says Leonor. A regular pushup lets you lift about 64 percent of your body weight. Doing a decline pushup with your feet propped on a bench raised about two feet off the ground gets the weight up to 75 percent and targets the upper chest. An incline pushup with your hands on the bench and your feet on the ground cuts the weight to less than 50 percent and targets the lower chest.
3) Wall Sits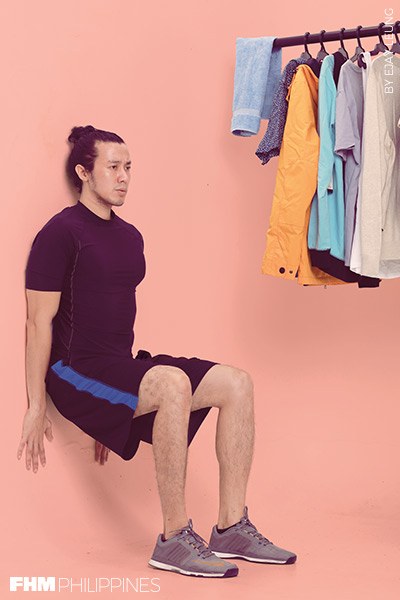 At the Gym: Squats on a Smith Machine
Focused Muscles: Quadriceps
Recommended Routine: Do for as long as you can
"A Smith Machine Squat works your quadriceps. You can use any flat wall to work on the same muscles," says Leonor. All you need here is a wall and a timer. Press your back against a wall and slide down until you form a right angle at your knees and your buttocks. Keep your arms up and start counting. The longer you go, the stronger those quads get. "You can do it one leg at a time, with the other leg resting on your knee like a monk to level up the workout."

4) Bodyweight Squats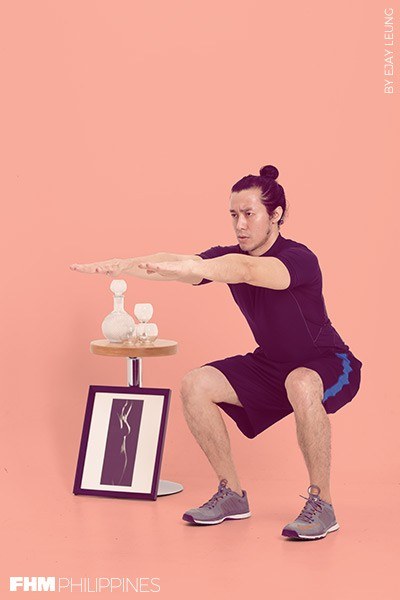 Gym Equivalent: Barbell/dumbbell squats
Focused Muscles: Quadriceps, glutes, and hamstring muscles
Recommended Routine: 10 repetitions, three sets
Bodyweight squats allow you to use about 65 percent of your weight to work your lower body muscles. While not having the same benefit of being able to easily add weight for progress, bodyweight squats are a good way to keep your lower extremities looking nice and tight.
ADVERTISEMENT - CONTINUE READING BELOW ↓
Photography Ejay Leung of Midnight Bonkers
To read the full story, grab a copy of the July 2017 issue of FHM Philippines.
This story originally appeared on FHM.com.ph.
* Minor edits have been made by the Spin.ph editors.