For someone who spends most of his weekdays stuck in traffic or glued to his desk, I grab any opportunity to stretch my legs and break a sweat. Also, I could really use some exercise with all the unwanted poundage I've put on in recent years.
So, when the editorial team was invited to try out a new basketball-themed workout called SwishFit, I was the obvious choice to sign up for it and write about the experience. This time, though, there were multiple slots available and a couple of my teammates were also interested.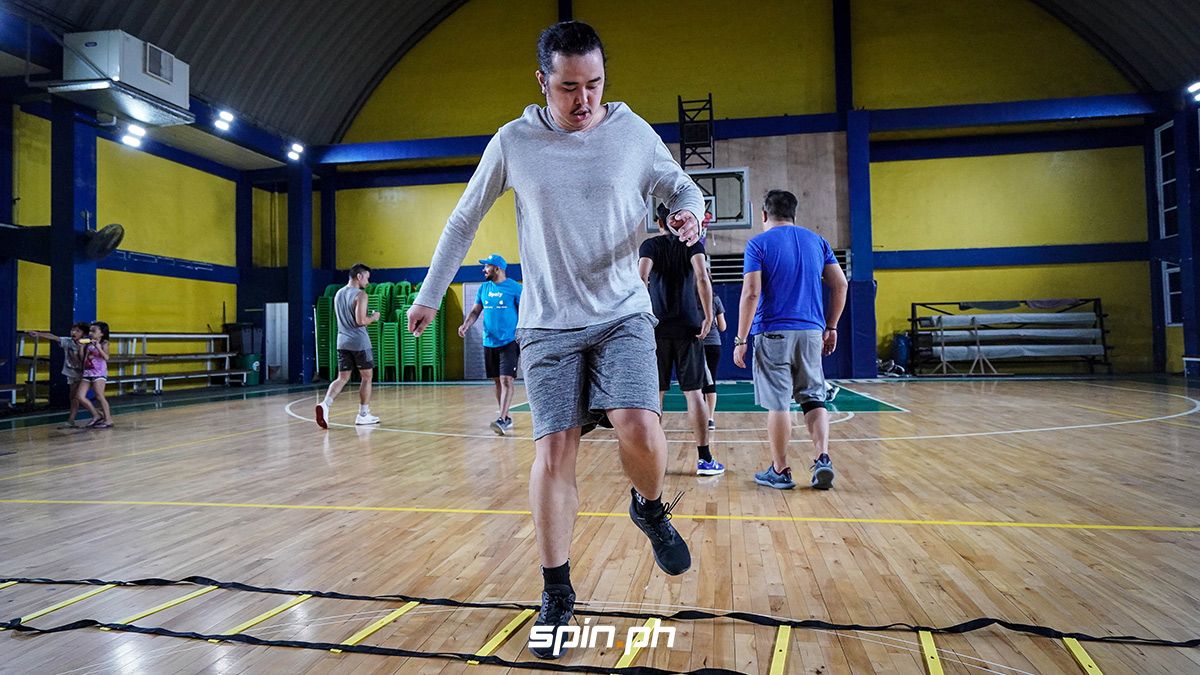 SwishFit seemed to be the perfect program for individuals like us who are swamped with work for majority of the week and can only go for a quick run or lift, not to mention the incorporation of arguably the most popular sport in the country. It's the first local basketball-fitness instruction, which combines hoops skills development, plyometrics, and functional fitness in an hour-long session.
Continue reading below ↓
Recommended Videos
According to its co-founder and coach Josiah Villegas, SwishFit caters to everyone — male or female, newbie or experienced, young or old — and no one gets left behind.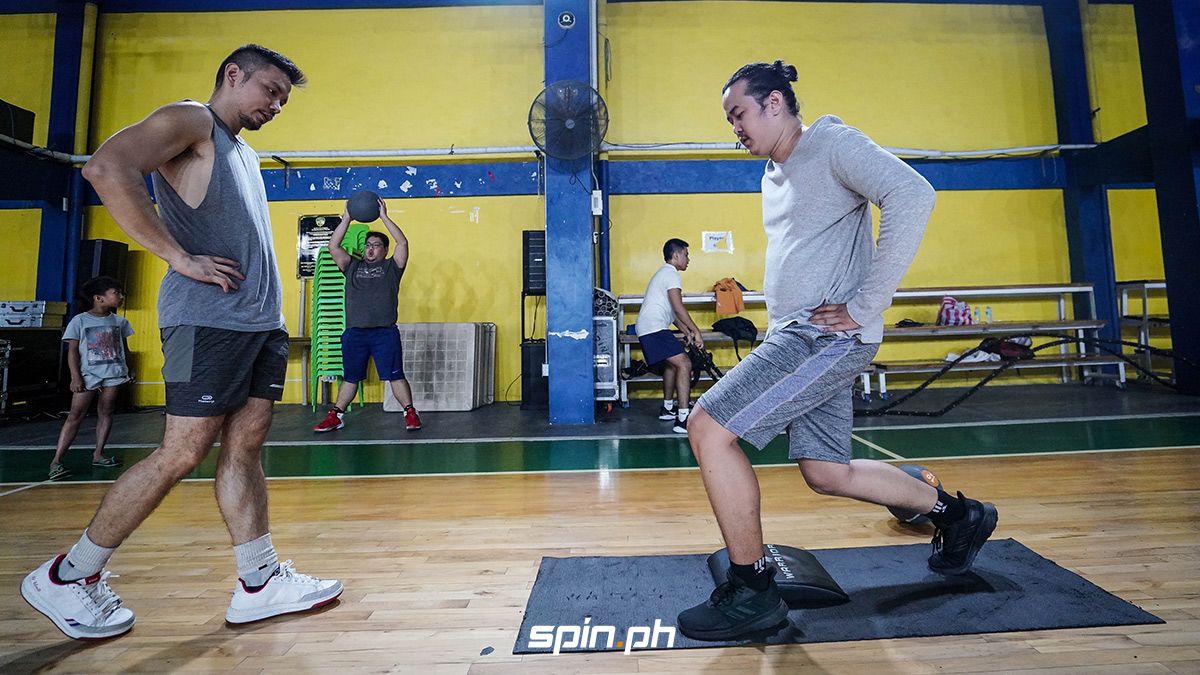 The idea of organizing such venture came after a group of former varsity players buried in corporate work missed the basketball training grind. Coach Josiah says, "With our class, you get the best of both worlds. You get the play the game you love and you get functionally fit to power you through your everyday life."
We were about to found out.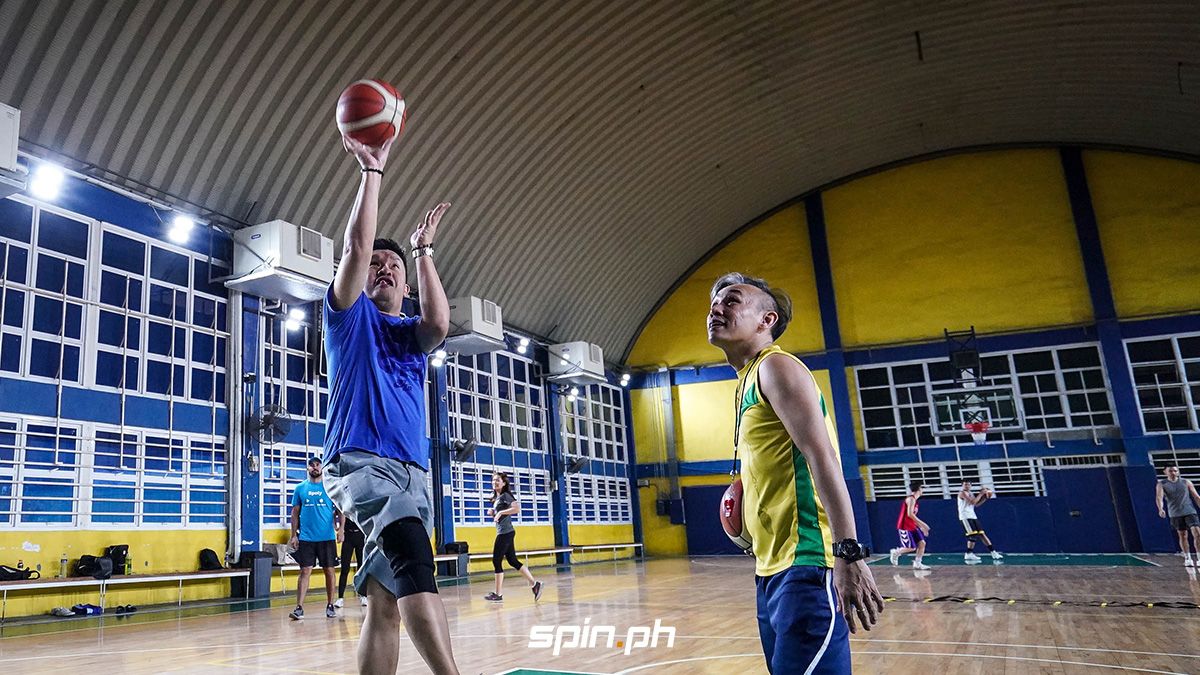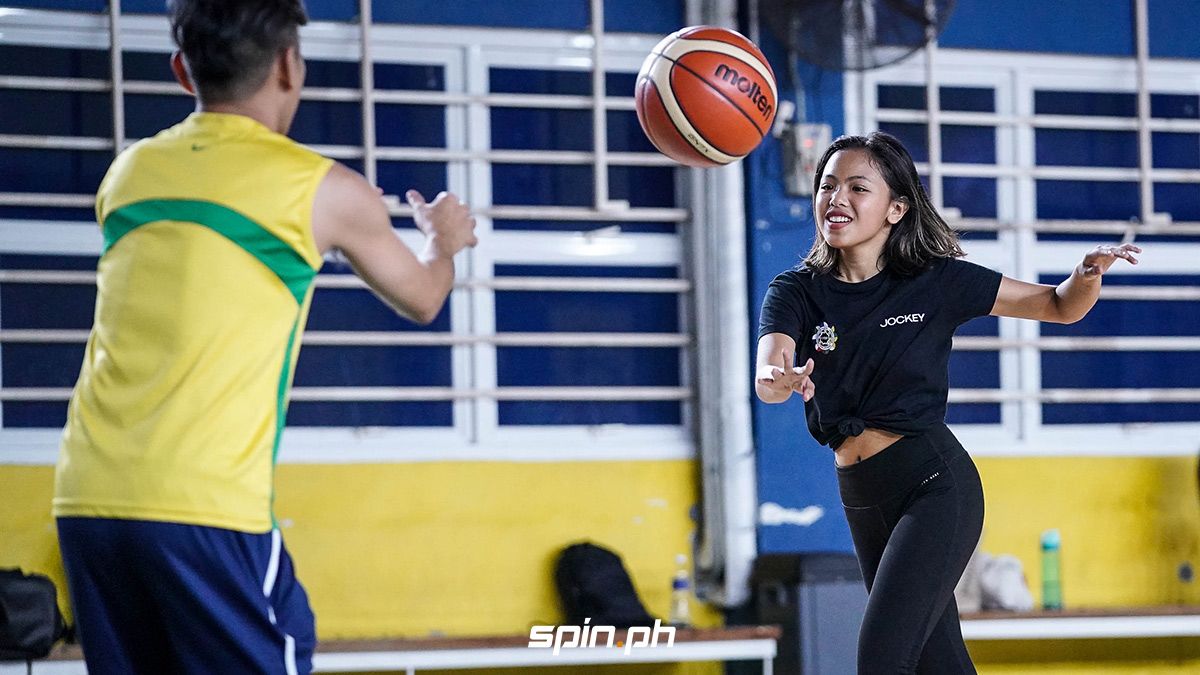 The final group consisted of our editor (a scoring machine in his late 40s), and staffwriter (a young lady with cheerleading background), and me (a rec baller with the stamina of a koala), with another editor having to beg off because of a last-minute meeting. Tagging along to capture all our exhausted glory was our in-house photographer, whose heavy backpack was a physical activity in itself.
Due to a slight delay at the office, we arrived at the gym a bit late and missed the warmups. Although I'm not sure if that's a good or bad thing, considering they did "suicides" and I haven't had a proper exercise in months outside a company game.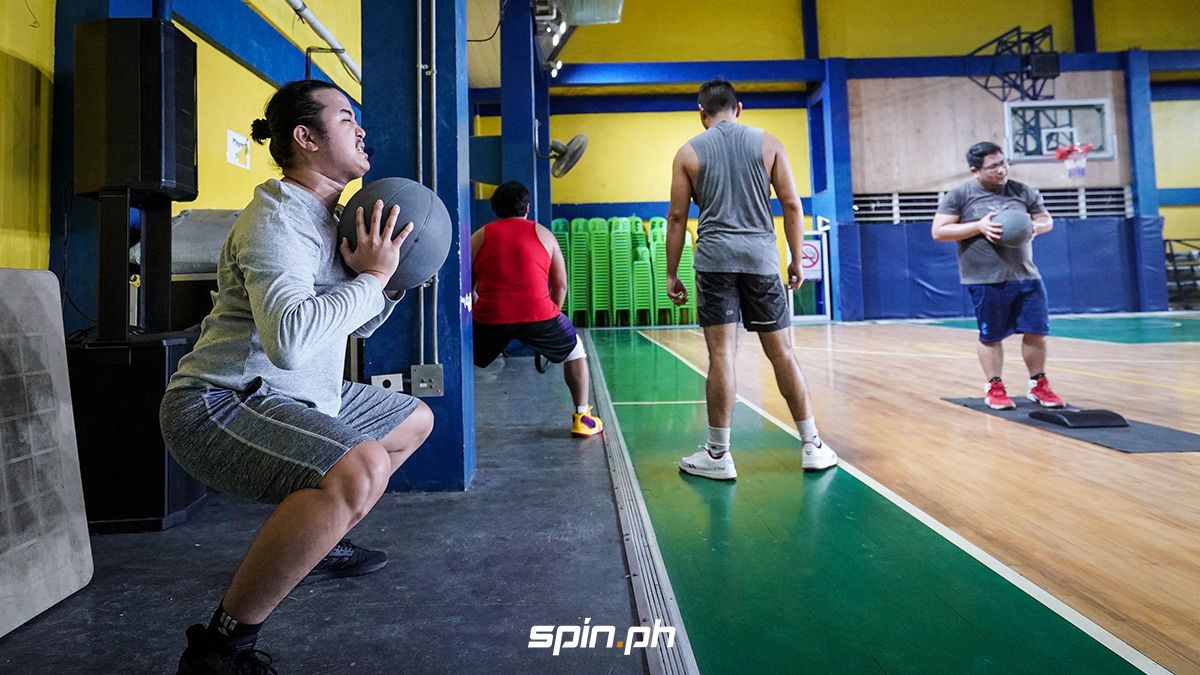 I was grouped with the seasoned participants, while my teammates joined the other beginners. Coach Josiah said I looked like someone who has done some training, which was true a decade ago when I made the junior squad as a senior. In reality, I was as tall (6'3") as I was out of shape (overweight at around 220 lbs) at the moment.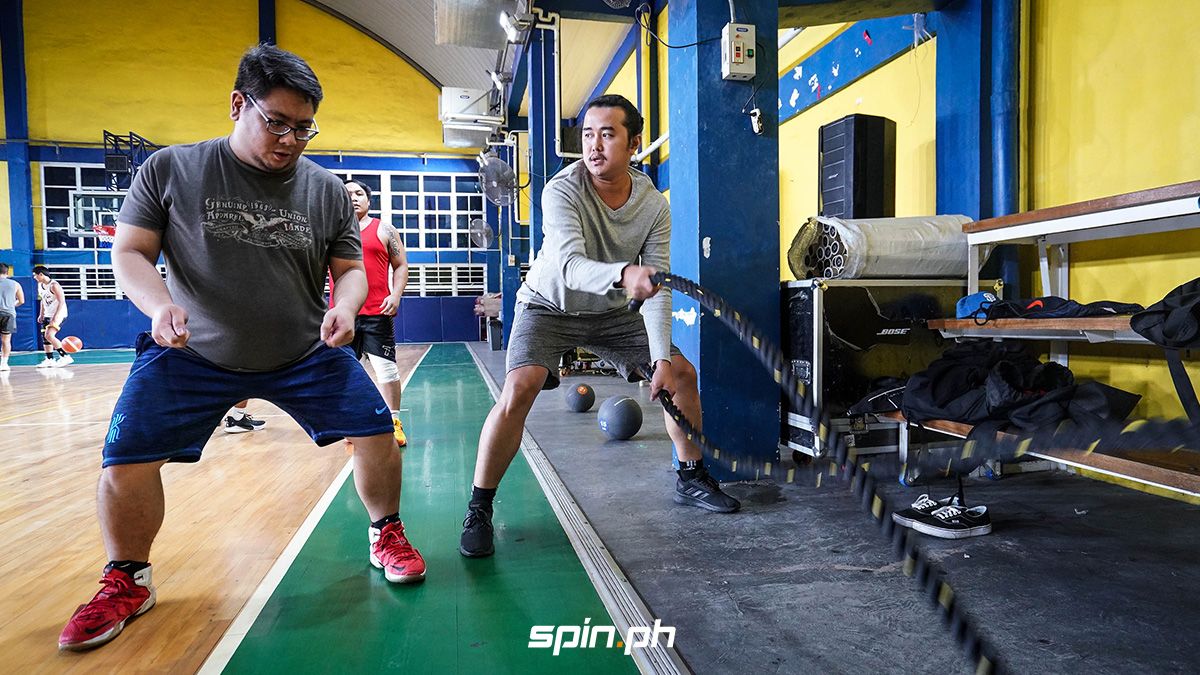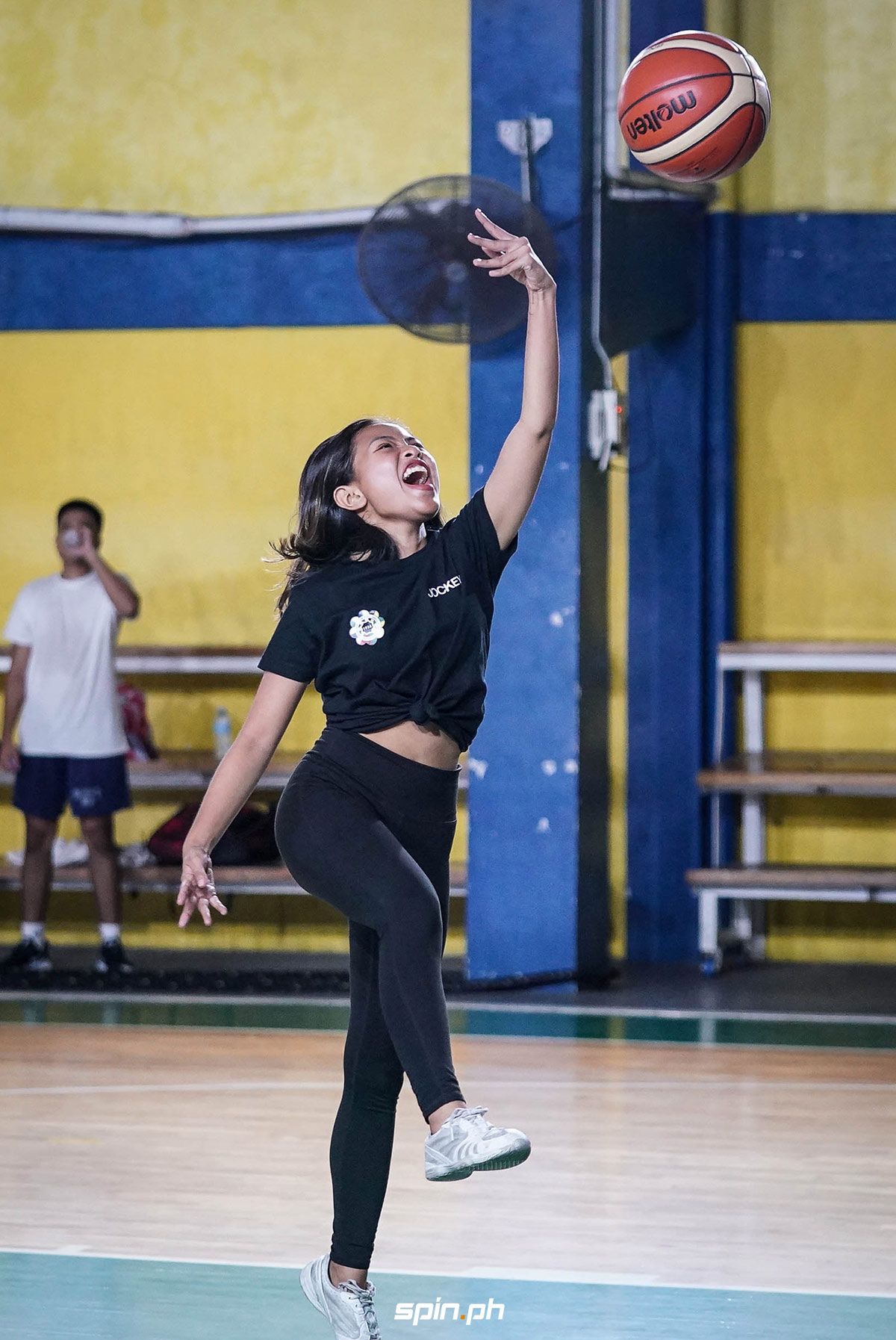 Of course, I had to start with functional fitness and plyometrics — the latter of which I dread. I'm not necessarily built for this type of workout and I was about to do a series of ball slam, battle rope, half-burpee, and agility ladder drills. While my teammates were (figuratively) having a ball with the defensive and shooting routines, I was trying my darndest to get the moves right and keep up with the group, while staying conscious.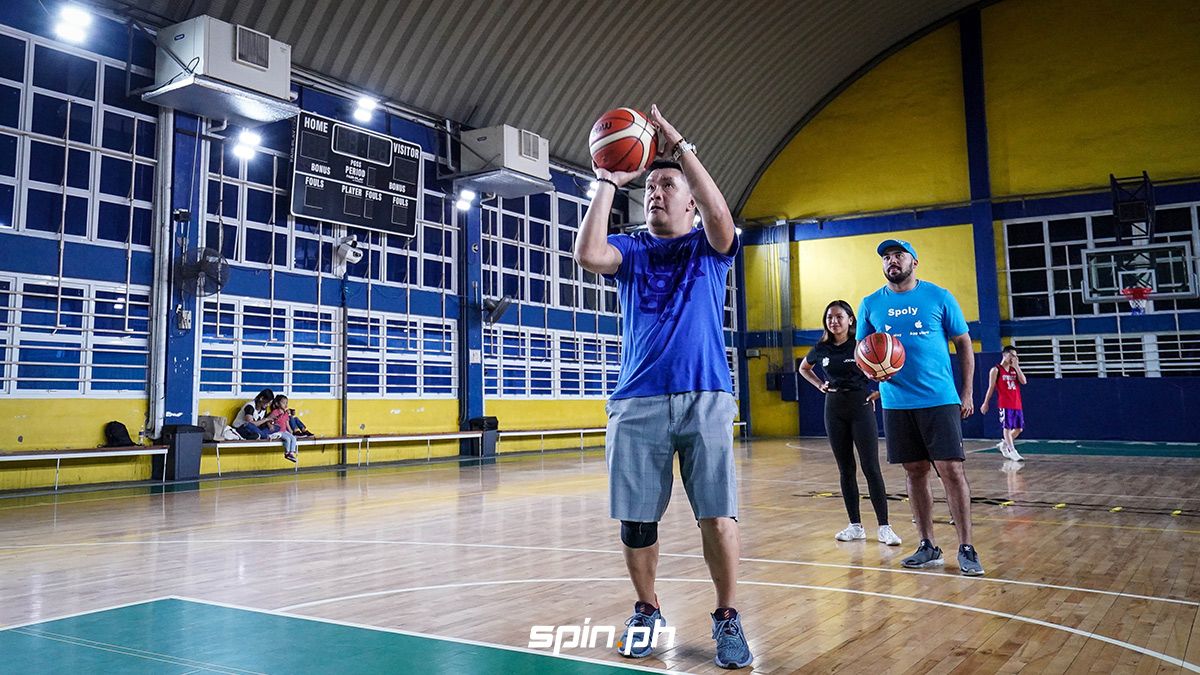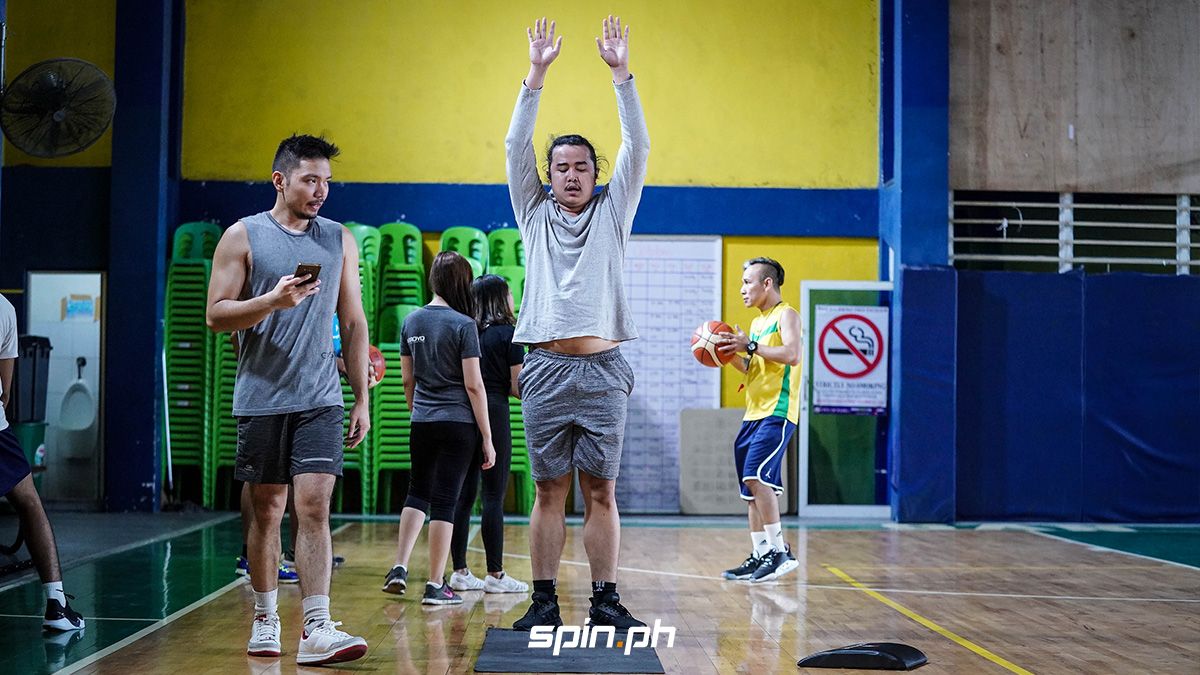 Coach Josiah even had to scale down one of the drills — one of the convenient things about SwishFit — and ask me twice, "Kaya pa?" Go figure.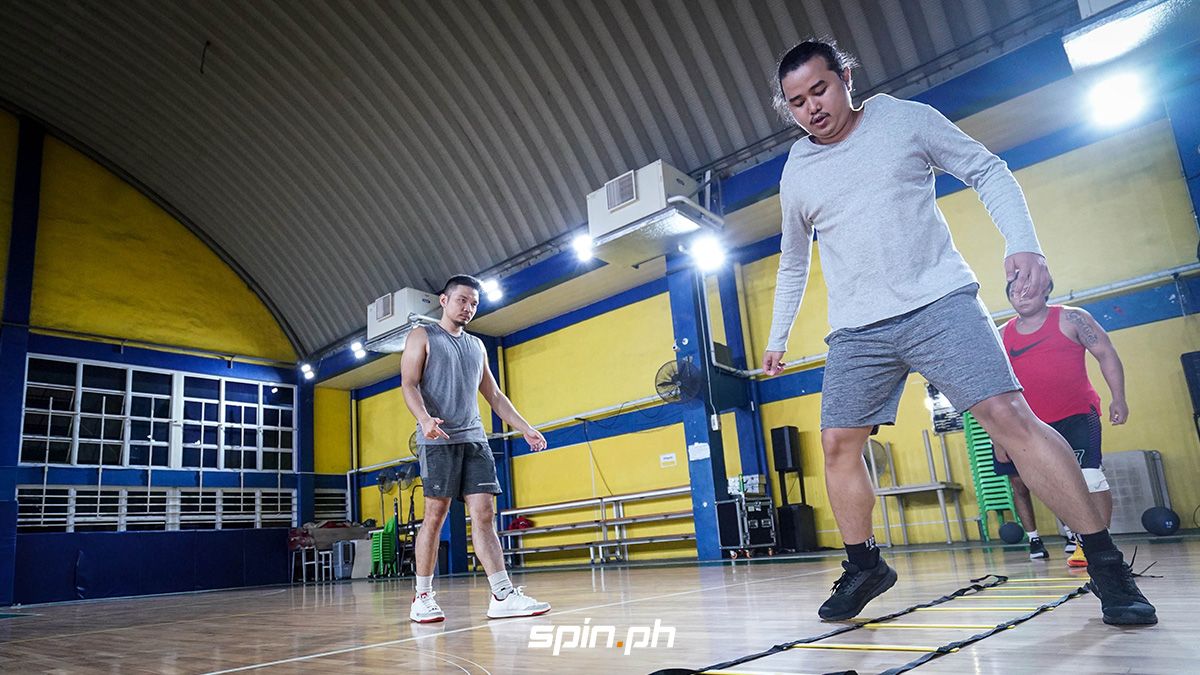 I can't wait to get to the basketball part of the session. I caught my breath and mustered what was left of my pride for the home stretch. At least I actually play, I thought to myself.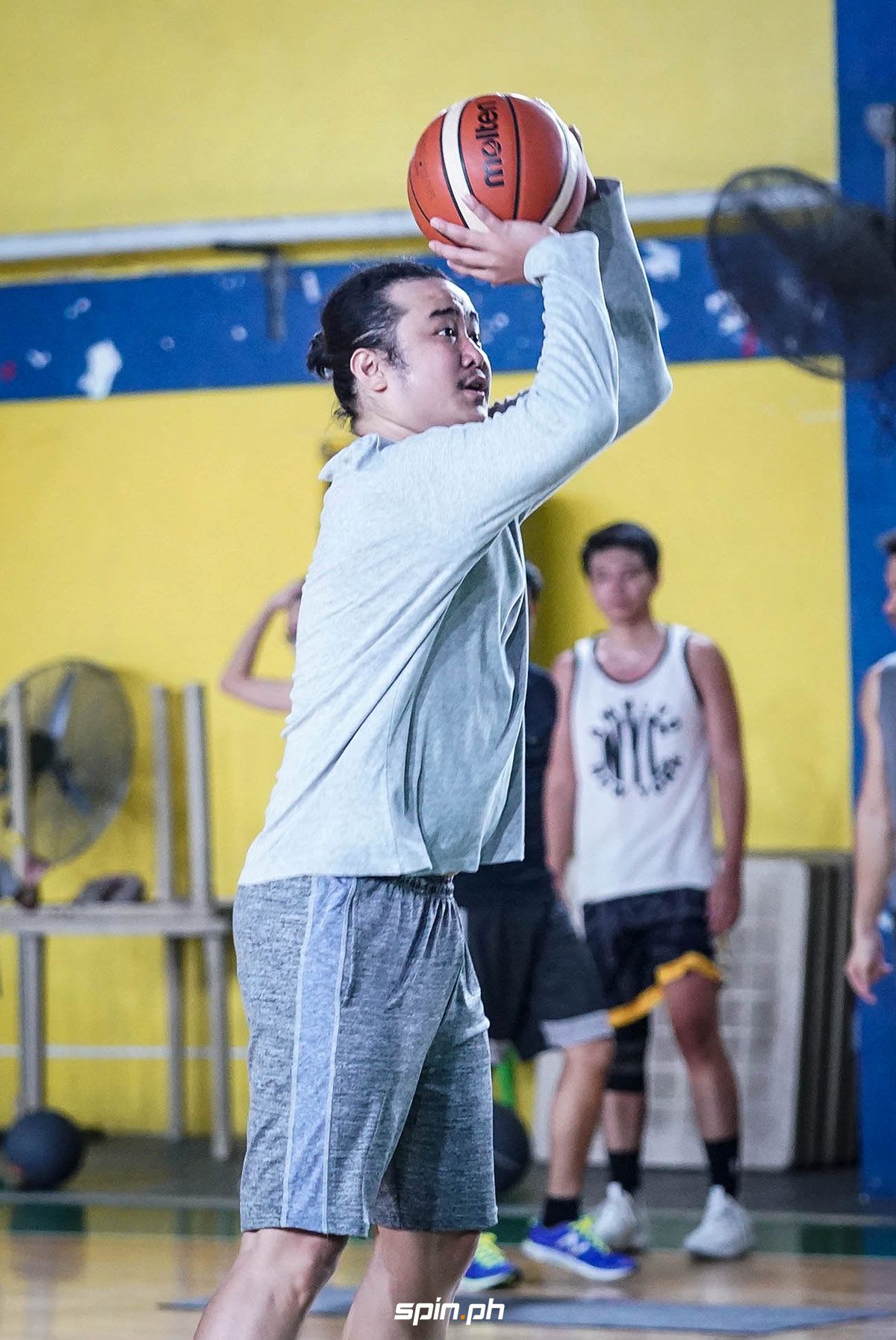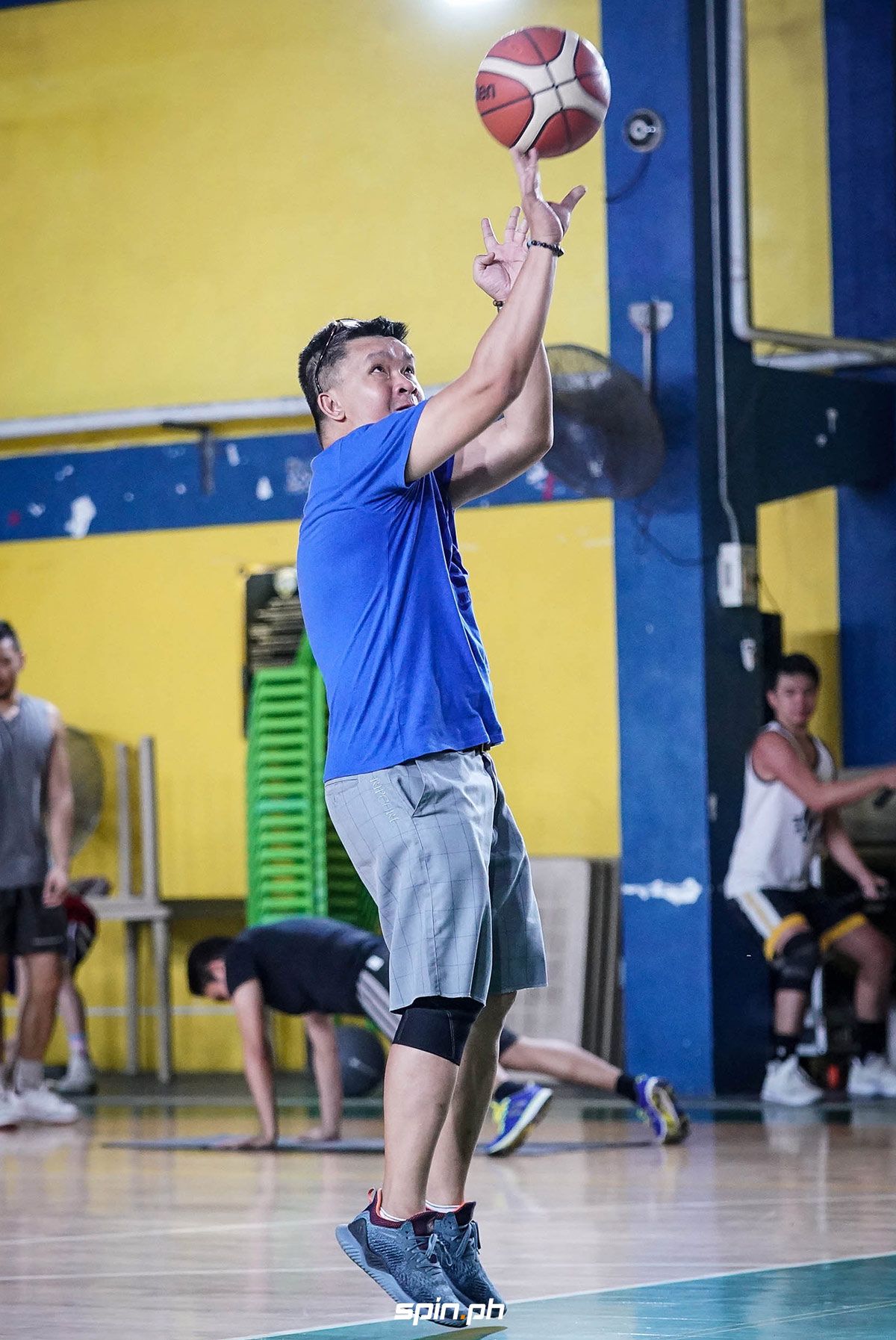 Being a big dude, I was used to operating in the paint, but I thought I did quite well in the perimeter routines. Just when I was regaining confidence through the catch-and-shoot routines and layup lines, we proceeded to ball-handling drills, particularly my mortal enemy when it comes to basketball training: two-ball dribbling.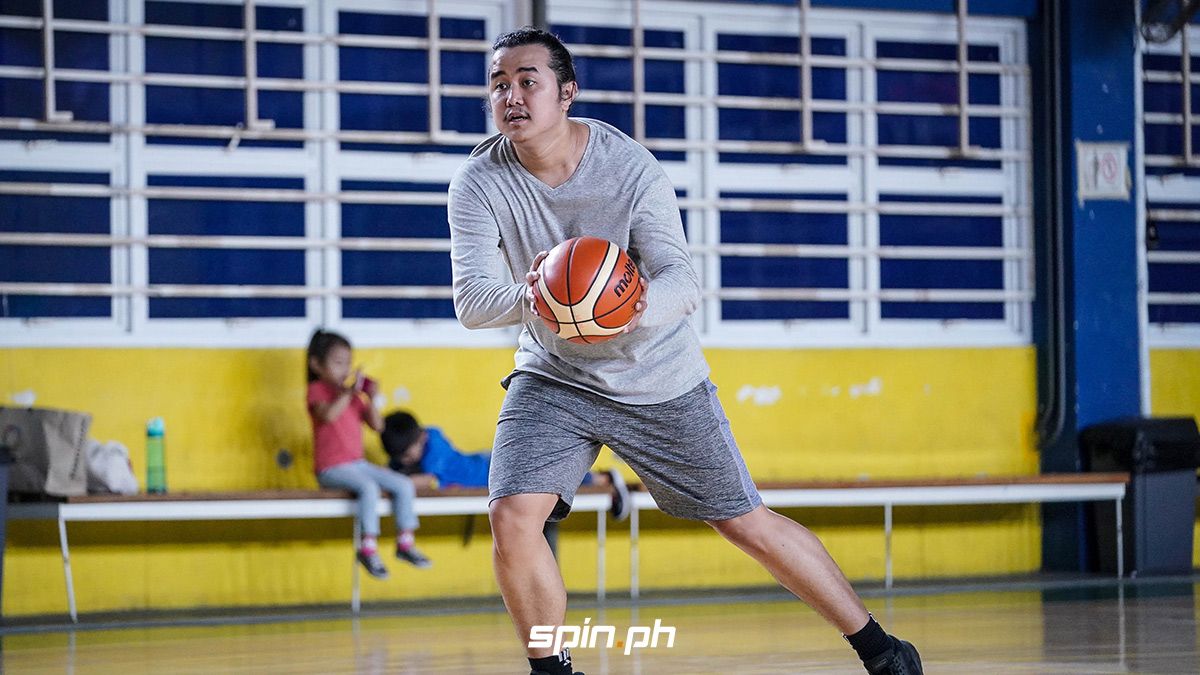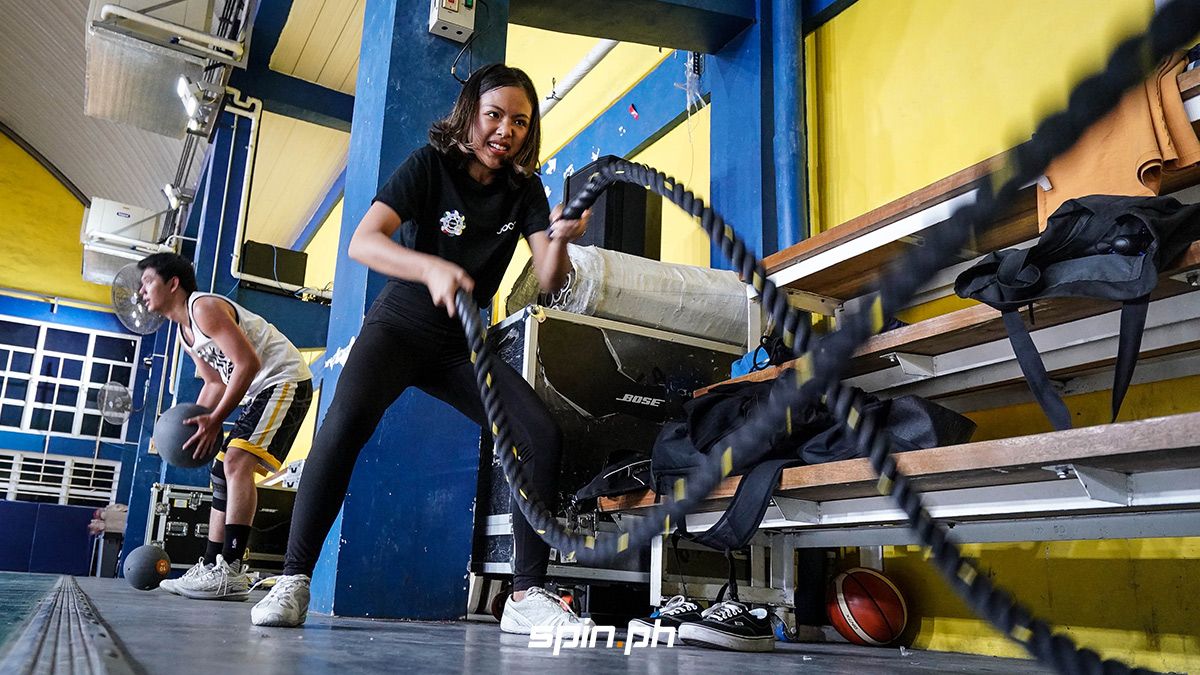 My only chance at redemption and to finish strong was ruined by the fact that I wasn't ambidextrous — all the more so because I learned how to play at a time when handles weren't a priority for bigs. Once again, I was struggling and took a time out from the resistance bands. Meanwhile, our staffwriter was killing it on the ropes after coming to the workout feeling a little under the weather.
The youngest but one of the more experienced attendees, Carl Roldan, plays in inter-college leagues and it showed. He was using SwishFit to return from a surgery layoff, which is fairly common among participants. Another player was working hard to come back from an MCL injury. Carl shared, "Kasi nawala ako sa kondisyon, gusto kong bumalik. Kumbaga para akong back to zero. I had to find a way para makasabay dun sa practice nung teammates ko."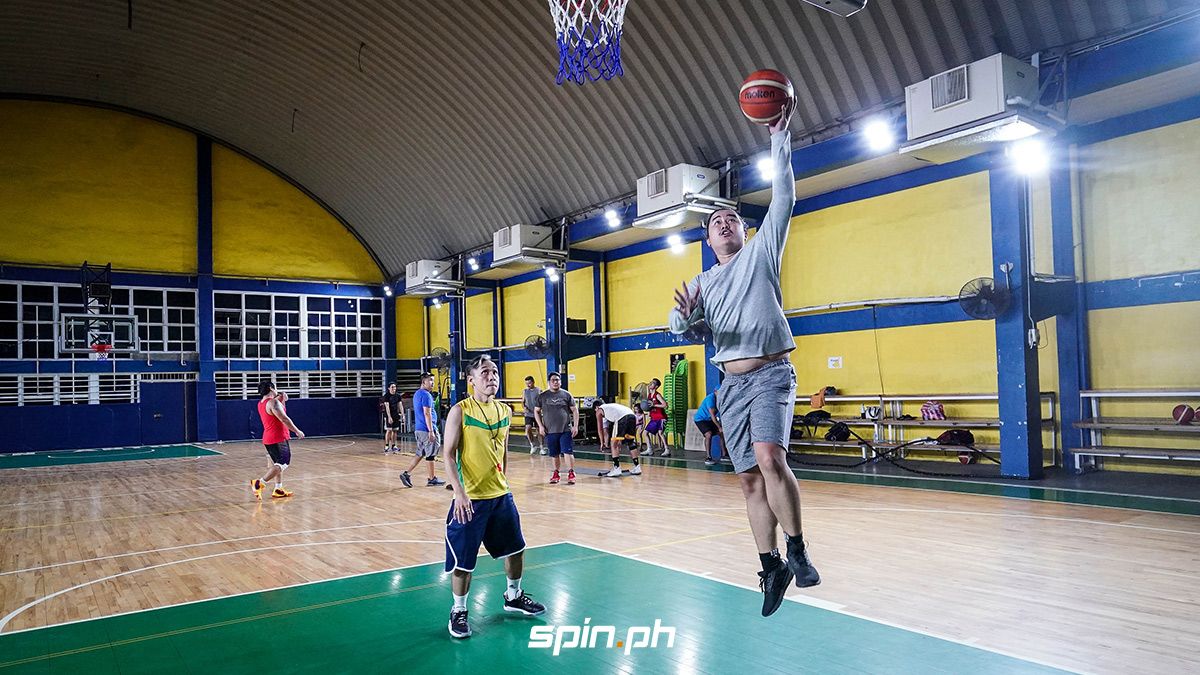 In my case, I'm fortunate enough not to have setbacks of the same severity as those guys, and only have poor fitness level and my high school self not taking basketball practices seriously to blame for my sorry-ass performance.
The way I see it, attending SwishFit is similar to bouncing back from a bad game, without the pressure of having to deliver immediately. You can take your time in finding your groove before taking on a bigger role in the form of a higher skill level. For hoops junkies, it's all about trusting the process while getting better at the game you love.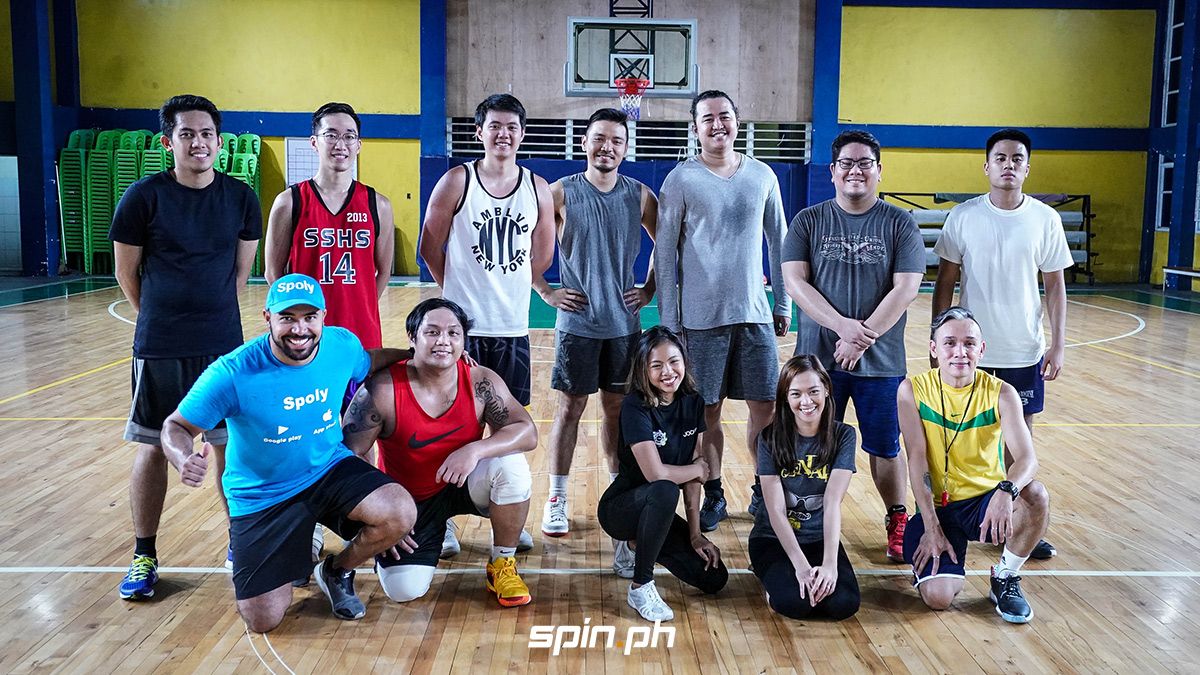 Now, if you'll excuse me, I still have a group package to avail.
Message the official Facebook page of SwishFit or email Coach Josiah at swishfitph@gmail.com for more information.