THE stationary bike my father-in-law owns always enticed me each time we paid them a visit. And since it was hardly used as far as I know, I would give it a go in an effort to break a sweat. And the stationary bike has never failed to bore me.
It felt like pedaling to nowhere. To counter the utter boredom, I tried to shake things up: I placed the bike facing the window terrace, listened to music while pedalling, and even read with my iPad, but to no avail. It was just plain boring.
But after an experience at Saddle Row, I will never look at exercise bikes the same way again.
Saddle Row is an indoor bike and rowing studio located at the second floor of Serendra in Bonifacio Global City that opened just months ago.
Former SPIN.ph marketing manager Dwight Pangilinan and your writer were invited to try out a class by Bike King's Ting Joson, who turned out to be one of the cycling instructors in one of the metro's newest cycling studios.
The facility was modern, well equipped, and fully air conditioned filled with upbeat music, enveloped in muted lights, and surrounded by floor to ceiling mirror walls. Each Schwinn bike in the premises had software that kept track of your progress and had digital displays to show not only the prerequisite distance but calories burned and the power you've generated. They will also gladly loan a pair for those who come in without cycling shoes.
For this trial session, we chose the Resistance Class, one of three available classes in cycling that focuses on strength and conditioning using resistance bands. The other two are "Underground," the more relaxed among the three as it adds a dance element to the class; and the high-intensity and power-driven "The Exchange."
Resistance is an intermediate to advanced level class headed by cycling instructor Carla Paredes, who shared an important warning to all beginners.
"Some cycling studios forget to tell you this but you are allowed to scale down and get off the saddle. You can bring it down a notch when you have to."
Biking to the beat of R&B, the 45-minute session began with warm-ups and pretty soon the class was doing full body workout routines with the bands. For a desk-bound guy like me who types on a keyboard most of the week, I admit I soon had trouble keeping up with the rest of the class but it was an eye-opener of what cardiovascular elements can be done on a stationary bike — even push-ups!
"We're not only working the legs obviously. We want to make sure the arms, the upper body gets a workout also. We had a section that works solely on the core. When you bring your mind to that area, it works it out even better when you have that mind-body connection," Paredes explained after the class.
"Push-ups on a bike don't actually strengthen your arms — if you want to do that you get off the bike and do the actual push-ups — but what happens is it works your core and your coordination," she added.
The facility's program director Chris Allison said the concept for Saddle Row is for one studio to combine two parts, cycling and rowing, to address strength and endurance at the same time.
"Both are simple forms of transportation and we have been doing them for hundreds of years but you have two incredibly challenging metabolic workouts. These are full body workouts and if you're into losing weight, firming up, and getting fit, these two will get you there really fast," he said.
"When you combine (rowing and cycling), especially in the course of a 45-minute workout, you really shed a lot of calories and you combine that with eating, with nutrition (then) you're quickly on your way to fantastic weight and fat loss," added Allison, pointing out that the 45-minute session including warm-up and cool down was designed with the idea of sustainability in mind.
One should walk away from class having a challenge but not ending broken or beaten down.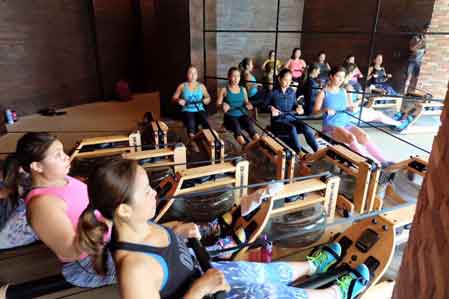 Allison, who is also the head coach of the national cycling team, admits that cycling, to most people, is the hardest to get into and that is why his staff takes special care and precautions to make the transition as easy as possible.
"For some, it's intimidating. And just to pedal the bike, some people have their heart rate through the roof if they're not trained, they can't catch their breath. The instructors are trained to give you the options: If it's too much for you, sit down, pedal easy," he shared.
"Unlike running where you really do get left behind, here on the bike with everybody in class even if you need a time out you can sit back down and when you're ready, join back in. Stay at your own pace. Sometimes people need that to catch their breath and settle down a bit then jump back in," Allison added.
With this approach, Saddle Row has attracted a wide range from within the fitness community.
"We get a lot of different ranges [like] people absolutely new to exercise, beginners that have no exercise program in their lifestyle right now," Allison said.
"We really want to encourage people and say, 'Look, exercise doesn't mean you have to be smashed, broken or injured. You don't have to be able to do burpees, pull-ups and all these wild, crazy exercise.' Beginners can come in and you're fine. To get into it the first few sessions might be tough and your body will adjust but you'll get better and better," he added.
On the other hand, Saddle Row can also satisfy those looking for an intense workout - regardless of weather conditions. Those looking for an alternative if they need to take a break from lifting weights or give their shoulders or knees a break from the squats can find a challenging activity that has less impact on hurting joints. In fact, the Meralco Sparks football team does part of their training at Saddle Row.
"The community really enjoys it. They enjoy the fact that there's no pressure. Everyone's very friendly and we just want you to come in and see that exercise isn't a scary thing," said Allison, who bared plans of opening a second studio in Metro Manila soon.
POV,Zoom In