IT was not the typical way of knowing one's self.
Guys crawled. Ladies lifted. Sprinters ran. Aspiring ninjas jumped and rolled. And everyone finished all the wiser.
It wasn't your typical Saturday at the Sparta Gym in Mandaluyong City for the second edition of the Men's Health Philippines Training Combine where the gym's indoor turf was converted for a day at least into a clinic and workout area.
Men's Health Philippines invited subscribers, athletes and members of the media (SPIN.ph included) to a morning of tests designed to give participants a better understanding of their personal fitness levels and what needs to be done to become healthier and fitter.
The pre-test stage required everyone to undergo proper warm-ups and a quick test to measure body fat. Fitness tests were graded and recorded on scorecards administered by the UP College of Kinetics which devised all the fitness tests.
"If you attended (the first Training Combine) you can actually track the progression since the tests are similar. For the two other workouts, we worked with different partners so we want to expose our readers to different workout types," said Men's Health features editor Lio Mangubat.
On the artificial turf, we were required to take part in each of the following as the initial part of the test: a series of 1-2 jumps (accomplished twice) to measure leg power and lower body strength: the vertical jump, jump throw and broad jump. Instructors would then record your performance on a scorecard.
Continue reading below ↓
Recommended Videos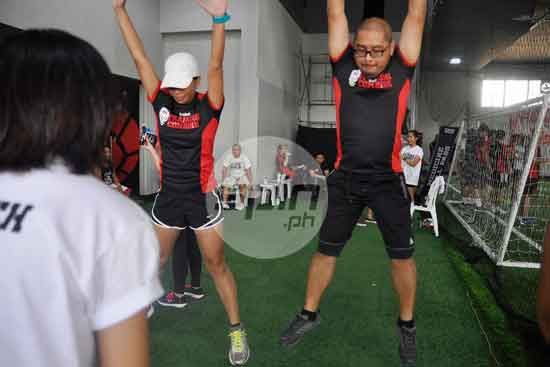 Afterwards, our speed was measured via a 40-yard dash (my personal favorite) while the 5-10-5 agility and 3-cone agility tested one's deftness with a good dose of side flanks.
After the tests, there was no shortage of takers in the optional workouts: power workout, renegade twists, battle rope whips, push and pull, rollouts, unilateral push jerks and rope side throws.
"It tests how far you've gone in terms of endurance and agility. For me as a runner I realize my strength is speed and we do that as part of our training but I need to work on upper strength although it is a little core strength that is complemented by training," said ultramarathoner Roselle Dadal who after undergoing all the tests took on all the challenges - even the Parkour-like obstacle course laid out by Ninja Academy.
"Fitness isn't really how heavy you lift. It's not how fast you run. It's actually everything. It's how well you move. It's how well you perform. Part of the Philippine Heat Workout involves swinging kettlebells and bear crawls. No one does bear crawls - it's a baby's move but it tests all the muscles in your body, it develops every movement of your body. With this kind of all-arounder we totally develop everything. It's not how heavy you weigh but the way you move, the way you perform," Mangubat explained.
Mangubat said the whole point of the exercise was to show that there is always room for improvement.
"You can always improve. Whatever program we push or article we come out with in Men's Health or in every event, we hope you go away with the realization you're actually better than you think you are."