AS we took a quick breather following a full-court press drill, Miggy Solitaria hoped that what had happened inside Gold's Gym Sheridan in Mandaluyong that weekend would stay there.
"Atin-atin lang 'to ah," the new La Salle assistant coach and one of Aldin Ayo's deputies said with a smile.
Solitaria, after all, had just taught us the basics of the Green Archers' suffocating defensive principles that force opponents to commit turnovers and lead to transition baskets – or basically how they unleash "Mayhem" to anyone standing their way.
So it was understandable if he was careful in striking a balance between teaching and keeping intact the Green Archers' trade secrets to being UAAP champions.
At least, for four weekends, we had the privilege to learn a glimpse of Mayhem basketball through the Nike PG 1 Full Court Ferocity Experience.
"I wanted you, guys, to experience a little bit of La Salle basketball," Solitaria said. "I incorporated some of the drills, exercises that we've been doing in La Salle to the training sessions para alam niyo bakit ganyan kami ka-bilis gumalaw o yung reaction namin mabilis."
Becoming a champion definitely requires plenty of hard work and that's what Solitaria made us do.
Continue reading below ↓
Recommended Videos
While waking up early for the training sessions was one thing, going through the drills was another. The warm-up and dynamic stretching part of the trainings, alone, were already as tough as picking this year's NBA MVP among Russell Westbrook, James Harden, and Kawhi Leonard.
Then the drills proceeded – from doing variations of moves off the dribble and on the post to add moves to our arsenal, to passing through agility ladders to work on our foot speed, to wearing body bands to develop a quicker first step.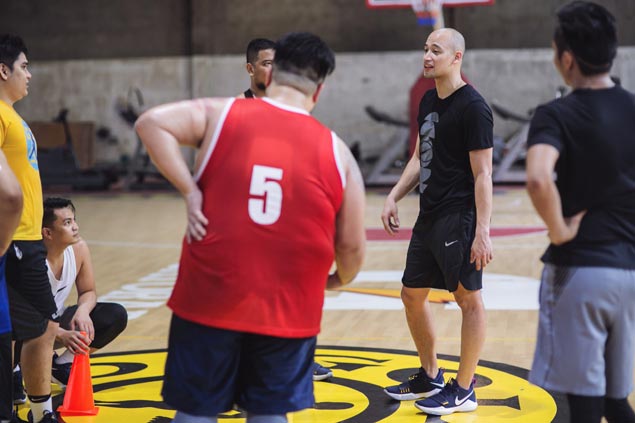 But we believe we all passed them with flying colors, surprising Solitaria that frustrated basketball players who heeded to the call of journalism can also play the game.
"I was impressed with my players, kasi I wasn't really expecting na kakayanin nila yung program," Solitaria admitted. "Maybe hindi nag-match yung expectation ko na being a media man is not really into something physical."
"It exceeded my expectation na kayang-kaya niyo yung ginagawa nila," the former Ateneo de Davao juniors coach added.
It must be shoes. Paul George's first signature sneaker, the PG1, is really a shoe fit for someone who's eager to be a decent defensive player while still enjoying your touches on the offensive end.
For a while, we experienced what it's like to train like a real basketball player. At least Solitaria didn't bench me like a real basketball player me when I came in late for the first session.
"Nakikita ko ngayon is basketball is really getting serious tapos nakakalimutan nating mag-enjoy," Solitaria said. "So I built a program na gusto ko mag-enjoy tayo lahat at we enjoy the basics of basketball, from every skill – shooting, dribbling, passing, and defensive stances and movements."
And that we did.