OVER cups of fast food coffee and hopia a few weeks ago, training buddy and friend-from-another-generation Hector and I discussed possible new blog topics; one of the winners: interview overachieving athletes from different sports disciplines who have made the jump to multi-sport, and find out how they have managed the transition.
We selected four triathlete friends with varying sports backgrounds and histories to find out more about their triathlon experience thus far. Our group of rambunctious and riotous boys, and their respective previous specializations included: Miguel 'Ige' Lopez, mountaineering; Jay Nacino, track and field; Kevin Fule, swimming and power lifting; and Aldean Philip Lim, football and mountain biking.
Sports History
Ige, 35 years old, has been a mountaineer since 1995, starting out with the DLSU Outdoor Club in his college days and furthering his exposure as a member of the Ayala Mountaineers Group during his days as a company employee. He considers mountaineering a lifestyle and makes it a habit to climb one mountain every year. Ige balances his time as an entrepreneur, being the man behind Transition One performance apparel, and as a triathlon coach who is known to push his students to their full potential. Kevin, 28, is a formal national team swimmer who swam competitively from the tender age of six into his high school years (the last four years as part of the national team), his events being the 50-, 100-, and 200-meter butterfly. After many waterlogged years, he shifted to pumping iron where he discovered power lifting, eventually landing a place in the national power lifting team. Kevin utilizes his personal experience and acquired knowledge in his job as a strength and conditioning specialist. Jay is 42 years young and ran track throughout high school, specializing in 1,500 and 3,000-meter events, which were then considered long distances. He stopped running after college and resumed a mere six years ago, running longer distances of 21k and 42k, peaking with the Bataan Death March Ultra Marathon in 2010. Jay fills his days looking after clients' personal funds as a private banker for a major universal bank. Aldean, 30, has played football since grade school, and represented his alma mater from elementary until his days as a pre-law student in university. He is also an accomplished mountain biker and ultra/trail runner. Aldean is a lawyer by profession, and runs his own law firm specializing in corporate, litigation, and intellectual property.
Humbling Beginnings
Each one of these seasoned athletes seemed to stumble upon multi-sport by accident as gleaned from the stories they shared, with anecdotes that are sometimes funny but often insightful.
Ige, already with mountaineering experience before entering the corporate world, took part in a qualifying run (time limit: 15 km in two hours) for eligibility into the Ayala Mountaineering Club. After finishing fastest in the batch, the group's elders had him join the run leg of a half-ironman race in Matabungkay beach. The year was 2000, and Ige didn't care much for preparation or participation in races of that sort, but was game enough as long as it (race fees, food, etc.) was free. Such was his disregard for the sport that he even went out on a date the previous night, hopped on a bus, and arrived at the race venue in time to watch the swim start. The first thing that hit Ige was the compelling vibe of this new culture. The tight swimsuits, race numbers on arms and legs, and the race participants all blew him away in his first exposure to triathlon. But because of a long night followed by a commute, Ige nodded off and awoke later for his turn on the run, unconventionally dressed in mountaineering shorts, wife beater top, and trail shoes. His run, together with his team's swim and bike leg, managed to land his team third in the relay. An accomplished triathlete named Fred Uytengsu with these words of encouragement later congratulated him: I hope you can complete all three next time. Ige's initial unspoken response to Fred was "Are you crazy," but later challenged himself by asking, "If others can do it, then I surely can, too." Ige knew he had the tools to finish the bike and run legs, but had no swim experience. He solved that dilemma by entering a swim-for-run-lessons exchange deal with a swimming instructor. Ige did his first individual triathlon the year after.

Kevin admits he was naïve going into the sport, but whatever he lacked in knowledge, he made up for in confidence. His first race was the Subic International Triathlon (known in multi-sport circles as SubIT), and with Kevin's previous stints as a member of the national team, his competitive spirit and his focused mindset were key to performing well in his multi-sport debut. His thoughts entering the race: swim, easy; bike, hold on; run, good. Kevin believed his swim foundation would power him ahead of the pack, and his strong legs would keep him in the hunt for a strong (and possible podium) finish. What actually happened was a chastened episode he wouldn't soon forget. As expected, Kevin was part of the lead pack in the swim leg and was comfortably ahead when he biked out of transition. However, after thirty kilometers, he lost count of the number of competitors who whizzed past him and was sufficiently demoralized by the time he got to the ru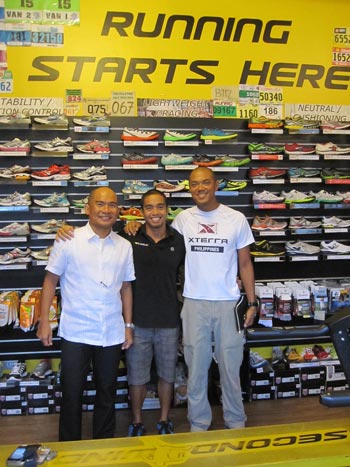 n. He still managed a good run, but found himself too far back to make a strong showing. Kevin was soon aware that he needed to work on his bike strength and endurance, humbled by the realization that, in his words, "being strong in two events but weak in one is not enough, and that triathlon requires structured training — not just guts and confidence."
Peer pressure was the catalyst for Aldean's first push into triathlon. His friends coaxed him into being part of a relay team that would compete in the Cobra Ironman 70.3 in CamSur. Up to that time (2010), Aldean had zero road bike experience, since he was a pure mountain biker. Never mind the inexperience of riding a roadie, his friends assured, he had his mountain bike years to power him through the 90-kilometer bike leg. So on a borrowed, ill-fitting bike that was too large for him, he raced CamSur and finished with a decent three-hour bike split. Following that confidence-building race, Aldean decided to go ahead and do the individual half-Ironman the following year and began training for it.
In Jay's case, he entered triathlon because of the compulsion for something new in his physical workouts. His entry was, ironically, expedited by a failed running experience. In 2010, Jay trained hard ("I put all my marbles into training") for the New York Marathon, a qualifying race, which he hoped, would land him a slot in the holy grail of marathons, Boston. He came up short. Frustrated in his bid to qualify for Boston, he decided to focus on sports other than running, where he felt he could still maintain his level of fitness, or perhaps even improve it. Jay joined his first triathlon, the UP Dean's Cup, using a borrowed bike, guided by eventual teammate Hector, and toting a 'just to finish' mindset. It wasn't exactly love at first swim/bike/run, but it stirred enough interest and enthusiasm for Jay to make it his sport of choice to this day.
Choosing To Stay
Mountaineering was already part of Ige's DNA, and was something he could easily fall back on when he needed to get away from the bright lights and the big city. It was in rock climbing and triathlon that he found himself at a major sports crossroad. Ige was doing well by placing in rock climbing competitions, and still had his sights set on achieving certain (rock climbing) goals; but the pull of multi-sport lay in the lifestyle and the appeal of being able to swim, bike, and run into one's later years. Ige initially pursued rock-climbing and triathlon simultaneously, but decided on the latter after weighing the pros and cons of both. On the one hand, rock climbing carried a higher demand on consistent and rigorous training: you need a lot of effort to compensate for losing even just one day of climbing. On the other hand, triathlon offered longevity with the base building and foundation of three disciplines. It also helped that there were better-looking female athletes in triathlon.
After his SubIT experience, Kevin was painfully demoralized. But his good overall finish time (2 hr. 30 min) was enough to attract the attention of his first triathlon team to recruit him, its members even helping him acquire his first bike. Kevin put in the saddle time, got stronger on the bike, and learned to enjoy tri-ing, eventually joining the longer and more arduous White Rock Triathlon that same year.
For Altered States Part II, we learn how previous sports/disciplines have helped these athletes, what triathlon has taught them, how they define competition, and the challenges and frustrations involved in the sport.
--------------------------------0----------------------------------
IMHO (In My Humdrum Opinion)
Idle chat with the same gang of idiots strayed to women in triathlon (of whose numbers have grown significantly over the past years, to the delight of the men), and we argued and agreed on who had the looks to match the talent. Oh, heck, we talked more about looks than talent. Enter, The Duster Test.
What's the Duster Test? Let me preface it with the most common image volunteered by men when describing their ideal outfit on a woman that would allow her natural beauty to shine through: 'jeans and t-shirt' or 'jeans and a crisp white shirt' look, no make-up, and with hair tied back in a ponytail. Well and good, and that's what you'll likely read in Preview or Candy glossies when the man-on-the-street or the cutie-of-the-month get interviewed for the feature on natural beauty or the article entitled, "What's Your Ideal Look On A Girl." The jeans and t-shirt answer is way too safe, and is an uninspired magazine interview reply.
But really, what is the true measure of a woman's physical beauty when you strip her of her make-up, accouterments, and lofty social-political status? It is an article of clothing that is exceedingly light, airy, and quite comfortable. It drapes loosely over the shoulders with a symmetrical cut, denying even the shapeliest figure any chance of displaying curves that may otherwise draw stares of admiration. It is physically unflattering, should never be worn outside the confines of one's home, and conjures images of heavy-set laundrywomen, tough-talking fishmongers, and Aling Tinay at the corner sari-sari store. Yes, the humble duster, together with a pair of alfombra slippers purchased from the nearby public market is the true test of beauty on this side of the Pacific.
I never broached The Duster Test during our 'one for the road' gabfest that followed the interview, since everyone was busy swapping stories and sharing personal insights on specific females who had famously or infamously gained the attention or ire of their fellow triathletes. We see them sashay up and down the transition area and race with aplomb in their body-hugging tri suits, and sometimes, the finish line and race photos don't capture these beauties at their most glamorous; but I'd opt for the Duster Test any day of the week to separate the flowers from the ferns.
--------------------------------0----------------------------------
"You can keep going and your legs might hurt for a week or you can quit and your mind will hurt for a lifetime."
Mark Allen
Recommended Videos