(The article 1st appeared in the December 2012 issue of Men's Health magazine. For more click on:  https://www.facebook.com/menshealthphilippines) 
IZA Calzado has a reputation for being sweet. And she really, truly is. The 30-year-old actress doesn't just smile — she beams. She laughs easily, too, and jokes around a lot, sometimes at her own expense. She asks a lot of questions because she's genuinely interested in the people around her. The actress and television show host still very much exudes the girl-next-door vibe, but only if your next-door neighbor is a stunner of a woman who can also deadlift a barbell (not a girly little dumbbell, mind you, but a full-on barbell) heavy enough to stagger most guys.
They really couldn't have picked a better host for the last season of The Biggest Loser Pinoy Edition. The fitness enthusiast has lived her own inspiring weight-loss story, and though that's now almost 15 years behind her, she still retains enormous empathy for those who are struggling to get healthy, while also displaying a great sense of humor about it all.
"I focused kasi on eating — that was my sport," she says, nodding mockseriously. "And I was really good at it, my friend, really good."
These days the two main guys in her life are her boyfriend and fellow fitness enthusiast, Ben Wintle, and her trainer, Ido Portal. And when it comes to workouts, Calzado's a girl who doesn't scare easy. She was on CrossFit for a while last year before she decided to step it up even more and go on Portal's movement-based strength program. "I have a body that works," she says, explaining the joy that her not-so-newfound fitness has given her. "I can climb a tree! Or, halimbawa, pag end of the world na, makakakapit ako sa bato. 'Yung hindi malakas, lunod!" she says, laughing. "Ganun lang 'yun."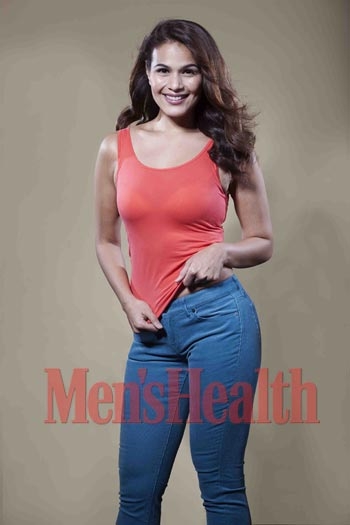 Iza fills in the blanks...
I like a man who… doesn't give up so easily.
I don't like a man who…won't treat me as an equal. That's very important.
The sweetest thing a guy's ever done for me was… organize a flash mob for my birthday! Trying to gather my friends and trying to surprise me with something — it was very sweet.
Before you buy me a drink, you must first… talk to me — I won't accept a drink from a stranger! And, honestly, they'll need to talk to me to find out if I'm drinking that night. My boyfriend, the first time I met him, kept trying to buy me a drink, and I kept telling him, 'I'm sorry, but I'm not drinking tonight.'
The worst pickup line ever tried on me was… (in a mock Russian accent) "What is your name? Put your name and number here. I don't speak much English."
My idea of a perfect date is… just one where I have a lot of fun! But if a guy can pick me up in a chopper and bring me to a secluded island while having fun, why not?
The best place I've ever been to is…Sydney. I liked the fresh air, there were parks everywhere, a lot of nice people, too — and the produce, the food, was amazing. The temperature was just dipping when I visited, so I was also there at the right time.