DUBAI, United Arab Emirates — Rory McIlroy overcame a final-round charge from Patrick Reed to win the Dubai Desert Classic in a tense Monday duel between players who were involved in a pre-tournament spat.
The top-ranked McIlroy rolled in a birdie putt from around 15 feet at the par-5 No. 18 for a 4-under 68 that left him a stroke clear of Reed, who shot 65.
McIlroy clenched his fist, gritted his teeth and looked round to his caddie to celebrate a win that would have meant more than many of his others, considering the context.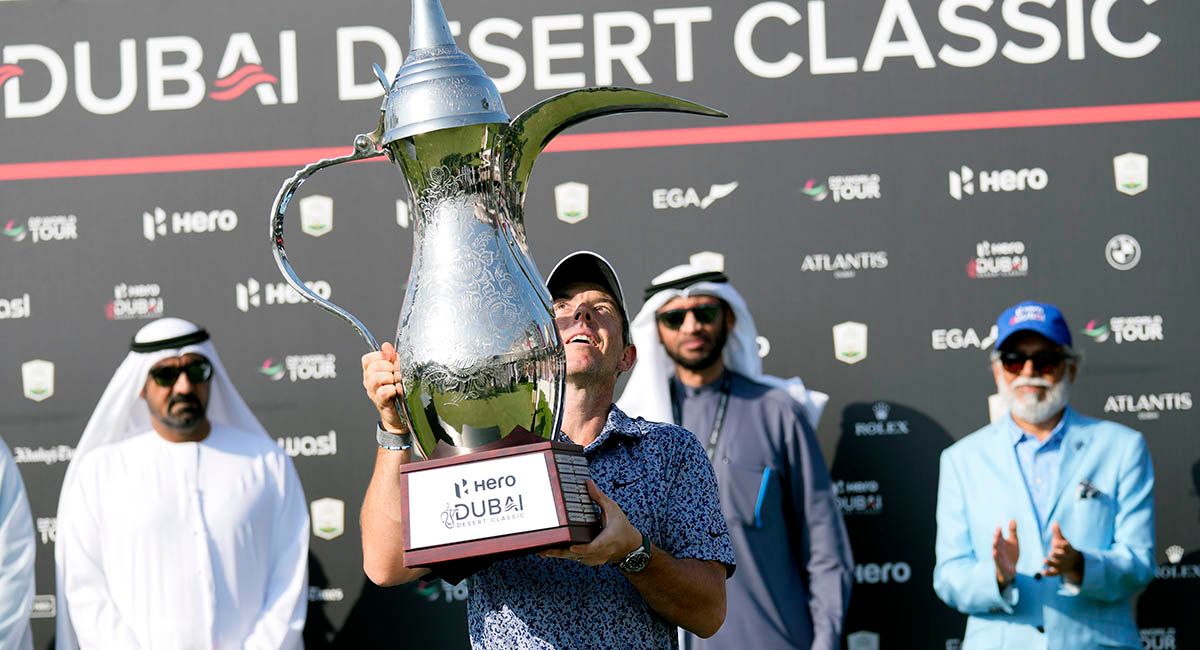 ADVERTISEMENT - CONTINUE READING BELOW ↓
"Mentally, today was probably one of the toughest rounds I have ever had to play because it would be really easy to let your emotions get in the way," the Northern Irishman said. "And I just had to really focus on myself, forget who was up there on the leaderboard.
"I feel like I showed a lot of mental strength out there."
McIlroy and Reed traded verbal blows Wednesday after an interaction — of sorts — at the practice range Tuesday that saw McIlroy snub Reed, who had gone over to wish the Northern Irishman a happy new year.
Reed walked away before lightly tossing a tee — featuring a logo of his 4 Aces team in the LIV Golf league — in the direction of McIlroy, one of the most vocal critics of the Saudi-run breakaway series.
Reed said it was "unfortunate" that McIlroy didn't shake his hand and was quoted as describing McIlroy as "an immature little child."
The exchange came amid legal wrangles involving McIlroy, who said he was served a subpoena on Christmas Eve from Larry Klayman — an attorney who has filed a lawsuit against the PGA Tour and European tour for suspending players who have signed with LIV Golf. Reed is not involved in that lawsuit. Klayman also represents Reed in lawsuits filed against a number of media outlets.
A final-day duel looked unlikely, with McIlroy starting Monday with a three-shot lead — and four ahead of Reed. However, he was overtaken on the back nine by the American, who picked up seven shots in his first 13 holes while McIlroy was playing safety-first golf.
Reed bogeyed No. 16 but made birdie at No. 18 to put pressure on McIlroy, who two-putted for birdie at No. 17 to move back into a share of the lead.
McIlroy's drive nearly ended up in the water to the right of the fairway and he decided to lay up from the rough. His third shot from 92 yards was close enough and, as Reed watched from the scorer's hut, McIlroy made the putt.
ADVERTISEMENT - CONTINUE READING BELOW ↓
Finishing on 19 under overall, McIlroy captured the title for the third time and has started a year with a win for the first time in his career.
McIlroy ended up winning with his B game and was particularly proud how he held up down the last, having hit shots into the water in front of the green on Sunday and also last year to cost him the title.
"It was a battle all day — honestly, it's been a battle all week," McIlroy. "I feel as if I haven't had my best all week but just managed my game so well and played really smart. Even that second shot at the last. I probably could have got to the green but with what happened yesterday and last year, I tried to give myself a wedge and get it up and down for the win.
"Ecstatic that I gave myself the opportunity the first week back out. I managed my game well. I feel like there's tons of room for improvement but it's a great start to the year."
ADVERTISEMENT - CONTINUE READING BELOW ↓