HOLDING an Asian powerhouse to a goalless draw can sure feel like a victory for the Azkals.
But China beat the Philippines in one aspect during their Fifa World Cup qualifiers matchup on Tuesday night at Panaad Stadium in Bacolod: crowd support.
After all, the Filipino fans were outnumbered as 2,000 of the nearly 3,000 people who trooped to the almost 10,000-seat venue were Chinese, some even flying from Manila just to support the visiting team.
Expecting the Chinese fans to come in droves, the Philippine Football Federation increased ticket prices for the match. Selling for just P100, P300, P500 during an earlier World Cup qualifier against Syria held in the same football field last month, prices mostly quadrupled to P300, P500, P1,000, and P2,000, respectively, for the China game.
"Mas mataas than usual," PFF president Nonong Araneta said the day after the match, referring to the ticket prices. "Of course, we want to take advantage din naman, kasi madaming gastos eh, and of the Chinese buying also."
There was talk that Chinese fans could have filled the venue, yet the PFF only made 2,000 tickets available to the visiting team's fans.
Despite the bulk of tickets made available to Azkals fans, their Chinese counterparts still made a bigger presence.
Continue reading below ↓
Recommended Videos
Araneta held on to the consolation that the crowd battle was far from hostile.
"It was healthy naman between the fans," said the PFF chief, who's running for one last term as the head of the country's governing body for football. "No untoward incidents, so I'm happy. Wala namang problema sa Chinese crowd at wala din namang problema sa Filipino crowd."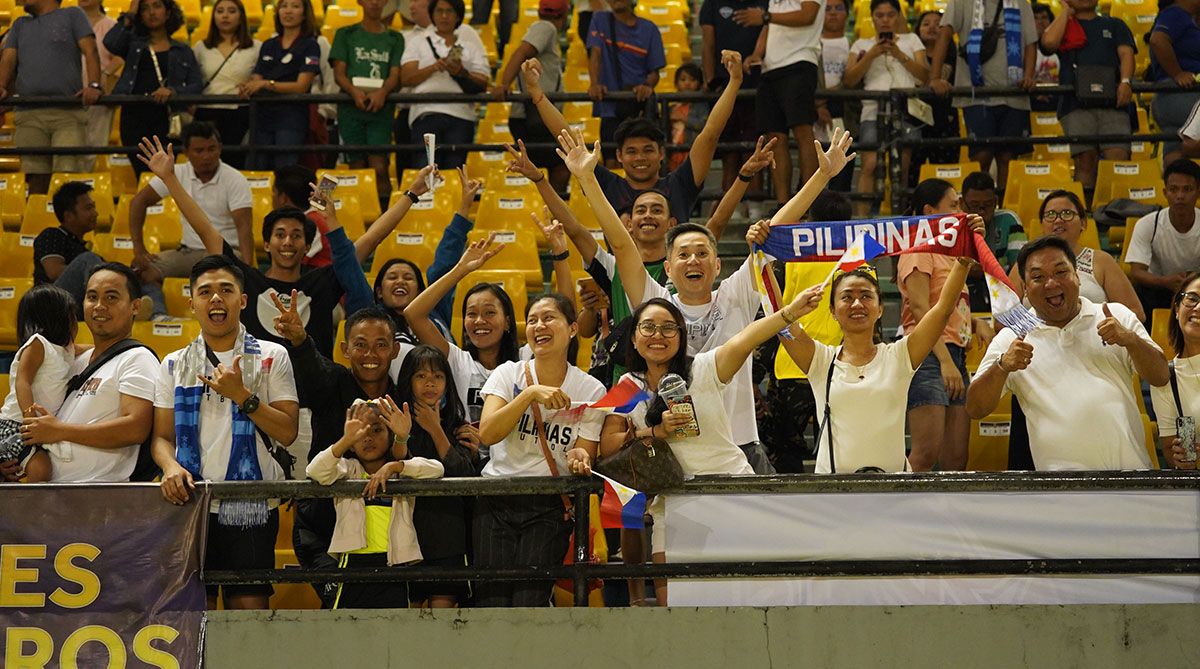 Still, the lack of Filipino crowd support is a concern, especially if you're outnumbered in your own turf - and in the country's football hotbed no less.
Ticket pricing isn't entirely the problem.
A Premier Volleyball League doubleheader at La Salle Coliseum last Sunday saw a near-sellout crowd at the 8,000-seat venue despite the tickets being priced at P350, P600, P1,500, and P2,000, respectively.
The lack of football fans watching the games live can be attributed to a stagnant interest in the sport after the men's football team put up a handful of ho-hum performances following the peak of Azkals fever a few years ago, among other reasons.
Araneta, though, is optimistic that Pinoys are returning to the stands after the Azkals' solid showing against China, a team placed 59 spots ahead of the Philippines in the world rankings.
"Hopefully the Filipinos will again support the Azkals after a good game last night," Araneta concluded.