EVEN in terms of 'Class A' imitations, Manny Pacquiao is a class unto himself.
A visit to the popular air-conditioned tiangges at the Greenhills Shopping Complex in San Juan City showed that unlicensed Pacquiao merchandise from shirts to boxing gloves have become the bestsellers in the weeks leading up to his fight against Floyd Mayweather.
Stall owners and staff who Spin.ph talked to shared that they've stocked up on anything that has to do with the beloved boxing hero - any Battle for Greatness-related merchandise - since February when the May 2 (May 3, Manila time) megafight was officially announced.
So far, the demand is just as they anticipated.
Pacquiao, of course, has a multi-million endorsement deal with Nike who puts a swoosh on everything the champion wears. The 'Pacman' also sells his own line in Team Pacquiao merchandise stores at Robinsons Galleria and Ermita.
[See Sales in Pacquiao merchandise stores perk up as MayPac mania gains steam]
Yet, balikbayans and tourists searching for Pacquiao merchandise to bring home to friends and family back home in time for the fight gravitate to these tiangges where unlicensed shirts sell from P200 to 350 depending on the quality.
To compare, the same graphic t-shirts sell for thrice the price in official merchandise stores.
Continue reading below ↓
Recommended Videos
Most stores have them in all styles and sizes, from XXXL to kids sizes. For those willing to pay extra, there are also Team Pacquiao sports jackets (P1,200 and up) as well as gloves adorned with the Philippine flag and Pacquiao's logo, of course.
Basketball fans can also do a crossover and pick between Pacquiao's No. 17 Kia jerseys (500), which he wears as playing coach of the fledgling PBA franchise, or a Pacman ball.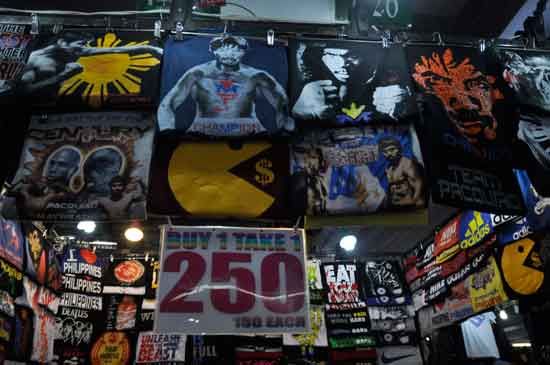 One storekeeper, Sonia, said a lot of customers were even looking for replicas of the Filipino champion's trunks from previous fights while some show images from the internet and ask if they could print the designs.
Mang Cesar, 56, a balikbayan, said he was doing some last-minute shopping before flying back to Las Vegas the following day. He told SPIN that practically all the requests for pasalubong were for shirts related to the Pacquiao fight.
"Manny makes (Filipino-Americans) so proud kasi and since sa lugar namin gagawin 'yung laban, siempre dapat ipakita naming yung suporta sa kanya," Lopez said.
[For more pictures of the tiangges and merchandise for sale, see GALLERY]
In another part of the tiangge, Reggie and Rose bought at least 20 Pacquiao shirts adorned with different designs that they will send to family and friends in Los Angeles, California who specifically asked for them. Incidentally, the 36-year old Pacquiao is training in the City of Angels where trainer Freddie Roach's Wild Card Gym is located.
Ironically, the most sought-after item was a maroon-colored shirt which Pacquiao allegedly wore during warmups. Photos of that shirt in which the Pacman video game character was about to gobble up a $ sign - a reference to Pacquiao eating up Mayweather aka 'Money' come fight time - has since gone viral.
Team Pacquiao officials later said that image was photoshopped, but that has not dampened the demand for the shirts which continue to sell like hotcakes, according to vendors.
ALSO SEE:
Price tag of ads on Manny Pacquiao's trunks nothing short of staggering
Pacquiao had a classic retort after Mayweather called him 'reckless'
Basketball talk a welcome distraction for Pacman after hard day at gym
Wondering why Pacquiao never got a shot at Olympic gold medal?
Advertising spots for megafight to cost an arm and a leg. Find out how much
Two Filipino fighters came close to fighting Mayweather. Find out what happened
Mayweather camp better not do anything foolish: 'Boy Kapre' will climb ring with Pacquiao