BEFORE it was 'Miller Time.' Nowadays it's 'Pacman's time.'
On Tuesday, basketball Hall of Famer Reggie Miller joined eight-division world champion Manny Pacquiao in his regular morning run as part of a shoot for a special feature on the Filipino ring hero by TNT where the Indiana Pacers legend is one of the hosts.
Miller, best remembered for scoring eight points in 8.9 seconds in a stirring Pacers comeback against the New York Knicks in Game One of the 1995 Eastern Conference semifinals, used his long legs and bigger strides to keep pace with the Pacman in the run around Griffith Park in Los Angeles while cameras rolled.
But as Pacquiao, who is in the third week of his LA buildup for his fourth encounter with Juan Manuel Marquez, hit the dirt road of his favorite running ground by the LA Observatory, Miller started fading a couple of paces behind.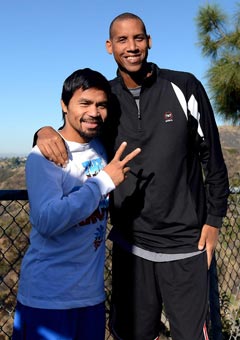 Miller, a boxing afficionado, was later joined by fellow legend Charles Barkley as they conducted an interview with Pacquiao inside an LA playground.
Asked about Pacquiao later, Miller said the ring icon has got game. He was quoted by TMZ as saying: "Not only is he the man in the ring...he's also got an awesome jump shot, too."