A LOT of people expected Mark Nonoy and Aldin Ayo to be a match made in heaven the moment the former Tiger Cub standout committed to University of Santo Tomas.
With 14 games out of the way in the UAAP Season 82 Men's Basketball Tournament, those expectations are certainly warranted.
Nonoy was at his best - and worst - in the Tigers' crucial 80-74 win over the Adamson Falcons last Saturday to secure at least a playoff for a spot in the semifinals.
And it is in this game where Ayo displayed his faith in his prized ward the most, deciding to put the ball in the rookie's hands on a night when those very hands struggled to keep a hold of the rock.
"I put Mark on a very crucial situation because knowing him, I know that he was cocky enough to make those shots because I know that he's unconscious," Ayo said.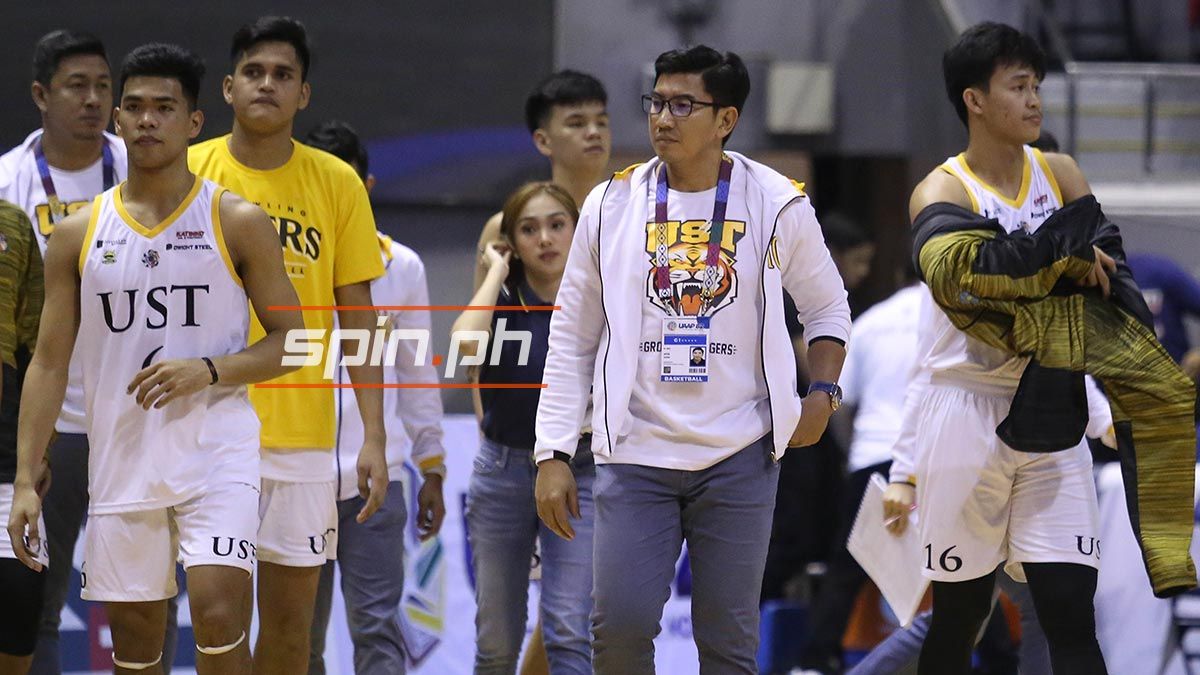 Continue reading below ↓
Recommended Videos
Ayo's leap of faith proved wonders as Nonoy, who had a total of eight turnovers in the game, ended the Tigers' five-minute dryspell with a three pointer to give UST a 70-67 lead and tip the momentum to their favor for good.
"Knowing him he's just going to play basketball eh without realizing the magnitude of the situation," Ayo said.
"He's going to commit turnovers pero isa to sa mga players ko na buo yung loob, walang pakialam, he's just going to play basketball."
It is pretty much a give and take relationship between the two - with Ayo giving enough leeway for Nonoy to do his thing while making mistakes along the way, which the 19-year-old repays by giving his 100 percent each time.
The numbers that Nonoy had in this game was a pure representation of that - with the super rookie producing 18 points on 4-9 shooting, alongside eight boards and five assists.
He was also responsible for a third of the team's 25 turnovers, but that does not matter in the end as Nonoy did what he had to do, get that victory for UST.
"Sa kanila din [nangagaling yung lakas ng loob]. Sa teammates at coaches, kasi yung tiwala na binibigay nila, lalo na si coach Aldin," Nonoy said.
Nonoy is just thankful to be given the rare chance of finding a coach that's gonna suit his style of play right away.
The good news for him is that they've got time to spend together which would only make their partnership a whole lot better in the long run.
That is bad news for the rest of the league.
"Nasa high school palang ako, tinitignan na niya ako doon. Lagi siyang pumupunta sa training namin nung high school ako, hanggang umangat ako sa college. Mas lalong naging maganda ang pagsasama namin," Nonoy shared.
"Siya na nagbibgiay ng kumpyansa sakin hanggang umabot ako sa senior, siya rin nag guide para sakin, at nagbigay ng kumpyansa sa kung ano ako ngayon."