"Kung titingnan mo nga ang porma ko, ang pangit di ba?" Allan Caidic said as he stood up in mid-interview to emulate that iconic if unorthodox shooting motion – hands grasping an imaginary ball, knees bent together, shoulders hunched and eyes focused on an imagined target 22 feet or so away.
The shooting motion sure wasn't pretty; the results were.
As 'ugly' as his shot was, it has helped Caidic gun down countless opponents, establish several scoring and three-point records that stand to this day, leave rival coaches befuddled, and bring fans either to fits of ecstasy or to depths of despair, depending on which side you're on.
"Allan has one of the worst fundamentals on his shot it was horrible," said veteran coach Tim Cone. "And yet, it always went in."
But looks can indeed be deceiving. Caidic's awkward-looking, left-handed shot had the sweetest of strokes, the purest of arcs and the quickest of releases. He made it straight up, falling away, coming off a pick, with a hand on his face or a defender all over him like a second jersey.
And Caidic's range is phenomenal, so much so that he could launch his shot from practically anywhere but the men's room. To this day, rare are the times in Ginebra practices when an active player stepped up and beat their middle-aged assistant coach in a friendly bet over a half-court shot.
Continue reading below ↓
Recommended Videos
Every three-point basket was an occasion in itself, every big shot immortalized in print and video that only served to feed the legend of The Triggerman. So much so that by the time he hung up his sneakers in 2000, his stature as the deadliest gunner in Philippine basketball was secure.
Generations of shooters had since come and gone, some of them showing enough promise to at some point in their careers merit 'the next Allan Caidic' tag. Each one came up short, the label weighing them down like a curse.
"Nope," national coach Chot Reyes said curtly when asked if he has seen a shooter as good, or perhaps better, than Caidic in the years since his retirement. "Not even close."
Caidic begs to differ.
"Masyado lang sigurong lumaki ang pangalan ko dahil sobrang suwerte ko during my career," he said. "Modesty aside, mula college papunta amateur (leagues), international hanggang sa PBA, pinalad ako kaya lumaki ang legacy. Pero marami dyan [na shooters] na magagaling rin."
Cone, though, would hear none of it. "Maybe I'm a little prejudicial since I coached against him and coached him and I know him so well and seen him so much. But I tell you, honestly and from the bottom of my heart, I've never seen a better shooter," the B-Meg coach said.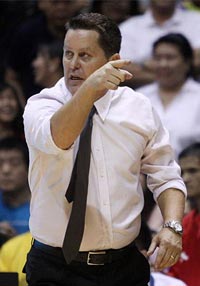 Heck, to this day Cone speaks in awe about this one game when Caidic "hit 70-plus points against us and we had [import] Sean Chambers guarding him, hounding him, challenging him the entire time."
BORN SHOOTER
They say shooters are born, not made. That eye-hand coordination, the ice water in your veins that allows you to pull the trigger when no one else would and the composure to hit the biggest of shots in the greatest of occasions, are in your genes – not something that can be taught.
If Caidic was a born shooter, he didn't immediately know it. He played center for much of his growing-up years – that was inevitable after growing from 5-foot-3 in second-year high to 5-11 by his senior year – and didn't find the need to hone his shooting until he started trying out for college teams.
"Doon ko na-realize na maliit pala ako para maglaro ng sentro. So sinubukan ko naman sa labas, nag-practice ako ng nag-practice. Nag-umpisa ako mga medium-range shots lang, kaso ang lalaki na ng mga kalaban so I tried to extend my range," Caidic said.
Caidic had no formal shooting training; neither did he have the luxury of a shooting coach unlike today's generation of players. All he did was volume shooting, hours spent in the gym molding a shot that turned out to be flawed fundamentally but kept finding the mark just the same.
If Caidic needed inspiration then, he never had to look far. There was never a shortage of gunners back in the day when the Philippines was a cage power in Asia – a long line of lights-out shooters like Ramoncito Campos, Ciso Bernardo, Jun Papa, Bogs Adornado and Atoy Co, to name just a few.
After Caidic, the production line seemed to have stopped. Or if it hadn't, it never made shooters like it used to.
So what happened?
LOST ART FORM
Reyes says so much importance is placed on a player's athleticism these days that the art of form shooting has taken a backseat. Coaches and scouts tend to fall for players who can jump the highest and run the fastest – never mind if he can't consistently put a ping pong ball through a hula hoop.
"It is because of the trend, not just in the Philippines but globally, that put more emphasis on a player's so-called athletic skills," said the Talk N Text coach. "Shooting is being taken for granted.
"The pure shooter is a dying breed."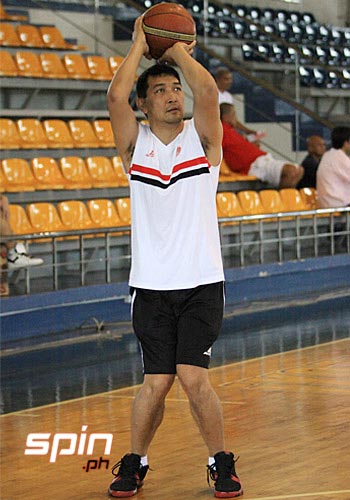 Caidic said the change in mentality started not with the coaches but the players themselves, as exposure to the NBA's brand of play through television and other mediums left them totally fascinated not just with those black supermen who can jump through the roof but more so with the highlight dunks they dish off every night.
Suddenly, swishing a 22-footer was no longer as cool as, say, throwing down a two-handed dunk. Suddenly everybody wanted to tap the backboard after every layup, split the defense on the way to a fancy slam or generally, as the classic Nike commercial preached, wanted to be like Mike.
"Lahat ng mga kabataan ngayon, gusto nila gawin mga one-on-one moves, mga dunks at mga spectacular shots," Caidic said." So maraming mga players na lumalabas, may shooting pero hindi nama-maximize."
That mindset, Caidic added, has also led to an evolution that brought forth the new Filipino basketball player – a Jack-of-all-trades type loathe to be bound to one skill alone.
"The mentality of players today is they want to do a lot of things at the same time," said Caidic. "They tend to do different things. I need to do this; I need to do that. So nagiging secondary lang ang shooting."
NATIONAL PROBLEM
Former national coach Rajko Toroman said he has heard of Caidic long before he got here, but isn't exactly sure if a player like The Triggerman would shine in international basketball today as he did during his time.
"I don't know. It's a different time of playing and now, it's a different brand of basketball from his time. Players are bigger and in better condition," he said. "But you always want to have a great scorer like Allan in your team."
But both Reyes and Cone had no doubts the national team would be better off with a gunner like Caidic, especially after the 0-for-21 performance of Smart Gilas' shooters in the knockout semifinal against Jordan at the Fiba-Asia Championships in Wuhan, China last year.
Both are talking from experience, Cone having coached Caidic – with Reyes his chief assistant – during the last of the legendary forward's four Asian Games stints in 1998 in Beijing.
"Remember, Allan came in late, and it was Ron Jacobs who encouraged me to pick him up. You know why? Ron said Allan can help you win games you're not supposed to win, which means he can hit a three-point shot that can change the game ... it was so true," said Cone.
"The ultimate compliment to Allan came when we played the Chinese team [in the semifinals]. They would play zone (defense) every time against our triangle (offense) but as soon as Allan enters the game, they go man-to-man. And Allan was something like 38 years old at that time.
"He dictated the defense of China. That's what you want – a defense changer.
"And a guy like that also helps your big men because there's always someone outside who's a threat. It helps your point guard also because each time they get on the break or penetrate, (defenders) can't help out because they have to stay with Allan. So he made the players around him better."
Caidic said we only need to take a look at South Korea, which has remained a major force in Asia behind its armada of deadly jump shooters, to realize how big a difference great shooting can make in the international battlefield.
"Maliliit rin halos mga players nila, if but for a few exceptions. But their biggest weapon is shooting. You can see how they practice; they really find the time and put in the effort to polish their shooting," he said. "So 'yon ang naging bread and butter nila hanggang ngayon."
Reyes admits shooting would be one problem that needs to be addressed as he sets out to form the next Gilas team. "Since we are smaller, it's supposed to be to our advantage if we can shoot well. But it's no longer the case," he said.
How much does he want to have a shooter like Allan in his team?
"Very much," he says. "He could be our difference-maker."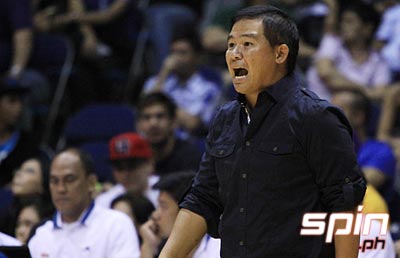 NEXT CAIDIC
Without missing a beat, Caidic rattled off the names of James Yap, Gary David, Lordy Tugade, Larry Fonacier, Jimmy Alapag, Sunday Salvacion and Renren Ritualo as the players from this current crop who he felt have the shooting touch that comes closest to his.
"Kung sa shooting at shooting lang, tingin ko si Renren at Lordy. Kasi si Renren nakuha n'ya yung quick release ko. It's just that maliit s'ya. So kapag malaki ang bantay, nahihirapan," he said.
"Kaya nga mas bilib ako kay Gary. Mas mahirap i-check si Gary compared to James (Yap). James is a two-time MVP, no doubt he's a very good player. Hindi mo pwede pabayaan sa labas at loob. But in terms of what they contribute to their teams, I think Gary is more consistent.
"Maaring magkaiba kami ng style ni Gary kasi he's a jump shooter, but in terms of consistency and knowing his role in the team, I think he is the closest na puwedeng ikumpara sa akin."
But as far as Cone is concerned, the comparisons are a pointless exercise.
"I always giggle or chuckle when I hear that guys can't shoot today because of this or that and they're not like Allan," Cone said. "Allan is a freak of nature and you'll never get another Allan Caidic.
"How many guys have you seen come close to Michael Jordan? Or a Magic Johnson. Those guys come around every generation or so. Players always come out and can shoot and they get compared with Allan. But that's my thing: Allan is not repeatable. I don't think his skills are teachable."
Cone, though, said all is not lost.
"Who knows, there's always a freak of nature somewhere down the road ... someone may show up," said Cone.
For Philippine basketball's sake, here's hoping Cone is right.