WHO doesn't love an underdog story?
We usually see the same script in the PBA: the strong clubs prevailing over the weak ones. And there's nothing wrong with that.
But it's definitely more compelling to witness a lowly team doing a David to a perceived Goliath squad. It's what makes us believe that anything is possible in basketball – and probably in life.
So below are some of the biggest upsets this year, chronologically ordered.
Kia topples San Miguel Beer, 88-78, Commissioner's Cup, February 4
In just their third game in their second conference in the league, the Carnival registered only their second win in their young history and did it against the Beermen, the defending Philippine Cup champions who were making their conference debut.
What made it more remarkable was the Carnival did it without import PJ Ramos late in the game after the 7-foot-3 Puerto Rican slotman fouled out within last five minutes.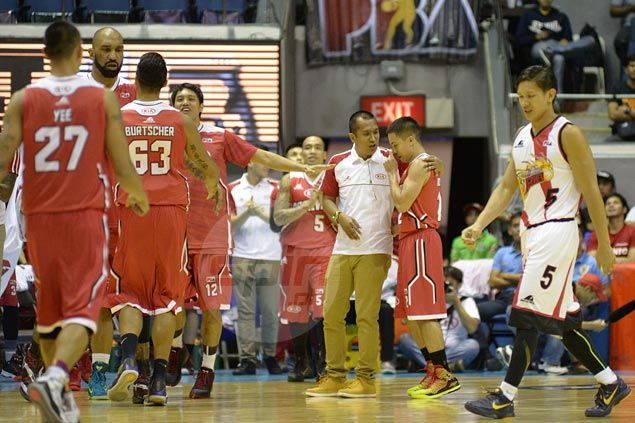 Continue reading below ↓
Recommended Videos
Blackwater beats SMB, 80-77, Comm's Cup, Feb. 11
The Elite couldn't have picked a better time to record their first-ever in the pros as they stunned the Beermen to snap a 14-game skid dating back to the all-Filipino conference where they went winless in 11 outings.
Blackwater, led by Marcus Douthit, also handed SMB its third straight loss, matching the worst start of a team off a championship.
Kia beats Star, 95-84, Comm's Cup, Feb. 18
The Carnival continued their giant-killing ways as they took down the defending champion Hotshots in a game where playing-coach Manny Pacquiao scored his first point off a foul by Allein Maliksi in the second quarter.
PJ Ramos churned out 32 points and 26 boards to show the way.
The game was also remembered for the wrong reason as Hotshots import Daniel Orton mocked Pacquiao, resulting in the former NBA player's immediate ouster.
Barako Bull beats Alaska, 93-91, Comm's Cup, Feb. 24
The Energy leaned on a balanced effort led by import Solomon Alabi to spoil Aces import Damion James' 39-point effort and snatch a victory against the all-Filipino conference losing finalist.
Kia beats Talk 'N Text, 106-103, Comm's Cup, Feb. 25
Ramos registered 24 points and 25 boards and was an assist away from a triple-double to power the Carnival their first back-to-back wins in history at the expense of the eventual champions of the midseason tournament.
It was only Tropang Texters' second loss in their first seven games.
Kia beats SMB, 83-78, Governors' Cup, May 6
It was the Sorento's first win of season-ending conference that replicated their upset of the Beermen in the Commissioner's Cup.
Hamady N'Diaye delivered right in his debut with 21 points, six boards, and four blocks against the eventual conference champions.
Blackwater beats Ginebra, 83-77, Govs' Cup, May 16
It was the Elite's first and only win in the season-ending conference, doing it against the Gin Kings before a pro-Ginebra side in Dipolog.
Douthit, Brian Heruela, and Eddie Laure came through with clutch charities to lift the expansion team to their first-ever road victory.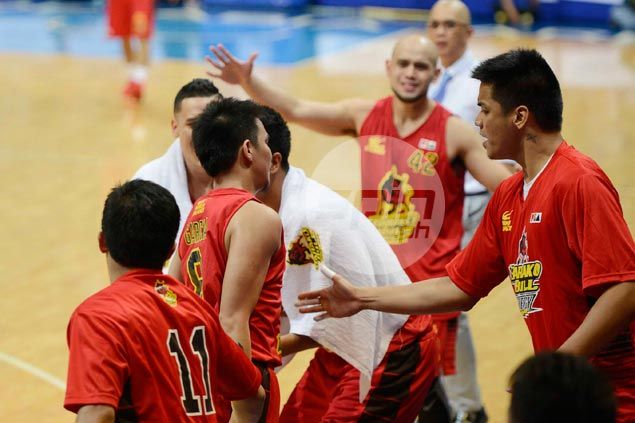 Barako Bull beats Ginebra, 82-79, Philippine Cup, October 31
The Energy fought back from 21 points down behind the clutch play of RR Garcia, Chico Lanete, and JC Intal to spook the Gin Kings on Halloween.
The sorry loss also spoiled the dominant showing of Greg Slaughter, who recorded the first 20-20 of his career, scoring 27 points and hauling down 26 rebounds on top of four assists and two blocks in 37 minutes.
NLEX beats TNT, 107-101, PH Cup, November 20
The Road Warriors finally refused to get bullied by its big brother, grabbing their first-ever victory against the Tropang Texters since acquiring the Air21 franchise last year.
And NLEX did it in impressive fashion, rallying from a 17-point deficit behind Sean Anthony and rookie Simon Enciso.
Barako Bull beats TNT, 105-98, PH Cup, December 3
The Energy, tagged as a cellar-dweller in the preseason, sustained their surprising run by slaying the Texters in a match that dragged into overtime.
Willie Wilson showed youthful zest in tallying 28 points and 20 boards, while Garcia made the most of his 26 minutes as he scored 22 points as Barako put a halt to a two-game skid.