SIMON Enciso's timely explosion on Friday set the stage for the first-ever Game Seven of his PBA career.
Enciso scored a conference-high 20 points after converting six of his 11 shots from three-point land in the San Miguel Beermen's 114-96 win over TNT Tropang Giga in Game Six of the 2022 PBA Philippine Cup Finals at the Smart Araneta Coliseum.
The 31-year-old Enciso doesn't see the lack of experience in such big match as a factor, noting his desire to win the championship.
"I think so," said Enciso, when asked if Sunday will be his first-ever Game Seven finals appearance. "With Alaska and Talk 'N Text, we went to the finals and we lost in six both times."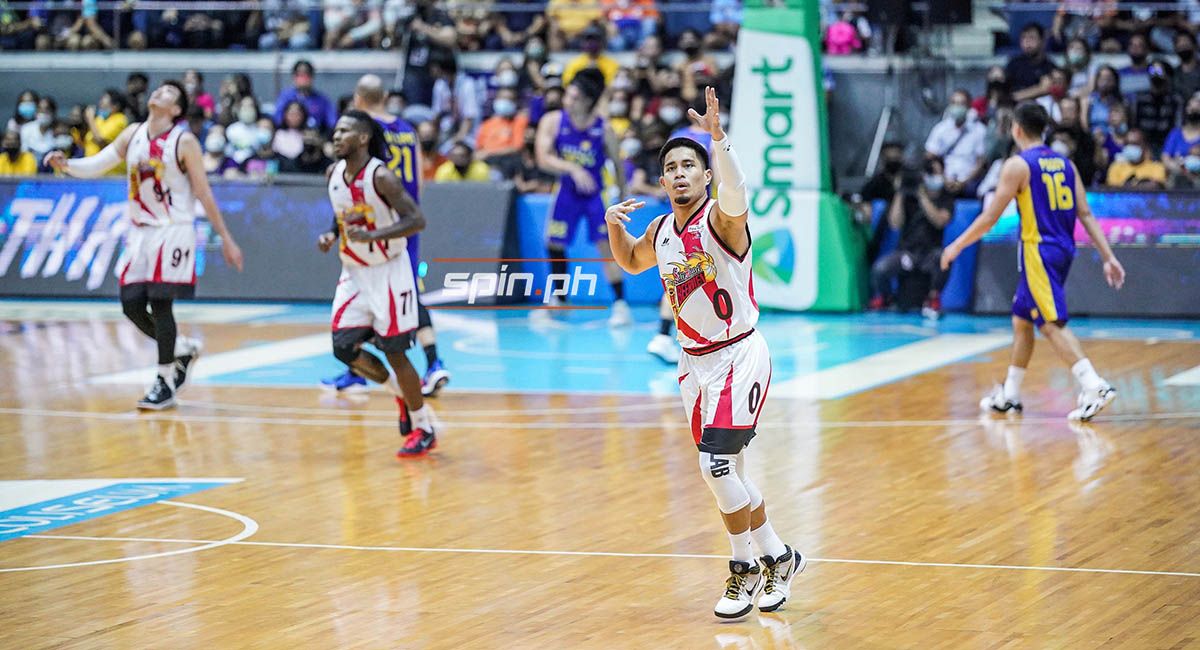 Simon Enciso says he is ready to do what is assigned to him.
"I think that every game is important," said Enciso after the game. "I play like it's a Game Seven everyday. My effort will always be there. I just try to control what I can control. I'm going to do the same thing on Sunday."
ADVERTISEMENT - CONTINUE READING BELOW ↓
"Whether shots fall or they go in, gotta give the same effort each and every time. I don't think it's going to be a huge factor (inexperience in Game Seven). I'm not really thinking about that. I'm just thinking about the team and what I can do to help them win," said Enciso.
The seven-year veteran was on fire in the second quarter, scoring 17 points to lift San Miguel to a 63-50 halftime lead. He joined forces with Marcio Lassiter, who also had a sizzling night where he nailed six threes as well for his 22 points in the blowout victory.
Enciso said he was glad to team up with Lassiter from the outside.
"I told him it was super huge, both of us going crazy from the three-point line. It's kinda hard to beat a team with two shooters going crazy," said Enciso.
More than the offense though is the defensive effort of the entire team highlighted by the clamping down on Mikey Williams, who was limited to only two points, with only Roger Pogoy as the lone player from TNT who had a significant production.
"That's what we wanted and we still try to strive for that main goal and that's a championship. Truly happy for my teammates. We all played really well. It was a team effort. And I'm more happy that we played a hell of a great game on defense. That's what coach is drilling us on in our last practice. And we just came out and executed. I'm super proud of my teammates for playing great defense," said Enciso.
"Shoutout to Marcio, he played a hell of a game as well especially on the defensive end as well. It's hard to stop Pogoy when he is going crazy like that. Big up to Marcio too on the defensive end," said Enciso.
The performance kept Enciso's chance at winning his first PBA crown, but it might take another similar showing to achieve that milestone. Enciso doesn't expect it to be easy.
"It's going to be a dog fight. Game Seven is always a big game. It's winner go home. Whoever wants it more is going to win. That's what we are going to do – come out, execute our game plan, and we are going to want it more than they do," said Enciso.