ANOTHER unheralded player from Negros will suit up for San Miguel in the PBA 3x3.
Jhan Nermal has been signed by the Beermen to take over the spot of Bacon Austria, joining Bacolod native Jeff Manday in the roster for the second leg of the pro league's maiden three-a-side tournament.
The Kabankalan, Negros Occidental native traces his roots to the West Negros University in the Negros Occidental Private Schools Sports Cultural Educational Association (Nopsscea) before playing for Bulacan in the MPBL and most recently with Burlington EOG in the Filbasket.
At San Miguel, Nermal will be teaming up with Manday, his former rival when the latter played for Colegio De Sta. Ana de Victorias.
Three other teams made changes to their lineup heading to the second leg of the competition.
Rene Cunanan will replace Mykiel Cabahug for Barangay Ginebra in the second leg; Jebb Bulawan will take the place of Matt Salem at Terrafirma; and Reynaldo Demesa replaces Das Esa for Zamboanga.
San Miguel team manager Gee Abanilla said they saw a potential diamond in the rough once again in the 6-3 Nermal which can be honed by their 3x3 coach Boycie Zamar, who incidentally hails from Iloilo.
"Jhan Nermal came in with good recommendations from coaches and agents we know. Coming from Bacolod, coach Boycie is very familiar with him," said Abanilla.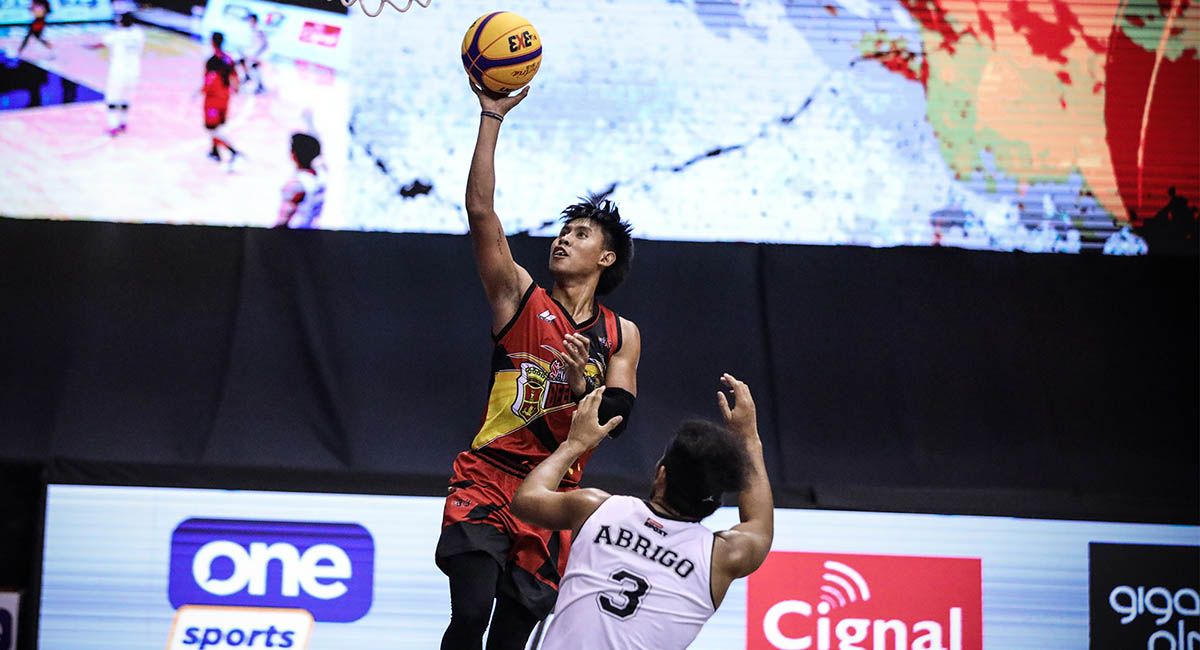 ADVERTISEMENT - CONTINUE READING BELOW ↓
"I actually saw his stats and videos and honestly I was impressed. Again, this will be a chance for him to showcase his talent before he joins the draft," Abanilla said.
While he admitted that the two Negros players are still raw, Abanilla said the team looks forward to giving Manday and Nermal opportunities.
'Both of them can play'
"Sabi nga nila, sometimes the rawness in talent of a person can be easily influenced and guided by a coach but the hunger and perseverance for a better life burns brighter to people who have fewer options. Don't get me wrong but both of them can really play ball," said Abanilla.
Manday had an impressive showing for the Beermen in the first leg, scoring 13 points during a 21-17 victory over Cavitex in the eliminations. Manday was San Miguel's sixth-round draft choice (58th overall) in the Season 46 draft.
"We drafted Manday and we saw some potential in the guy. We spent some time assessing him and we find him very hardworking, skilled, talented but still raw," said the SMB team manager.
"Tingin namin ni boss Robert (Non), kailangan pang i-polish through coach Boycie but he definitely shows flashes of brilliance. He also has a good story to complement what the 3x3 aims to impart.
"He's an unheralded player, comes from a family of fishermen, a star player in Bacolod from a not-too-known program and is willing to do anything, basketball related, to give his family a better life.
"Good thing he showed glimpses of what he could do in the first leg of the 3x3 and became player of the game twice," said Abanilla of Manday.