AT long last, the world is about to see Cebuano giants June Mar Fajardo and Greg Slaughter figure in a titanic clash in the PBA Finals – a matchup the fans have long coveted since the day they turned pro.
Hard to believe these two almost became teammates during their collegiate days.
When Slaughter arrived from Virginia and was in the process of settling down in Cebu back in 2007, the University of the Visayas and the University of Cebu had a mini tug-of-war for the seven-footer's services.
"It's funny because we almost ended up teammates together. I almost went to June Mar's school," shared the Ginebra big man. "I got to practice with them for a while and this was like two days, three days when I arrived."
Continue reading below ↓
Recommended Videos
Slaughter had his first look at what would eventually be his longtime rival as Fajardo, who was then still learning the ropes with the Webmasters' Team B.
Fajardo recalled: "Nag-walk-in lang ako sa practice ng UC para magka-scholarship kasi di naman afford ng parents ko yung tuition. Wala akong alam sa basketball, as in ako 'yung meaning ng nothing. Ang alam ko lang dati, pag na-shoot 'yung bola sa ring, basketball na 'yun."
But what Fajardo lacked in skills and knowledge, he made up for with effort – something which didn't fail to catch Slaughter's attention in those handful of practices they were together.
"He was one of the first people I saw and I've ever met in practice. My first impression was that he was really a hard-worker," said Slaughter, who eventually signed up with the UV Green Lancers.
Little did they know, that encounter would just be the first of many as the two giants' careers interwined, from their wars in the Cebu's premier collegiate league Cesafi to the PBA, where Fajardo was the No. 1 draft pick in 2012 and Slaughter the top selection the year after.
Since then, the two have had contrasting paths in their professional careers.
This early, Fajardo is staking a claim to being one of the league's best players. Not only did he establish himself as a fixture in the national team, he has also racked up four straight PBA MVPs and is on pace for a fifth this season, as well as a potential record-setting seventh Best Player of the Conference award. He also owns six championships.
Slaughter did have considerable success in his five years in the PBA, winning Rookie of the Year honors as well as the Best Player of the Conference award in the last Governors' Cup. But he is still in the process of recovering after tearing his ACL two years ago as well as a slew of hamstring and ankle woes.
As much as Fajardo has gotten the advantage in his head-to-head matchup with Slaughter in the PBA, he admits he's still chasing a ghost that has hounded him for the last four years.
Slaughter's UV Green Lancers claimed the 2009 Cesafi seniors title over the UC Webmasters in four games, with Slaughter averaging 16.5 points against Fajardo's 19.75 in the pair's lone championship series to date.
That series also saw a classic Game 2 duel – a 71-70 thriller in favor of UC – with Fajardo unloading 27 points and 14 rebounds against Slaughter's 22 and 14.
"Hoping ako na ako naman yung manalo," Fajardo admitted. "Sobrang hirap kami sa kanila kasi sobrang lakas nila noon."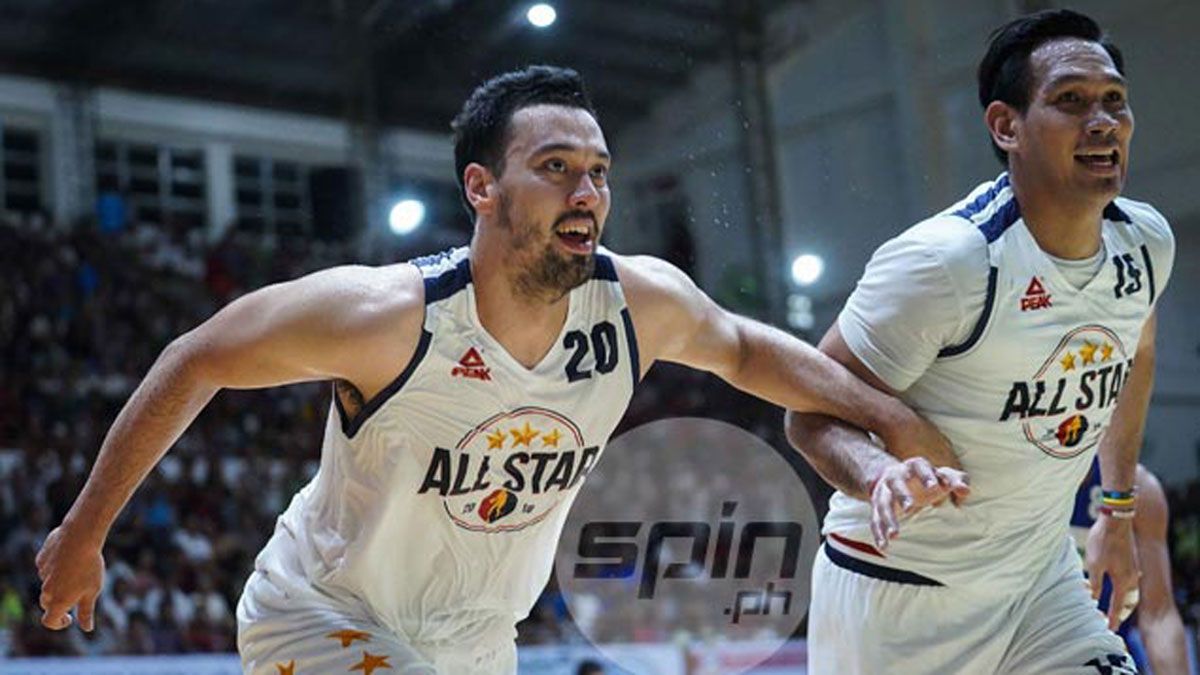 Since turning pro, the two giants were able to share the court as teammates once — just last May during the Bacolod leg of the 2018 PBA All-Star Week as they both repped Visayas.
The fantasy twin tower combo spent only nine minutes and 13 seconds on the floor together but did connect on one play: with Fajardo finding an open Slaughter on the right corner for the booming triple early in the game.
Now Fajardo is looking for payback, and in the PBA Finals no less. But Slaughter totally understands where his longtime rival is coming from.
"I would be, too. As competitors, we're here to compete. We're competing against each other since our Cesafi days. It's another opportunity to compete against each other," the Ginebra slotman said.
Slaughter, who traces his roots to San Nicolas in Cebu, also insisted the San Miguel-Ginebra series is more than just a duel between the two behemoths.
"It's a tough match up and a huge obstacle for us to overcome, but I'm not making it as a personal match-up. It's a team match-up. At the end of the day, we're both trying to win a championship," he said.
Fajardo echoed his fellow bisdak's sentiments as he couldn't help but be in awe of how far their journeys have taken them by far.
Regardless of who wins this maiden PBA Finals showdown, Fajardo said he and Slaughter already have a lot to be thankful for.
"Pareho kami na malayo na 'yung narating. Hindi namin ine-expect na aabot kami dito. Thankful lang kami na nandito kami," the Pinamungajan-born banger said.
"Nakakatuwa lang kasi parang hindi mo akalain na makarating kami dito then ngayon nandito kami tapos nagkaharap ulit kami. For sure, matutuwa yung mga taga-Cebu kasi nga nagkaharap kami ni Greg ngayon and parang mare-reminisce nila yung Cesafi days namin."
PBA Updates