TAIPEI - A tall, imposing figure hopped into the team bus from the airport, buff enough to be easily mistaken for a member of the Gilas Pilipinas team competing in the 39th Jones Cup.
He doesn't have a single playing gear in his bag; instead, he lugged a professional camera.
Former PBA MVP Eric Menk joined Gilas in this trip to this progressive Taiwanese capital over the past six days, not to play for the Philippine team but to chronicle the team's campaign for some episodes for his popular podcasts.
"Does this mean that I have to go through rookie hazing from you guys?" Menk, 42, kidded mediamen old enough to have covered him extensively during his heyday, both in the PBA and with the national team.
Since retiring in 2016 after a long career studded with four PBA championships, the Michigan-born Fil-American slotman has embarked on a new career as a mediaman - a surprising detour for a player who usually had one-word answers for reporters during his playing years.
But he has surprisingly done well in the new role, bringing a fresh perspective to the coverage of the games while revealing a part of himself fans rarely saw during his 'Major Pain' days.
Menk has also become unafraid to let out opinion he probably bottled up for much of his career.
No wonder his 'Staying Major' podcasts have slowly gained a following from basketball fans since its launch in November, thanks to interesting topics and animated discussions with fellow players and officials, including one last week with PBA commissioner Chito Narvasa.
"Commissioner didn't walk out on me, so that was good," he said smiling.
"It's a big change, but one I'm excited about and one that's keeping me very busy," he continued on his new career. "I've really wanted to try something new. It's good that it's still about basketball, but it's also hard since I've never interviewed anyone before. It's a big challenge, but I'm having fun."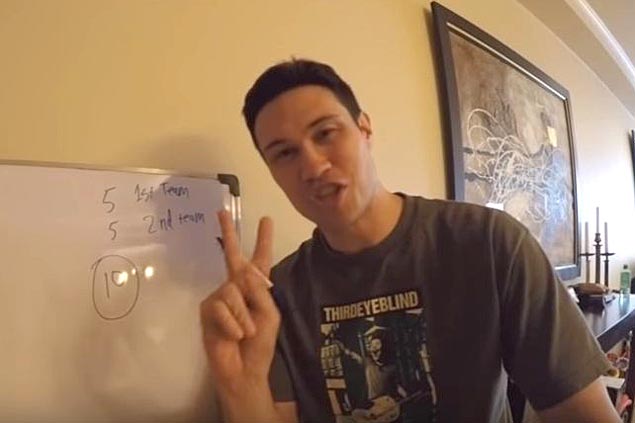 The media rookie has inevitably ruffled the feathers of fellow players and former teammates along the way. That includes pal Asi Taulava, who reacted angrily on Twitter after Menk questioned some of the selections in the Mythical teams back in 2015.
"We're good, but he won't come out in the show, though," Menk said. "I keep inviting him but every time he has an excuse. And his last excuse was, I said, 'Hey, man, can you come out on Tuesday?' He was like, 'Can't come out on Tuesday because we play Wednesday.' And I was like, 'The game's Wednesday.'
"But he'll come out," he added giggling.
[See Asi Taulava not happy with pal Eric Menk's comments]
The Taipei sojourn has felt like a trip down memory lane for the former Ginebra star, who had two tours of duties with the national team and should've probably played in more had the Philippines not been suspended from international play during his peak years.
Menk last played for the Philippines in the Chot Reyes-coached team to the 2007 Fiba Asia championship in Tokushima, Japan. He was also part of the side that dropped a heartbreaking loss to South Korea in the semifinals of the 2002 Asian Games in Busan.
"That was the worst loss I ever had in my career," Menk said, "a hundred percent."
"Man, I was on the court when that happened," he added, recalling the last-gasp Lee Sang Min three-pointer that won it for Korea after Olsen Racela missed two free throws at the other end that could have wrapped up the win for the Philippines.
[See Remember Lee Sang Min? Korean great watches PBA game largely unnoticed]
"Even in (the) 2013 (Fiba Asia championship in Manila), when (Gilas) beat Korea at the MOA Arena, I was in that game, it felt good to beat them and I was very excited and had goosebumps but still, it didn't wipe out the hurt. I thought it would, but it didn't."
But Menk is filled with hope just seeing the talented cadets now making up the bulk of the Gilas program as well as the system being run by Reyes. He only wished they had it during his time.
"I think in 2002, we were still trying to figure out a way to play (in international tournaments). It's like we would still post up a lot when we were not the bigger team, so we were still trying to learn," Menk said.
"Now, coach Chot has taken over with his spread-out offense that suits our speed which is our strength, really," the former PBA star added. "I love the Gilas program. I wish it started sooner."
Major Pain is happy to be doing something new while still being around the game he loves, but he admitted there are times when he had to fight the urge to play. Like on Sunday night in an emotional, physical game between Gilas and host Taipei A.
"Man, I wish I was playing in that game," he sighed.
Gilas could've probably used a rugged, dependable big man like him, too.