GABE Norwood the basketball player is in many ways the same as Gabe Norwood the business man.
Nothing in particular stands out if you look at the stats of his eight-year PBA career, all with Rain or Shine. He's only averaged in double-digit scoring in his first three years, with a career-high 13.7 points in his sophomore season.
But piling on the points has never been his style, as any basketball observer will know. Even his versatility as the Elasto Painters do-it-all facilitator, averaging more than five rebounds, three assists, and one steal in his career while turning Rain or Shine into a perennial title contender, is not his most valuable asset.
Tab Baldwin, the Gilas Pilipinas coach who has worked with Norwood in the national team since 2014, noted that the team captain's value lies in the intangibles he brings when he's on the court.
This much holds true for Gabe as he and wife Lei entered their second investment venture and first in the restaurant business - the Naxional South American Diner, located at Uptown Parade in Bonifacio Global City.
As he talked about it, the man reveals the first of many parallelisms in his basketball career and his business strategy.
Continue reading below ↓
Recommended Videos
"I'm more of a silent investor. I really just try to come in and help in the best way I can," said Norwood, who in trademark fashion deflects the credit to his business-savvy wife.
"She's always looking to expand, and it really challenges me to think outside the box. This [going into business] is a testament to her, and it's something we approach together. I might have more of the name, but she's definitely the brain behind a lot of the decisions," he added.
True enough, Norwood and his wife step into Naxional and the 6-foot-5 cager draws all the attention, with requests for photos and interviews left and right while Lei retreats into casual conversations with the partners behind the new restaurant.
Yet the Gilas stalwart is no figurehead, and is more hands-on with the business than he seems.
Norwood quickly fires off three of the best go-to dishes he'd recommend for newbies trying out Naxional, describing the food in delicious, mouth-watering detail.
"The Patacones," said Norwood without a moment's hesitation, naming the Puerto Rican dish made of fried plantains, as his easiest choice. "You can either get them with shrimp, pork, beef, or one of each because they're that good. The Elotes, the sweet corn, they're unbelievable."
"I'm a steak guy, so for the main dish, I recommend the Picanha, Brazilian cut. Trust me, I've gone through the whole menu, I've dabbled in a little bit of everything," he added with a sly smile.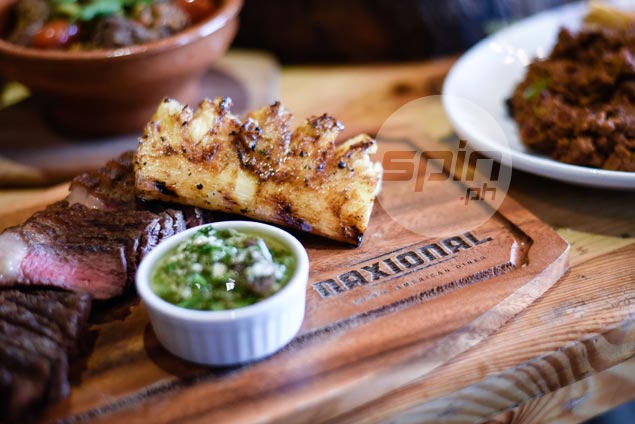 As the conversation goes on, Norwood also starts to reveal the calculated side he's known for on the basketball court that translates to his business endeavors. He's fully embracing the role of a rookie in the business industry, learning from trusted mentors the same way he started his basketball career in the Philippines back in 2007.
"Even in my first year with the national team, I talked to Danny Seigle, Kerby Raymundo, Jimmy Alapag," said Norwood, who already set out to prepare ahead for life after basketball right at the start.
"I continue to ask questions and learn. And it's really the business side that I want to learn, also to help the younger guys in the league since [for them] I'm the Jimmy, Kerby, Danny now. They're asking me for advice. It's crazy [how] time flies," he added laughing.
"I've been so focused on basketball," continued Norwood. "To really challenge myself to learn the business side also helps me build a relationship with my wife as she's been in the business world for a decade now. So to learn from her and see what I can bring to the table also is a constant learning experience, and I'm becoming a well-rounded person."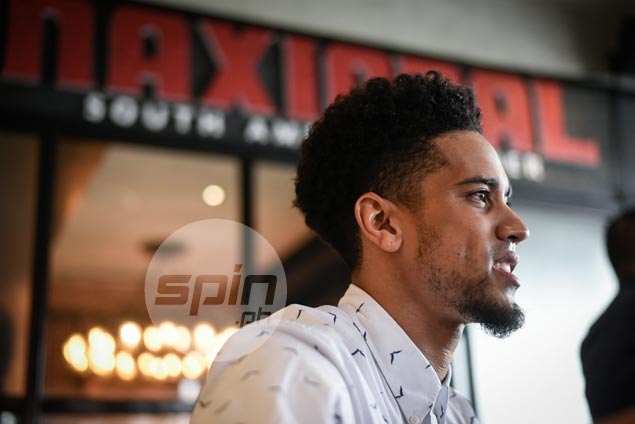 For a rookie businessman, Norwood sure has some stellar mentors in the two fields he's chosen to invest in so far. For his first partnership in 2015, the PBA cager teamed up with coach Chappy Callanta of 360 Fitness Club in putting up 360 Pro, which specializes in athletic performance training for professional and recreational athletes alike.
And for their long-dreamed about venture into the food industry, the Norwood couple is learning from veteran restauranteur behind the Red Crab Group and majority owner of Naxional, Raymund Magdaluyo. It's also fortuitous for the couple that the opportunity to join Naxional came along, since they fell in love with South American food after their Peru honeymoon, even dreaming about putting up their own ceviche bar in the Philippines during their trip.
"It fell on our lap because some of our friends from a long time ago were part of it, and collectively we're passionate about food. We plan to have a food business as well when he's done with basketball," said Lei.
"We felt like it was a good move for us, we wanted to have a different level of involvement because we want to understand more about the business. We're in it not just to put money but because we're passionate about it. I think that's the formula we take when we invest or be part of a business. We want to like and love what we're involved in," she added.
Yet the many-time PBA All Defensive Team member won't be caught off guard without a business strategy as well, as he explained why they particularly picked these two investments out of many opportunities pitched their way.
"With 360 Pro, I think we have a really good product and coach Chappy is really good at what he does," said Norwood. "With Naxional, I felt like it's a type of cuisine that isn't really fully out there especially in Metro Manila. I think a lot of people just buy right into Mexican and think that South American is Mexican food right away. But there's a lot of opportunity here for that cuisine.
"Plus partnering up with people who are actually from Venezuela, Brazil, and I also asked teammates who played in South America for feedback in terms of the menu, and that made this a cool experience for us," he added.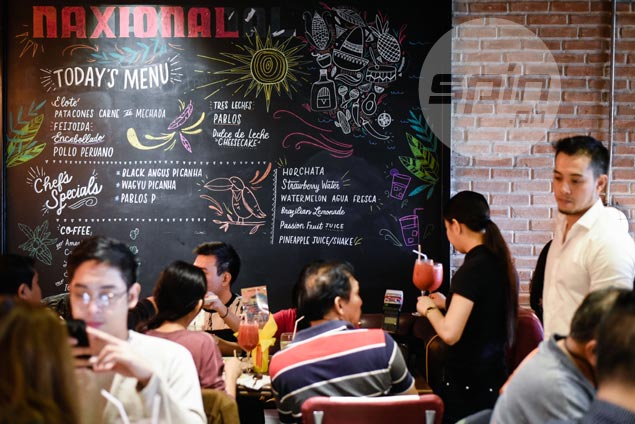 His business initiative has also rubbed off on his family in the US, with his younger brother and NFL player Jordan starting out his clothing line in the States. Gabe is also looking at possibly entering the retail industry next, and maybe put his journalism degree to good use as he's one of the contributors of an upcoming lifestyle blog site.
"Food, clothes, working out, I think that's a good set," Norwood said with a smile, when asked if he plans on building his own business empire.
But while her husband casually dreams of business ventures in the horizon, Lei provides the balance in their investment decisions.
"He's a futuristic person, a dreamer, very much [an optimist]. I'm more of a realist. He'll dream and I'll pull him back to earth a bit. But you need that balance. If it's just me, I'm always like, 'This is too risky,' but he's the one who gives encouragement. It's a good partnership, not just in marriage but in business as well," she shared.
The PBA cager, though, again plays down his contribution.
"My role is to continue to learn, and put us in good situations as a family, as a couple, to make ourselves the best we can," he said.
Despite his modesty, Norwood offers sage advice to his fellow athletes, not just PBA players, for a sound business game plan.
"Be smart. Whether you invest or not, surround yourself with people that have your best interest at heart, because ultimately they'll have your money at heart as well."
"Personally, I try to open as many doors as I can. I've been lucky enough to be here more than eight years and met people from different industries, so I try to plant a seed and let it grow from there. I'd say open as many doors as possible," he added.
Norwood also sees his endgame in business the same way he sees a play unfold on the basketball court, planning steps ahead to prepare for a better outcome for his family in planting the seeds of some business awareness to their young sons.
"I really wanted to have something my kids can actually see that their dad is not just playing basketball, not just a basketball player, and that their mom is the only one doing this. We're doing this together and as a family. I think that's something they'll appreciate and help them in the long run," he said.