BACK in the 1970s and '80s, ballers of note in the Philippines - whether they were famous PBA players, university jocks, corporate liga veterans - did battle in quality uniforms that were not made by familiar brands we know today such as Nike or adidas. Basketball players worth knowing back then wore jerseys made by a tailoring shop located at the heart of Manila called Allandale Sportswear.
So where is Allandale now?
A web search for Allandale will not amount to much. For a brand that was, by most accounts, quite popular at a time when Ferdinand Marcos was still president and we still took pride in "Made in the Philippines," I was surprised that there seems to be no discernible web presence for Allandale. The best you can come up with are mentions in message boards and forums where Filipinos all over the world discuss about clothing suppliers that make the best (and cheapest) basketball uniforms in the greater Manila area.
Many old-timers mention that before Nike, adidas, Accel, Atleta and now Titan, Allandale was the uniform maker of choice (being an apparel supplier for PBA teams can do that to your reputation). But when questions regarding Allandale's current location comes up, the scarcity of available online information turned Allandale into something of an urban legend - status unknown.
To determine once and for all what has become of the once popular brand, Spin.ph decided to go "old school" and went to Manila to find out what has become of the pioneering brand that was once synonymous with PBA uniforms.
I started with an address along Recto Avenue where the original Allandale was located. In its place now stand a commercial mall and a fastfood joint. Questions to neighborhood mainstays yielded zero results, with well-meaning fingers pointing to the claustrophobic warren of tailoring shops in the Recto-Quezon Blvd. underpass. Queries to the folks in said shops were met with universal blank gazes.
Not wanting to return to the office empty-handed, I once more turned to the internet for help. I recalled a Facebook conversation with one of my former college seniors, a verified basketball nut who is also an avid collector of tailor-made basketball jerseys. He confirmed that there was still an Allandale and gave two addresses in nearby Legarda St., just a jeepney ride away from where I was.
The first place I went to was just across the Legarda LRT station and was promising since there was an "ALLANDALE" sign. Unfortunately the place was shuttered and has been closed for a long time, according to the people in the area.
The second address proved to be the jackpot. Near the corner of Nepomuceno and Arlegui streets is an old three-story building where, housed on the ground floor, is the present incarnation of the Allandale - Allandale Sportsline.
On display were basketball uniforms aplenty - name it and Allandale probably can make it. Allandale also makes volleyball apparel, school uniforms and varsity jackets.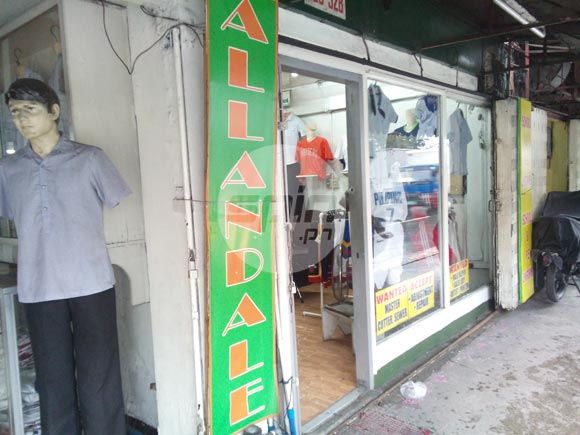 After a brief introduction to Allandale's owner, Melbarose Sasot, I proceeded to do a quick interview before she had to leave for a meeting.
Melba said she started Allandale purely by "accident" in 1970 and continued it for the benefit of her five children, whose graduation snapshots are proudly displayed on the wall next to her desk. In fact the name of her store was derived from that of her eldest son who was born the same year she started the business.
With a starting capital of P170, Melbarose started making shorts. Melbarose admits she had no background in the technical aspect of making uniforms and gifted only with business acumen. The big break was when Allandale won a contract to make uniforms for several teams in a fledgling sports league called the Philippine Basketball Association (PBA).
The University of the East alum said Allandale became famous for the quality and durability of their basketball uniforms - the same ones worn by PBA greats that include Robert Jaworski, Ramon Fernandez, Bogs Adornado, Freddie Hubalde and infamous import Billy Ray Bates.
At its peak, Allandale boasted 220 employees whose output were exported to 12 countries. The shop has since given birth to other establishments after former workers left to start their own businesses using the knowledge, expertise and contacts they gained from working at Allandale. Melbarose said there are at least 15 shops with Allandale DNA in Metro Manila alone and reaching as far as Laguna, Quezon and Bicol.
But according to the feisty Bicolana, the quality of her competitors' products were not up to par compared to Allandale's since each employee only focused on one link in the production chain - artist, cutter, sewer, printer or purchaser. Melbarose said several of her former employees went into partnerships and some even went so far as to marry to take advantage of their knowledge in uniform making (She said she closed the Legarda store since she found out its employees were making uniforms "on the side" that were of inferior quality that could damage her store's reputation).
Customers can peruse through a directory containing samples of different fabrics and materials one can choose from (that are sourced from Divisoria). A basketball uniform set (jersey and shorts) starts at P500 each (the price goes lower with more orders) and will take a week to make. A jersey starts at P300.
Despite the challenges posed by the growing number of competitors, the emergence of international brand names and work force turnover, Allandale managed to weather them all. Contrary to rumors, Allandale never closed. Melbarose explained she decided to "lie low" after her last child graduated from college.
"I am not seeking publicity for myself … the time for that is over now," she answered when I asked why she's not inclined to do interviews, citing her preference to a quiet life. She said she even declined to meet Bates when the 'Black Superman' sought her out in his last trip back to the Philippines.
At the height of Allandale's popularity in the 1980s, there were several offers for her to sell the company but she declined the overtures. At the time, she believed her children would join her after they finished their studies.
After her last child graduated from college, Melbarose decided to scale down her shop's operations and take it easy.
She was very proud of her son Allansky, a cum laude graduate from San Beda who she considered the brightest and most promising of her brood. The younger Sasot was sought by his mother to take over the business but instead chose to work for Accenture. He died at the age of 36 last January due to an illness.
"I told them they were a very lucky company for having my smartest son… maybe if he worked here things could have been different. Who knows?" said Melbarose who added she was hoping it was not too late for her other children to see "the light."
Before she left, I asked Melbarose if there were reminders of Allandale's heyday that were present in the store. She said she kept a collection of some examples of the PBA's earliest uniforms (!) and old photographs and story clippings in her "gawaan sa bundok" in San Mateo, Rizal.
Before we said our goodbyes, I saw a forest green Crispa Redmanizer jersey. The No. 6 indicated it was Atoy Co's. Even though it was a throwback reproduction, for a hoops junkie I felt like it was a touchstone. A piece of Philippine Sports history.
It was, after all, made by Allandale.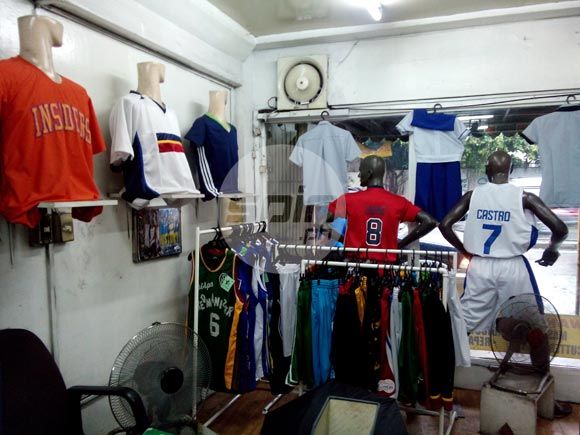 To contact Allandale Sportsline, you can email them at: allandale_sportsline@ hotmail.com or call them at the ff. nos.
Landline: (632) 7355079 Fax: (632) 7365505
Recommended Videos