CHICAGO -- Game 7 is a sacred ground where legends are born. It has also been known as a dark, dank place where the bright lights shine on those who are less worthy.
Pascal Siakam knows that too well by now.
"It wasn't normal circumstances and I tried to fight my way through it. I just didn't have it, you know," the Raptors forward told The Toronto Star in the wake of another poor effort, this time in a winner-take-all duel that narrowly went Boston's way, 92-87.
His honest admission of having some stage fright and fluttering butterflies in the stomach is beautifully refreshing. But it's a postgame confession the Raptors probably didn't want to hear.
When his new contract kicks in beginning next season, Siakam's salary in the coming four years are as follows: $27 million, $31.3 million, $35.6 million and $35.9 million.
Is he really a max player, the type who can lead the franchise to a championship?
Just approaching his prime at age 26, there is still a lot of time for growth and empowerment. So the answer to the above question can justifiably be deferred to allow some more time and seasoning.
But for now, though, Siakam is like an Uber driver whose star rating just dropped.
Continue reading below ↓
Recommended Videos
THERE IS MORE DOUBT AND LESS BELIEF.
In the crucible of today's Game 7, he finished with a mediocre 13 points in 42 minutes, going just 5-of-12 from the field. He did have 11 rebounds and three assists but he also coughed up five turnovers, including three in the fourth quarter.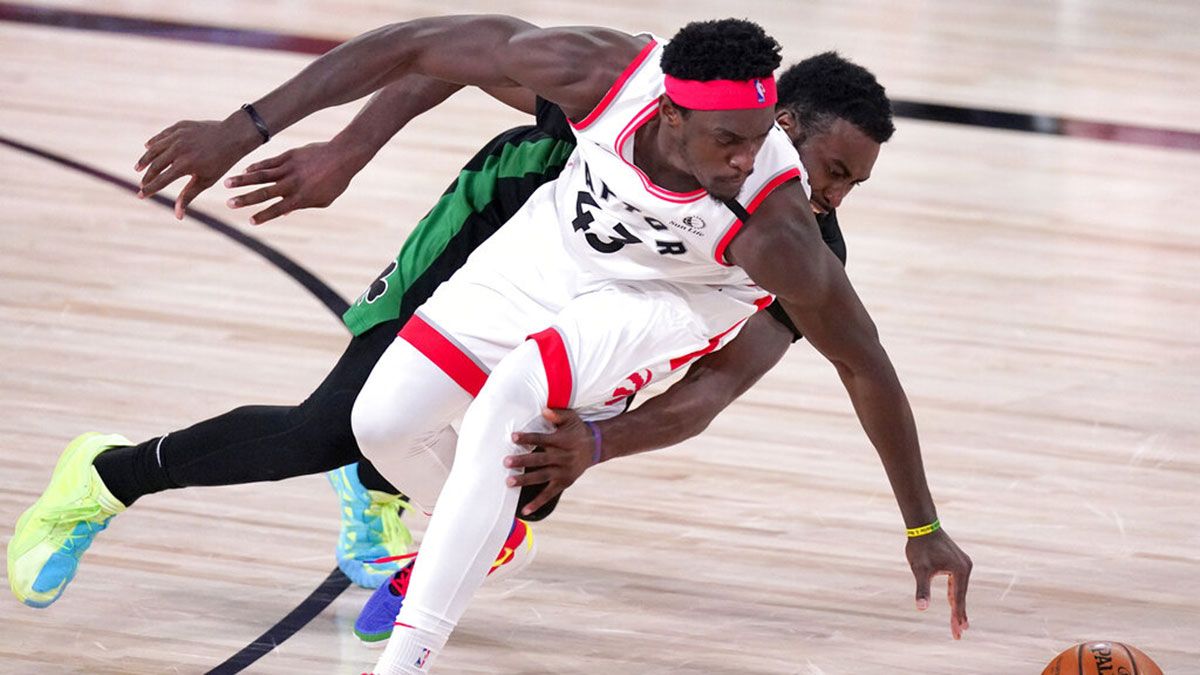 After splitting a pair of free throws with 3:12 to go and Toronto down, 89-83, Siakam became a useless participant in the Raptors offense the rest of the way, resurfacing only with a meek, missed 3 in the final 4.2 seconds with Boston up by five.
Siakam, however, didn't monopolize the category of subpar performances.
Kyle Lowry, the team's emotional leader, barely showed up with 16 points, mustering only 5-of-15 from the field.
Fred VanVleet dropped 20 but he disappeared in the "clutch" and attempted just one basket in the final five minutes--- a missed 26-foot 3 that would have tied the score at 90-90 with 12 seconds remaining.
AND THEN THERE WAS NORMAN POWELL.
He had his potentially game-tying breakaway lay-up blocked with 58.2 ticks to go and then created another miscue 22.8 seconds later when he failed to box out Jayson Tatum who grabbed a missed Boston free throw, got fouled, and made two freebies.
"Mistakes are made, but it's tough. It's just really tough," said Lowry of Toronto's 18 turnovers that Boston exploited for 18 points.
It's not fair to lay the Game 7 defeat on Siakam's feet. But the entire series loss falls directly, solely in his lap.
Through seven games he made only 42 of 110 field goals, a horrendous 38.1 percent clip. And his success rate from deep was a forgettable, 12.5 percent on 4-of-32 shooting.
He did have 52 rebounds and 23 assists but he laced those numbers with a toxic brew of 25 fouls and 15 turnovers.
Dethroned and sent packing home, Raptors head coach Nick Nurse tried to exit Orlando on a positive note.
"They gave everything they have," he told The Star.
Not really.
Siakam is leaving the bubble with a lot more than he gave in that Game 7.
___
Spin fans unite at the Spin Viber Community! Join the growing community now and complete the experience by subscribing to the Spin Chatbot.