THE Philippine 3x3 team's victory over Romania in the Fiba 3x3 World Cup on Monday gave the squad the much-needed confidence heading into their two remaining preliminary matches in the group stage.
Kiefer Ravena said the 21-15 debut win over Romania is a big boost to their confidence in their bid to advance into the next phase especially in the tournament where every match counts.
"In such a tournament, mabigat 'yung game na 'yun kasi konti lang (ang games) tapos crucial lahat. So confidence-wise, to start with a win, malaking bagay 'yun," said Ravena.
Anton Altamirano, who accompanied the team in Nantes, France, said it came as a relief to be able to prove to themselves that they can win games in this tough tournament.
"First game namin against Romania, I think we played well," said Altamirano, who was part of a team led by UAAP and PBA champion coach Eric Altamirano that oversaw the squad's preparation.
"Malaking bagay na manalo 'yung unang game."
[See Ravena, Paras lead late run as PH 3x3 side debuts with big win over Romania]
Led by Kobe Paras and Ravena, Team Pilipinas made a late run to dispatch Romania on Monday morning (Manila time) before bowing to host France, 22-11, just three hours later.
"Against France, we were outplayed by the home team. They took advantage of their size against us," said Altamirano.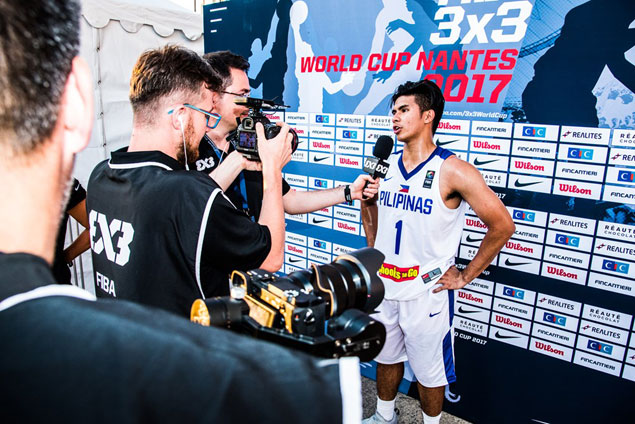 The Philippines takes a break on Monday before returning to action against Slovenia and El Salvador. Slovenia is seeded number two in the tournament and is currently unbeaten in two games along with France.
The top two teams from each group will move into the quarterfinal round and Team Pilipinas knows it can't afford any more letdowns in its next two outings.
"For the next two games, we have to treat them as do-or-die games. It's win-or-go-home na talaga for us," said Altamirano.
[See Team Pilipinas settles for a split after loss to host France]
For the team to have a chance though, Altamirano said the Philippines must continue to display the defensive intensity they showed late in the game against Romania.
"Defense was definitely the key for us. If we want to win the next two games, we have to lock down on defense," Altamirano said.
Ravena and his teammates are determined to make it to the quarterfinals.
"Crucial 'yung next two games namin. We really want to make it to the next round for the first time. So 'yung motivation namin, nandoon," said Ravena.