REY MYSTERIO is trying to promote the World Wrestling Entertainment, but not all the fighting and taunting happening in and out of the ring.
A former WWE champion, Mysterio is specifically promoting the "Be a STAR: Show Tolerance And Respect" campaign in his three-day Philippine visit.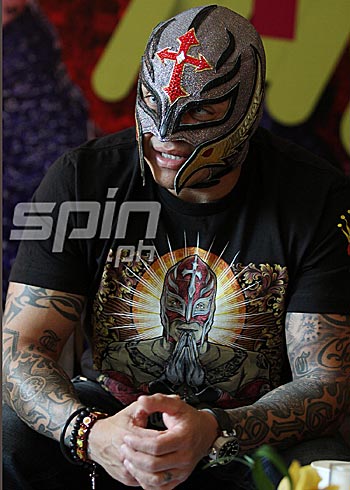 "We're pushing young kids to not bully each other, to have respect, and show positivity among their peers," he told Spin.ph in a one-on-one interview on Saturday at The Peninsula Manila.
"When you're young you do a lot of dumb things. That's why we, as adults and role models, try to put some sense into the youth and tell them to be smart and help each other out."
Continue reading below ↓
Recommended Videos
Mysterio, Oscar Gutierrez in real life, said he experienced being bullied when he was just starting out as a wrestler.
"It was a joke to some people. They didn't believe I could be a wrestler because I was skinny and small," the 5-foot-6 Mexican said.
"It's funny because all those guys now have children and their children love to watch Rey Mysterio," said the 38-year-old, who has been a top wrestler for almost three decades.
Mysterio, though, just wants his fans to cheer for him and not follow his dangerous stunts in the ring.
"There's a line between sports and entertainment, you can't imitate what you see on TV."