FILIPINO figure skater Michael Martinez remained undeterred in his bid to qualify for the 2018 Winter Olympics despite a failed attempt in Helsinki.
The 20-year-old Martinez garnered a total score of 196.79 in the men's single category, putting him in 24th place at the World Figure Skating Championships in Helsinki last Sunday and supposedly good for the last spot for the 2018 Winter Olympics in Pyeongchang.
But the Olympic spots are actually going to other countries which had multiple top performers, as stipulated in the new qualifying rules.
Still, Martinez was satisfied despite barely missing the cut against a tough field.
"It was a really tough competition. Everybody from 1st to 20th place were doing quad jumps and my quad wasn't ready for this competition. And the mindset for a qualifying event, it was a huge pressure for me," Martinez told reporters at a press conference held at the Mall of Asia Skating Rink on Thursday.
ADVERTISEMENT - CONTINUE READING BELOW ↓
The first figure skater from Southeast Asia to compete in the Olympics, Martinez still has one more chance to enter the winter showcase via the Nebelhorn Trophy in Germany this September where the top six finishers would be eligible to go to Pyeongchang.
"That's all I need to do. To be in (the) top six. There's no minimum score or whatever. I just need to be in top six," said the Muntinlupa City native. "I'm really confident it will be easy for me. My quad wasn't ready (for Helsinki) but I'm pretty sure it will be ready for the qualifying competitions."
[See Michael Martinez falls just short of qualifying for Olympics]
In the World Championships, Martinez admitted having been bothered by the effect of injuries he sustained and problems with his old pair of skating boots that he said could not sustain quad jumps.
"Every time I would do the jump, my ankles would twist, which would make me miss training and competitions," said Martinez, who swapped his old Concierto boots for newer, Piano boots for more support against injuries.
ADVERTISEMENT - CONTINUE READING BELOW ↓
Martinez, who arrived in Manila on Wednesday, has had to cut short his planned Holy Week break and will leave on the 12th for Canada on orders of his Ukrainian coach Slava Zagor in order to continue his training that will last to the run-up to the SEA Games in Malaysia and a month later, for the Nebelhorn Trophy in Germany.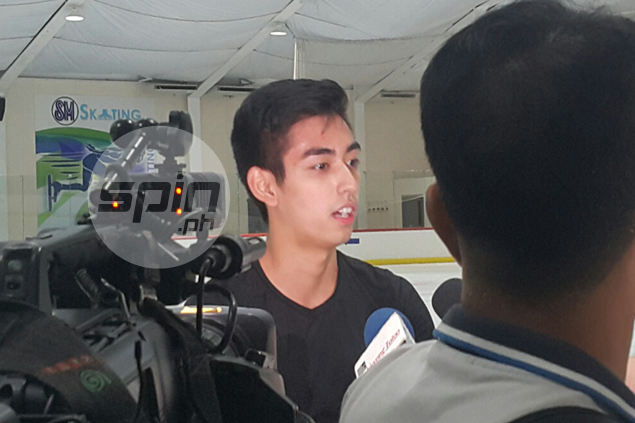 ADVERTISEMENT - CONTINUE READING BELOW ↓
In Canada, Martinez vowed ro improve his skating skills and choreography. The Russia camp will focus on technicalities such as the cleanliness of his jumps. He would then start skating in US events in August to hone his skills some more for Nebelhorn.
"There's so much more to do," said the Filipino Olympian. "To be honest, makikita mo yung performance ko before. I missed a lot of jumps, I fell a number of times. My performance was not good. The maturity was not there."
"Some commentaries said I was just skating as a junior skater and not as a senior skater but I still qualified. Now the maturity is there. The performance is there. The jumps are getting there," he added.
"(Coach told me) that, 'After you get back from the Philippines, we will really train hard and I will kill you.' Those were his exact words!" Martinez ended with a laugh.

ADVERTISEMENT - CONTINUE READING BELOW ↓