MARY Flor Diaz led a 1-2 podium finish for Zamboanga City in the national finals of the weightlifting competitions in the Philippine Olympic Committee-Philippine Sports Commission Batang Pinoy on Thursday at the Leyte Sports Development Center in Tacloban City, Leyte.
The first cousin of two-time Olympian Hidilyn Diaz lifted 42 kg in snatch and 55kg in clean and jerk for a 97 kg total to claim the girls 40kg category top prize. Weightlifting is holding its national finals while other sports including swimming and athletics are staging the Visayas eliminations for the national finals  set in Iloilo.
Diaz's teammate Ma. Dessa Delos Santos took the silver medal with lifts of 37-47 (84).
It was the second gold-silver placing for Zamboanga City, which also got a gold from Margareth Colonia in the girls above-44kg class with a 50-61 (111) lift and a silver from Patricia Nina Gregorio who posted 48-58 (106).
"I expected to win because I trained very hard for this," said the 13-year-old Diaz, the youngest and only girl in a brood of four. "We have barbells at home and everybody lifts."
The high school sophomore from Universidad de Zamboanga, a double gold winner in the Philippine National Games and silver winner in Palarong Pambansa, is bannering her team's 11-strong weightlifting squad in the week-long meet for 15-year-olds and younger.
Bohol also grabbed a piece of weightlifting spotlight when Ma. Paula Lanit and Elien Rose Perez ruled their respective events. Lanit, 12, raised 25-32 (57) for the gold in the girls 36kg division, while Perez had 50-61 (111) for the girls 44kg diadem.
Leyte Sports Academy flexed its muscles in track and field, garnering nine gold medals, four of which in boys and girls relay events.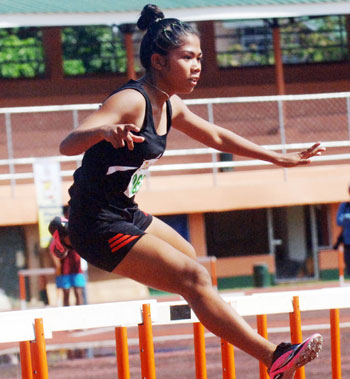 LSA's Karen Janario clocked 20.7 seconds to land the girls 13-under 100-meter hurdles, while teammate Melissa Escoton timed 16.9 seconds to rule the girls 14-15 division. The hosts also annexed the golds in 1,500m run events with Aldrin Hermosilla winning the boys 13-under, Feiza Jane Lenton in girls 13-under and Lyra Baytan in girls 14-15.
Last year's national champion Mary Diesto of Bacolod reigned once again in the girls 14-15 long jump, while teammate Errick Empio claimed the boys 14-15 110m hurdles top honor.
In tennis at Apitong Tennis Club, top seed Janna Marie Pages of Cebu City downed Ma. Delrose Duran of Leyte, 8-6, to reach the girls singles finals. She will go up against Mary Joy Calapre of Maasin City who advanced via 8-5 win over Shyne Villareal of Cebu City.
At the Capitol Gym, Mandaue sent four boxers into the semifinals led by Jomar Caspe who defeated Domingo Oldem of Noerthen Samar on points in Kids antweight. Joining him in the next round are teammates Romel Tunacao who outpointed Danrick Sumabong of Tagbilaran City in Schoolboys light paperweight; Marco Pomar who beat Dick Espinola of Northern Samar on points in Schoolboys paperweight; and Rhezon Tarona who edged Jeramil Rafaeles of Leyte A via RSC in Schoolboys light pinweight.
Also advancing were Diether Casida of Leyte in Kids antweight, Leo Domingo Napuli of Maasin City in Schoolboys paperweight, John Lloyd Transporte of Cebu City in Schoolboys paperweight, Augustine Chinedo Augustine Nworji of Leyte B in Schoolboys light pinweight, and Mario Bautista Jr., of Negros Occidental in Schoolboys light pinweight