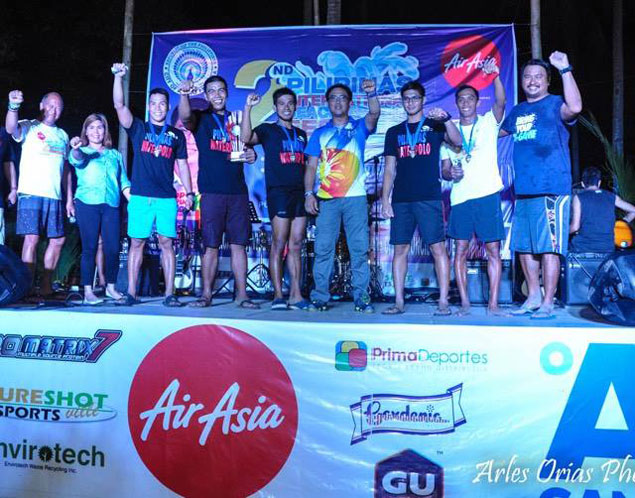 PUERTO PRINCESA, PALAWAN – The Philippine-Turbo team proved its mastery against the Philippine-Envirotech with a convincing 13-6 win in the final to retain the title in the 2nd Pilipinas International Beach Sports Festival last Tuesday at the Baywalk Park here.
Turbo, which downed Envirotech last year in Anvaya Cove for the title, leaned on newcomers Maui Valdez, Mico Anota, Paolo Serrano and Aljon Salonga – all members of the national team – to rule anew the event backed by City Mayor Luis Marcaida III.
The two teams arranged a rematch after beating their respective opponents in the semifinals.Envirotech eliminated Sureshots Sportsville, 10-7, while Turbo downed Hong Kong, 4-2.
Turbo also won against Shanghai in the quarterfinals, 16-13, while Envirotech won against Guam B owing to a superior quotient after a 6-6 draw in their match during this three-day tournament organized by Optimum Sports and backed by AirAsia.
"We're very happy in successfully hosting this event," said Marcaida. "We're hoping to continue our program because we want to bring back the tag of our city being the 'Sports Capital' of the Philippines. This is just the first. We're looking to host most sports events."
Hong Kong defeated Sureshots, 11-8, in the battle for third place.
Meantime in the exhibition match, the Dale Evangelista-led Sureshots humbled visiting Guam team, 15-11, to top the Masters – a 35-and-up event.
Evangelista, also the president of Optimum Sports, said having a Masters category gives former water polo national team players an opportunity to showcase their talent.
"We're considering having more invitational tournaments, together with the usual events with national teams and club teams, with 35 and up players. It just proved that we can still play the game at a high level," said Evangelista, head coach of both the Philippine women's water polo team and open water swimming squad.
In the Open Water Swimming event, national team players Roy Cañete and Courtney Tan-Gray rule the men's and women's side of the 10-kilometer category,
Ivan Krystoffer Aurello and Samantha Borlain meanwhile, won the 5k, Kurt Bucasas and Tara Borlain in the 14-17 years-old 2.5k,, Rogel Aboratigue Jr. and Maglia Jaye Dignadice in the 11-13 500-meter,, and Alexander Austria and Franchezka Borlain in the 10-under 500m.
The event is also supported by Turbo PH, A Game, Sureshot Sportsville, Envirotech, Promatrix, GU Energy Gels, Prima Deportes Co, Gardenia, the Philippine Sports Commission (PSC), Philippine Swimming (PhilSwim) and the Philippine Sports Institute (PSI).
ADVERTISEMENT - CONTINUE READING BELOW