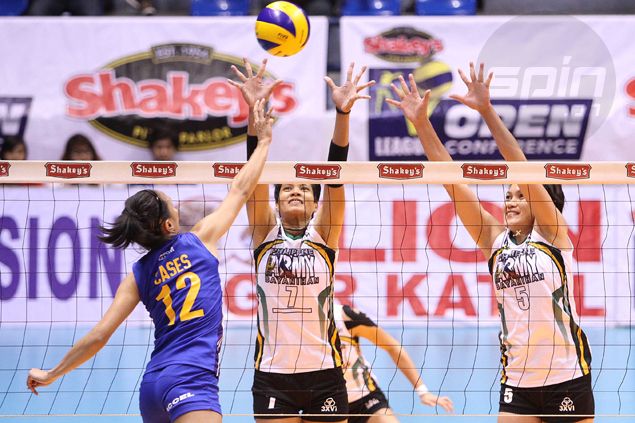 PHILPPINE Army seeks to its record unlblemished as it faces winless Meralco at the start of the second round eliminations of the Shakey's V-League Season 11 Foreign Reinforced Conference at The Arena in San Juan on Sunday.

Game time is at 6p.m.

The Lady Troopers carry a 3-0 slate, while the Power Attackers are at the bottom with a 0-3 card.

The all-star cast of Dindin Santiago, Jovelyn Gonzaga and Ging Balse with veteran setter Tina Salak are again expected to do the damage for the Army squad, which opted not to tap an import in this reinforced-flavored tournament.

But Lady Troopers coach Rico de Guzman was quick to downplay their three-game sweep of the first round since majoirty of the imports were not allowed to suit up owing to their lack of International Transfer Certificate from the FIVB.

De Guzman warned his team to keep its guards up for the next round as imports are finally expected to play.

"Na-sweep namin 'yung first round kasi walang import 'yung mga team, hirap na hirap na nga kami sa all-Filipino pa lang, what more pa kung andyan na ang mga import," he said.

Army had an easy win over Meralco in the conference opener (25-19, 25-18, 25-18), went through the eye of the needle against Cagayan (17-25, 25-17, 17-25, 25-21, 15-13), and weathered a rough start against PLDT (29-31, 25-19, 25-16, 25-18).

Meralco will again bank on Abi Marano, who had 10 points in their previous match against the Lady Rising Suns (14-25, 20-25, 16-25), while Thai spiker Wanida Kotruang and Japanse setter Misao Tanyama will back up the Power Attackers.

Meanwhile, Systema and Far Eastern University will battle in the men's play at 4p.m.

The Active Smashers are currently on top spot in a tie with Instituto Estetico Manila (2-1), while the Tams hold a 1-2 record along ith Rizal Technological University.
ADVERTISEMENT - CONTINUE READING BELOW