VOLLEYBALL star Valdez and Kiefer Ravena were recently spotted in one press conference having the same pair of sneakers.
But before people get the wrong idea, Valdez, who continues to be linked romantically to Ravena despite repeated denials, insisted they weren't wearing couple shoes.
The charming Ateneo star may love Ravena as a friend, but she absolutely adores her Kobe shoes.
Asked about the nice pair of white Kobe X Fundamentals she was wearing, the 22-year-old said the kicks were her birthday gift to herself.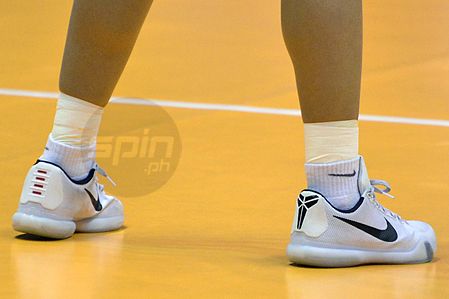 "I'm also an endorser ng Nike and birthday gift ko sa sarili ko," said the UAAP back-to-back MVP, who turned a year older on June 29.
The pride of San Juan, Batangas said although Kobes are basketball shoes, they fit her perfectly in volleyball matches.
"I really love those shoes as in sobra," said Valdez. "At saka sobrang ganda ng Kobe X Fundamentals."
The many-time national player said she was introduced to the signature shoes of Kobe Bryant when they were issued to the Ateneo Lady Eagles a couple of years ago.
She was instantly hooked.
"We started using Kobe's two or three years ago so ever since, nagko-Kobe's na rin kami," she said.