THERE was no doubt in coach Francis Vicente's mind that this group of high school volleyball players could've done something special had they stayed together in college.
"Five years champion and UST (University of Santo Tomas), walang talo, sweep lahat ng seasons at champion sila sa lahat ng sasalihan nilang liga," said Vicente without a hint of doubt in his voice.
Vicente's words could've been easily dismissed as braggadocio, but not when he was talking about a UST team that once had Alyssa Valdez, Kim Fajardo, and sisters Dindin and Jaja Santiago.
The four emerged among the best volleyball players of their era - Valdez at Ateneo, Fajardo at La Salle, Dindin and Jaja at NU.
But had the stars aligned for UST, they could've formed one powerhouse Lady Tigresses side.
It never happened.
Vicente, now the national coach, took SPIN.ph for a trip down memory lane as he recalled how this talented group came together at the proud school's Espana campus.
Vicente said it was in 2005 when he and his then deputy Kungfu Reyes first spotted then unpolished gems Valdez and Fajardo playing for the Calabarzon team in the Palarong Pambansa.
At almost that same time, Dindin's uncle approached Vicente and told him that his niece wanted to play high school volleyball. Jaja tagged along with her ate when they went to the UST campus.
Continue reading below ↓
Recommended Videos
Dindin was already a 5-foot-11 incoming third year high school student while Jaja was a lanky sixth grader.
It didn't take long for the players to show a glimpse of their potential. Valdez won Rookie of the Year honors in the 2006-07 UAAP season and, the following year, teamed up with Fajardo to win three straight championships for UST.
Dindin also had three high school championships for UST under her belt.
By Season 72, Jaja was named Rookie of the Year, Valdez became the MVP and the best attacker and Fajardo the best setter after another title run by the UST high school team.
However, a team that was so full of promise broke up after Vicente left UST. Valdez was recruited by Ateneo, Fajardo went to La Salle and Dindin and Jaja followed Vicente to National University.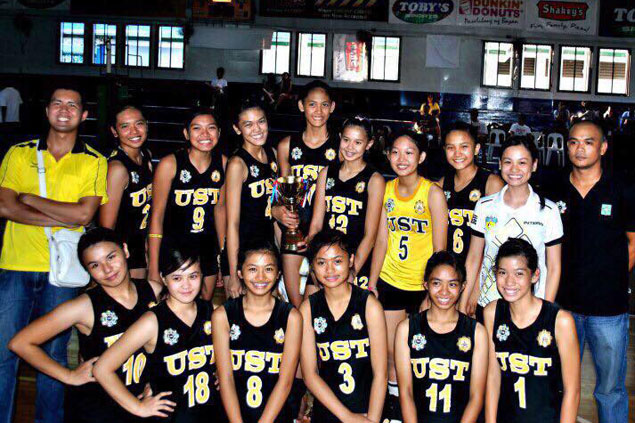 Looking back, Valdez said leaving UST was one of the hardest decisions she ever made.
"Syempre umiyak ako noon. It was one of the hardest decisions I've done in my life," said Valdez, now widely regarded as the face of Philippine volleyball. "UST naman talaga and first choice ko.
"But if there was one thing na nangyari, it's na-prepare talaga ako ng UST kung saan man ako napunta."
It was no different with Fajardo and Jaja, both reduced to tears when the team broke up.
"Oo, nalungkot talaga ako noon," said Fajardo. "Noong tinuturuan nga ako na mag-cheer ng La Salle, medyo nanibago ako kasi syempre sanay ako sa UST."
Jaja said: "Umiyak ako noon, ayaw ko talaga umalis ng UST pero wala kaming magagawa ni Ate Dindin noon eh."
We all know what happened next.
Valdez led the Lady Eagles to back-to-back championships in Seasons 76 and 77 while being named UAAP MVP thrice.
Fajardo was instrumental in the Lady Spikers' title romps in Seasons 78 and 79 while Dindin and Jaja steered the Lady Bulldogs to consistent Final Four appearances.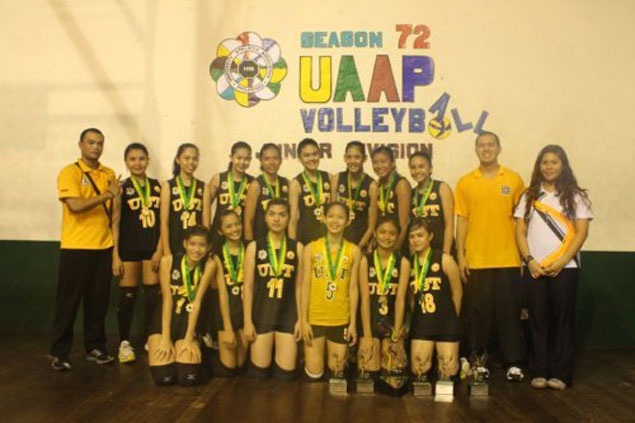 But had they stayed together at UST, they could've built a dynasty, people still believe to this day.
From Season 73, Valdez, Fajardo and Dindin would have played together for three years before Jaja and middle blocker Ria Menees joined them to sustain the title run in Season 76.
Even after the departure of Dindin, the UAAP's Season 77 would've seen Valdez, Fajardo, Jaja, and Meneses teaming up with emerging power hitters EJ Laure and Sisi Rondina.
By Season 78, Jaja, Laure and Rondina would only be in their third year with the team and still eligible to play for the Lady Tigresses until Season 80.
No wonder fans from Espana feel a sense of regret each time talk of a 'super team that never was' come up, more so since many felt the school did not do enough to convince them to stay.
"Hindi naman sa hinayaan lang sila, syempre kinausap pa rin sila," said a source who refused to be named. "Pero family kasi palagi sinasabi na isa sa nag-decide, syempre high school pa lang sila noon."
Vicente no longer harbors regret, but knows exactly what this batch would've accomplished had fate not intervened.
"Dream team 'yan eh," he said.
Alas, dreams don't always come true.