PETRON'S Rhea Dimaculangan and Tots Carlos of University of the Philippines were crowned as the Most Valuable Players of Philippine Superliga in their respective divisions on Thursday at the Arena in San Juan City.
Dimaculangan is the second setter in the league to win the All-Filipino Conference MVP after Tina Salak in 2014, emerging as one of the key factors in the Blaze Spikers' 25-22, 26-24, 25-23 victory over rival F2 Logistics Cargo Movers in their do-or-die Game 3.
The Petron setter consistently delivered the brilliant plays in the team's historic 13-0 unbeaten run until Game 1 before F2 Logistics equalized the series in Game 2.
Dimaculangan dished out 31 excellent sets on top of three points, highlighted with a smart 1-2 play that put the Blaze Spikers at championship point, 24-22, in the third set.
Carlos, on the other hand, was crowned as the inaugural Collegiate Grand Slam MVP after consistently leading the Lady Maroons in the eliminations — although she missed two games due to ankle injury — all the way up to the Finals, where she poured 17 points to torch UST Tigresses, 25-21, 16-25, 25-23, 25-19.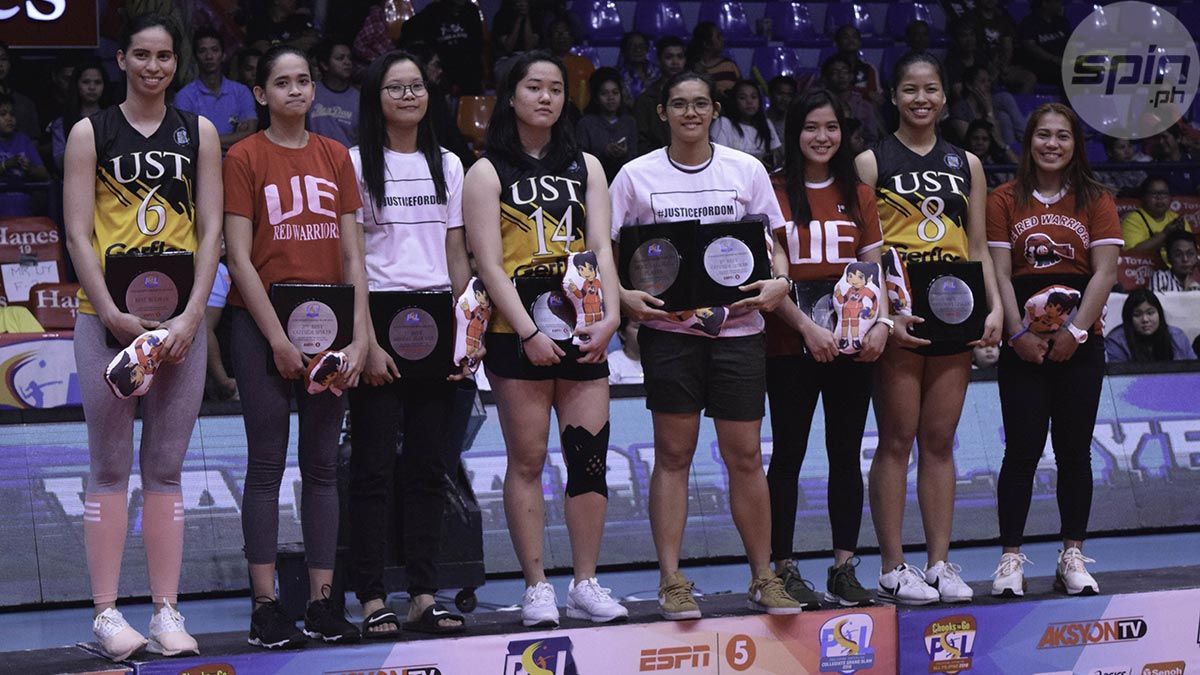 Continue reading below ↓
Recommended Videos
Aiza Maizo-Pontillas was hailed as the Best Opposite Spiker in the All-Filipino Conference, while bronze medalist Generika-Ayala and fourth placer Cignal collected the other individual awards led by HD Spikers Rachel Anne Daquis (1st Best Outside Spiker and Mylene Paat (Best Scorer) and Lifesavers Patty Orendain (2nd Best Outside Spiker); Ria Meneses (1st Best Middle Blocker) and Kath Arado (Best Libero)
Carlos, who also won the 1st Best Outside Spiker, while her teammate Aie Gannaban got the 1st Best Middle Blocker.
The silver medalists Tigresses also collected awards with Best Scorer Milena Alessandrini, Best Opposite Spiker Eya Laure and 2nd Best Middle Blocker Tin Francisco.
UE also had three individual awardees with 2nd Best Outside Spiker Me-Ann Mendrez, Best Setter Laizah Bendong and Arado winning her second Best Libero.