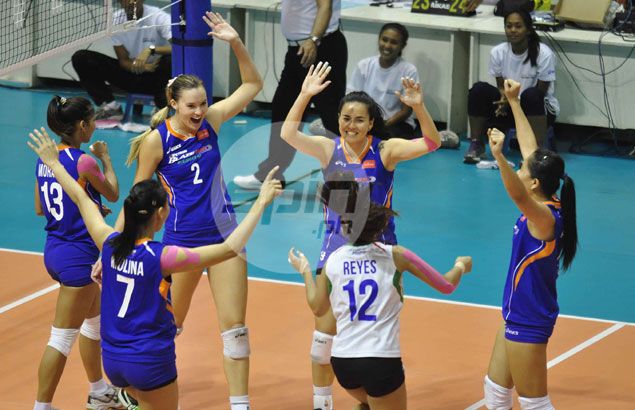 PETRON marched to the championship round of the Philippine Super Liga Grand Prix after disposing Cignal in straight sets, 25-23, 25-16, 25-21, in their semifinal encounter Friday at the Astrodome.
The Blaze Spikers now await their opponent for the winner-take-all title match, with Generika and RC Cola Air Force slugging each other out in the other semifinal pairing being played as of post time.
Other than being the first team to win the championship outside of three-time winner Philippine Army, the Grand Prix winner will represent the country in the Asian Women's Inter-Club Championship in Vietnam in April next year.

Alaina Bergsma unloaded 25 points, scattered from 18 spikes, four blocks, and three service aces for Petron, while top rookie Dindin Santiago added 13 and Frances Molina with 10.

Russian setter Erica Adachi had four points with 53 of the team's 58 excellent sets.

"Hindi ko naman inexpect na ganoon kadali, siguro maganda lang ang gising ng team," said Petron coach George Pascua.

"Nag-step up kasi ang locals ko, sa kabila naman nag step up rin ang locals nila kaya nagtabla lang. Ang imports ko 'yun ang medyo lumamang," he added.

And the former Far Eastern University mentor assured the Blaze Spikers still have more to offer in the Finals.

"Meron pa syempre, iba naman ang Finals sa semis," he said.

Lindsay Stalzer had 14 points and Sarah Ammerman made 13 markers for Cignal, which has to settle in the battle for third place between the loser of the Generika-RC Cola Air Force semis match.