F2 Logistics star Kalei Mau is keeping her eyes on the prize as she is just a win shy of her first Philippine Superliga title after surviving hard-fighting Cignal in Game One of the Best-of-Three All-Filipino Finals.
"I want it more than anything. The mindset is that it's ours. Every opportunity we get, every set I get, I'm going to put it down because we're not playing around, this is high stakes so I'm really excited," said Mau after erupting with 27 points leading the charge for F2 Logistics.
But she knows that Game Two won't be a walk in a park when the Cargo Movers try to sweep the HD Spikers on Tuesday at the Mall of Asia Arena.
After escaping Cignal's comeback, 25-22, 26-24, 18-25, 17-25, 15-8, on Saturday at the Smart-Araneta Coliseum, the Filipina-American spiker admitted that right after taking the two-set lead, she saw the HD Spikers coming to fight back.
"This is what I expected. At first, when we were taking them in the first two sets, I was like, something's wrong. They are not fighting like I expected them to," said Mau as the Cargo Movers failed to close out the match in three sets.
Continue reading below ↓
Recommended Videos
"And I know Alohi (Robins-Hardy) was kind of quiet in the first two, that wasn't her. I told my team that 'hey look, they're gonna get beaten in three, tonight, they gonna come harder in the third set so we gotta play even harder,'" she added.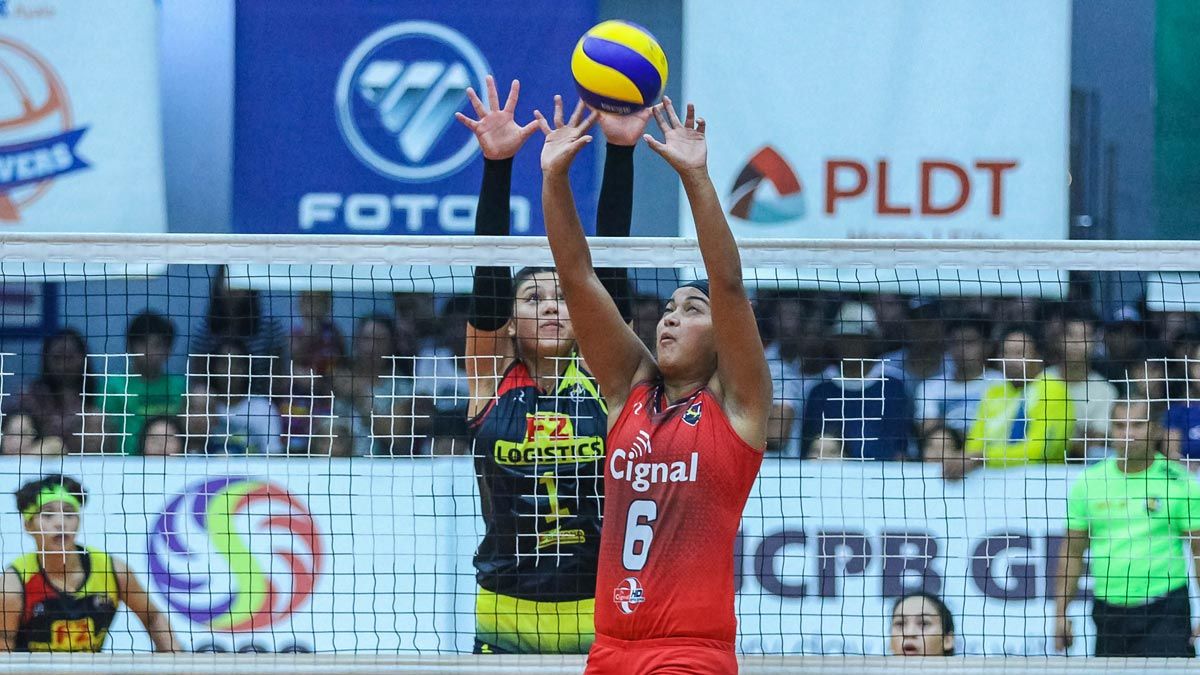 As Mau anticipated, her best friend Robins-Hardy took charge in the third set with her smart attacks and brilliant plays until Jovelyn Gonzaga and role players like Janine Navarro, Mylene Paat, Ranya Musa and Roselyn Doria stepped up for the struggling Rachel Anne Daquis taking control of the fourth set to force a decider.
"Cignal is not gonna go down without a fight. And they did a really good job coming back and pressing us, and challenging us," Mau said.
Fortunately, F2 Logistics Ramil De Jesus's motivation worked wonders as all players in the court stepped up and Mau gave the team a 9-4 spread from a clutch attack and ace, never looking back to draw the first blood.
"It was really important that we just get all of our serves in. I think, some of my teammates we're overthinking so much. It could've just been simple serves in the court," Mau said. "We were able to control that in the fifth set when it really mattered. I'm really proud of them for closing out."
With a chance to sweep the series and end F2 Logistics' two-year All-Filipino title drought in Game Two, Mau warns her teammates to learn from their mistakes in this match as she knows that Cignal won't go down without a fight.
"I think my team, we have to control the controllables. We could have minimize a lot of our errors and you know, all we gotta do is learn from this and we gotta move on come the next game," she said.