F2 Logistics hung tight to deny Petron's comeback threat, 25-22, 25-19, 17-25, 22-25, 15-12, and complete a golden repeat in the winner-take-all Finale of Philippine Superliga Invitationals on Tuesday at the Ynares Sports Arena in Pasig City.
The Cargo Movers flirted with disaster, blowing a two-set lead as the Blaze Spikers banked on the troika of Sisi Rondina, Aiza Maizo-Pontillas and spark-plug Bernadeth Pons to fight back and force a decider.
But F2 Logistics got its act together when it mattered most as Kalei Mau put her team at championship point, 14-11, only for an anti-climactic net touch error from Petron that ended a three-hour championship classic of the PSL rivals.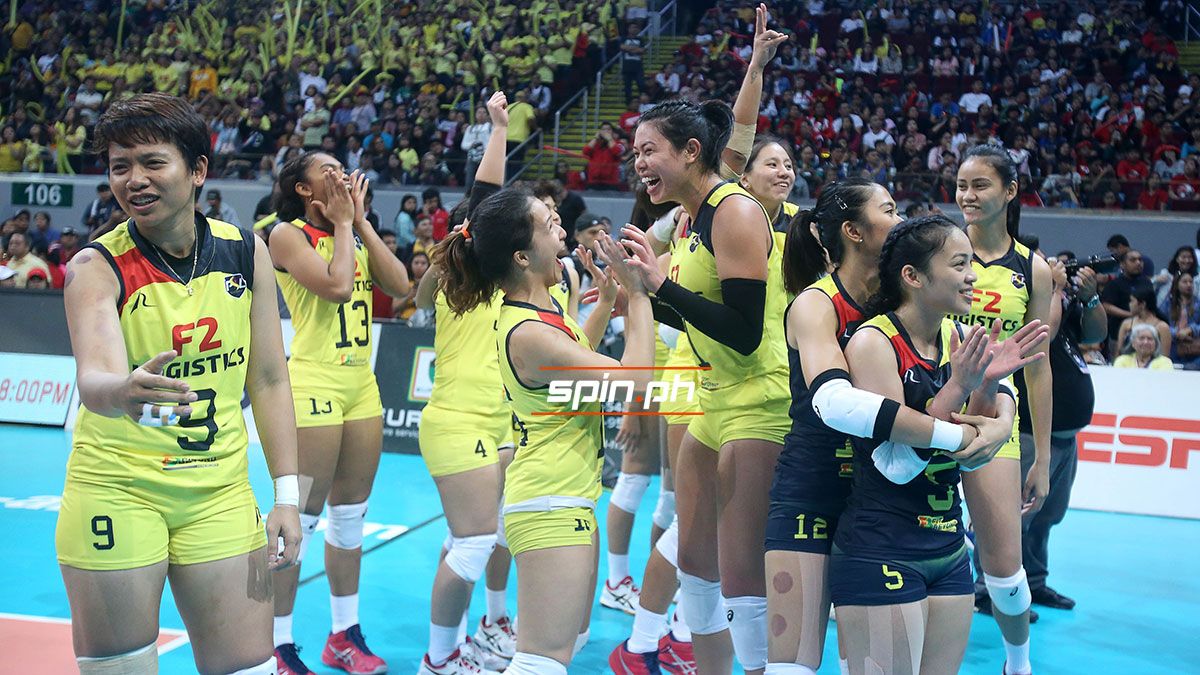 Mau gave her team a 9-4 start in the fifth but Rondina and Pons conspired to another fightback, capped by a center line fault succesful challenge of Petron coach Shaq Delos Santos that trimmed the deficit to just 9-11.
ADVERTISEMENT - CONTINUE READING BELOW ↓
Desiree Cheng stopped the bleeding followed by a crucial attack error from Pons for a 13-9 breather only for Pontillas to keep Petron afloat with back-to-back hits before F2 Logistics escaped in its seventh Finals battle against its rival.
"Ang sinabi ko balik lang tayo, ang fifth set pinakaimportanteng set na yan kasi breaks na lang yan at kung sino ang mas may gusto yun na yun," said F2 Logistics head coach Ramil de Jesus.
"Siguro may kasama din kaming swerte dahil everytime na magkakaroon ng challenge pumapabor sa amin and then isa pa mas ginusto ng mga players kaya nakuha namin yung championship," he added.
F2 Logistics successfully defended its Invitational championship with seven straight wins bouncing back from its campaign-opener lost to Petron to earn its fifth overall title.
It was Petron's only loss in the tournament, which happened in the match that mattered most, as the Invitational championship remained elusive to the franchise since the league inaugurated in 2013.
Mau, who didn't play in the team's lone lost from Petron in their campaign-opener due to left achilles injury, continued to prove as the game-changer for F2 Logistics as she delivered 30 points off 27 attacks and three service aces laced with digs.
Majoy Baron and Kianna Dy also delivered for the Cargo Movers in 15 and 14 points, respectively. Aby Maraño provided five of the team's 11 blocks to finish with 10 points, while libero Dawn Macandili protected the floor with 26 digs and nine excellent receptions.
Pontillas carried the cudgels with 23 points. Pons came off the bench with 18 points and as many as digs, while Rondina added 14 markers below her 17-point tournament average.