SAN Sebastian star Gretchel Soltones' biggest motivation is making her father back home in Catmon, Cebu proud.
Soltones, who was raised by father Marvin, a part-time businessman and security guard, said her biggest joy is in knowing how happy she makes her dad whenever she does well for her school in the NCAA and with Team Philippines in the Asian Under-23 Women's Volleyball Championship and the Southeast Asian Games in Singapore.
The 20-year-old Cebuana is also thankful her school and coach allow her to play for PLDT Home Ultera in the ongoing Shakey's V-League Season 12-Reinforced Conference, enabling her to earn extra income which she could share with her father back home.
"I keep Papa posted on everything happening in my volleyball career," said the Business Management senior. "His first question is always if my upcoming games will be telecast, so I also supply him with the schedule of all my televised games.
"If I have one coming up, he'd relay the schedule to our neighbors and relatives and enjoin them to watch me on TV."
Her dad and their whole neighborhood, Soltones said, watched the live afternoon telecast of PLDT's match against University of the Philippines last October 31, when she won Player of the Game honors after helping the Lady Ultra-Fast Spikers win in four sets, 25-12, 22-25, 25-15, 25-17.
That match, she added, was of particular interest to her townsfolk as it also featured UP rookies and cousins Isabel Molde and Justine Dorog.
Like Soltones, the two hail from Catmon and graduated from Catmon Central Elementary School.
Since joining the SSC squad at age 16, Soltones has been coming home to Cebu only once a year during the long Christmas holidays. Last Christmas, she said she had bought her papa a lot of gifts consisting of, among others, "branded clothes and T-shirts and perfume."
The following year when she began playing in commercial leagues, she has also started sending money to her father.
"I don't need much for myself. I'm used to having less in life most especially when I was growing up. What I have in abundance is my father's love for me," said Soltones.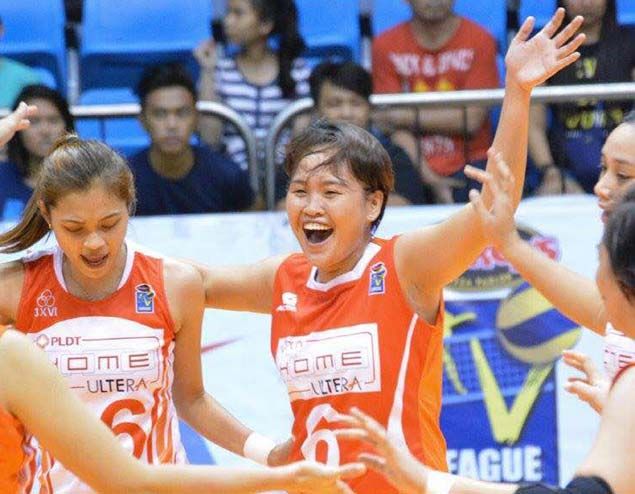 Recommended Videos