SANDUGO-San Sebastian posted its sixth straight victory after holding off Ateneo, 20-25, 25-17, 25-15, 25-23, in the Shakey's V League Open Conference at the Ninoy Aquino Stadium on Friday night.
The Lady Stags shook off a sluggish first set to win the next three and keep their immaculate record.
The Lady Eagles trailed by four in the fourth set, 16-20, but First Conference Finals MVP Alyssa Valdez kept them alive by firing six consecutive points to threaten at 23-24.
Thai reinforcement Utaiwan Kaensing, however, sealed the deal for the Lady Stags by delivering the winning point.
"Masaya, kasi sixth straight win na namin to," said team captain Suzanne Roces. "Pero kulang pa kasi kami sa teamwork. Di pa mabuo yung team namin kulang pa kami sa communication."

"Alam naman namin magagaling kami individually, pero di kami nagsasama-sama. Hopefully sa next games namin magkaisa na. Kasi ito nga na wala pa kaming teamwork kaya na namin, pano pag buo pa (teamwork)," she added.
Utaiwan led the Lady Stags with 16 points, while Jeng Baulee contributed 10.

Valdez, on the other hand, finished with 21 points, including four service aces, while Fille Cainglet and Dzi Gervacio added 13 and 12, respectively for Ateneo, the First Conference champion, who remained in fourth spot with a 2-4 (win-loss) record.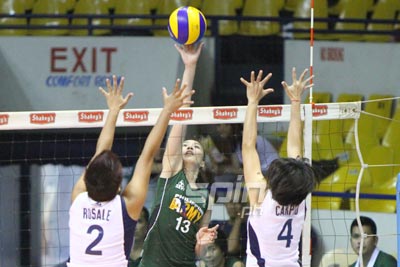 Meanwhile, Philippine Army rallied from five points down in the final set to hack out a 25-20, 25-11, 25-23 win over Philippine Navy.
The Lady Troopers trailed, 18-23, before Mayeth Carolino rallied them back by pouring three of the team's final seven points to win the game.
Carolino led the defending champion with 16 points, nine on attacks to go with three blocks and three service aces as the Lady Troopers kept second place at 5-1.

Kiteh Rosale, on the other hand, made nine for Philippine Navy, which stayed in fifth place with 1-5 (win-loss) record.
In the first game, Cagayan dominated an undermanned Far Eastern University side, 25-18, 25-10, 25-15, for their win in six outings.
Sandra delos Santos came up with 13 points on top of four service aces for the Rising Suns.

Angeline Tabaquero has eight points for FEU, which remained the only winless team in the tournament at 0-6.
The Lady Tams missed the services of key players Ivy Remulla, Iris Patrona, and team captain Gyzelle Sy.